Cop's insult to Maulana Azad hurts CPI(M), Congress stays nonchalant
Strangely, the recent attempt at berating India's freedom struggle stalwart and the first education minister, Maulana Abul Kalam Azad, by a senior though controversial Indian Police Service (IPS) officer has largely been overlooked by today's political class.
Strangely, the recent attempt at berating India's freedom struggle stalwart and the first education minister, Maulana Abul Kalam Azad, by a senior though controversial Indian Police Service (IPS) officer has largely been overlooked by today's political class. This is so but for the lone exception taken by the Communist Party of India (Marxist) (CPI-M) leader and former Rajya Sabha member Brinda Karat.
Karat filed a complaint on Wednesday (July 29) with the Delhi Police against the move by M Nageswara Rao, the officer. She has also written to Union Home Minister Amit Shah about his misdemeanour, seeking action against him under provisions of the Indian Penal Code.
"He (Rao) has insulted heroic freedom fighter Maulana Abul Kalam Azad and other notable educationists belonging mainly to the Muslim community using derogatory language against them and inciting feelings of enmity between two communities. He has openly praised the RSS and BJP for the 'rehinduisation of India'. He has approvingly commented on the 'growth of the BJP'. He has made demeaning comments against 'leftists'.
"An individual is entitled to his views according to the constitutional guarantee of freedom of expression. But as a serving officer, Nageswara Rao has violated service rules. He is also guilty of offences under Sec 153A and 295A of the IPC," reads Karat's letter to Shah.
Indeed, sharp words are these from the Left party's politburo member and she uses these to vent her anger over Rao's unseemly remarks against the long-lost Azad. The remarks, initially made by the officer on Twitter, later found its way to the larger media, and made Karat take umbrage. But what's really strange is that unlike her, the Congress — the party to which the venerated freedom fighter not only belonged to throughout his adult life, but also became its president in 1923 only to be succeeded by Mahatma Gandhi the next year — remains absolutely unfazed by the police officer's outburst.
Azad was again the party president from 1940 till 1945. After Independence, he became the education minister and held the post until his death in February, 1958. Through the long struggle for freedom, Azad spent several years in jail. He stoutly opposed the Partition on communal basis. He left a lasting stamp of communal accord and amity on the country.
Yet, it is this aspect of Azad's life that Rao tried to thwart in his tweet that he posted on July 25. He blames Azad and those who succeeded him through another two decades of "deracination of Hindus" while being in "charge of Indian mind space." The tweet begins with six points: "1. Deny Hindus their knowledge, 2. Vilify Hinduism as collection of superstitions, 3. Abrahamise Education, 4. Abrahamise Media & Entertainment, 5. Shame Hindus about their identity, 6. Bereft of glue of Hinduism Hindu society dies."
Just below these points, six slides accompany Rao's salvo against Azad and a few others like Humayun Kabir, MC Chagla, Fakhruddin Ali Ahmed and Nurul Hassan. Together, these make points like "whitewashing and distorting history" against them. For example, the second slide says, "Industrial scale distortion of history, negation and whitewashing of ****** Islamic invasion/rule."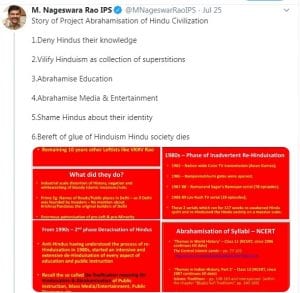 Four days after the bizarre tweet, Karat tried to point to the officer's rant against Muslims and that too by his targetting some of the most illustrious from the minority community. In her letter to the home minister, she raised points of law and indicates to the politics behind the officer's move by saying, "His comments may make him eligible for induction into the BJP or RSS after his scheduled retirement reportedly on July 31st. However, he has made these statements as a serving officer. He therefore must be chargesheeted for violation of service rules and also prosecuted under the relevant sections of the IPC."
It is a known fact that Rao has been a blue-eyed boy of the current BJP regime. He was appointed as the interim director of the CBI in October, 2018 in what came to be known as a 'midnight coup'. It took place as a result of a turf war between the then CBI Director Alok Verma and Special Director Rakesh Asthana. Unlike now, both the Congress and other Opposition parties, including the CPI(M), decried what was then seen as a forced exit of Verma from the CBI. Rao came under the Opposition's attack led by the Congress when he transferred dozens of CBI officers. Opposition parties alleged that large scale transfers were ordered by Rao to tilt probe in important cases.
In sharp contrast to this, the Congress hardly seems to have taken note of Rao's latest manoeuvre. It is so despite the fact that the officer, who is now Director-General Home Guards, Fire Services and Civil Defence, has gone on to malign one of the icons of the great struggle for freedom which was once relentlessly fought by the Congress.
The real reason behind the present-day recalcitrance can only be known to Congress higher ups. Yet, it is a fact that the party is more bothered to swim through the majoritarian tide that politics is now caught up with than holding to its moorings of the past.
(The writer is an independent journalist based in Delhi. He tweets @abidshahjourno)