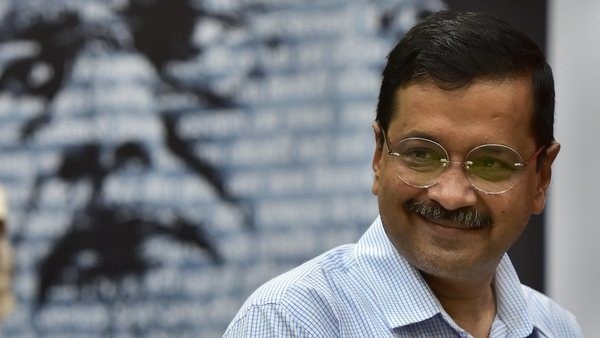 The winter sun is soothing and groups of people are enjoying the early afternoon warmth at a narrow lane in Gandhi Nagar, a congested area in East Delhi filled with small-time garment manufacturers and traders.
Suddenly they start moving towards the main road and excitement builds up as word spreads that Chief Minister Arvind Kejriwal's cavalcade is about to arrive. As the Aam Aadmi Party (AAP) workers start sloganeering, people start pouring out from the lanes and the crowd includes curious housewives, youngsters, shopkeepers and daily-wagers who want to have one look at the modern neta around whom Delhi politics is revolving this election season.
Soon Kejriwal arrives on his election van, accompanied by party leaders and supporters, to seek votes for his candidate Deepu aka Naveen Choudhary, and the crowd cheers him
enthusiastically. The AAP supremo does not even get down from the campaign vehicle and speaks only a few sentences on the microphone, mostly waving to the crowd and smiling at them. Within moments the vehicle rolls again and Team Kejriwal vanishes, taking some of the crowd along. Deepu looks reassured, beaming with a huge smile as he too moves on with the Chief Minister to the next stop on the campaign trail.
Such is the confidence of AAP leadership that they do not even feel that their leader should speak at length, canvassing for votes at every locality. Their belief is that the Kejriwal magic will do it for them all over again, as was the case in the 2015 Delhi Assembly election. Kejriwal has given free bus rides for ladies (he tried the same with Delhi Metro too, but did not succeed); free power to poorest of the power and cheap power to others; announced that there will be no cost for water supplied to homes; launched "Mohallah clinics" or neighbourhood out-patient treatment facilities that provide free consultation with doctors (mind you, it costs up to five hundred rupees in Delhi) and free medicines; besides upgrading select government schools that are being showcased as being at par with famed private schools.
Another important factor is that there have been no major corruption scandals affecting the
image of the Kejriwal government despite several allegations and investigations. No wonder AAP is supremely confident of returning to power even if they do not get 67 of the 70 seats that they managed in 2015. Deputy Chief Minister Manish Sisodia, who was among the first to file his nomination, dared rivals to debate the issue of development and capped his rally in Patparganj by emphasising that work done in the past 5 years will speak for the AAP government and win votes.
People on the streets, especially those in slum clusters who make up for a sizable portion of the 1.47-crore voters will exercise their franchise on February 8. At Trilokpuri, an overcrowded residential locality dotted with slum clusters, the crowd for an AAP campaign starring Manish Sisodia, echoes the party's popularity. Guddu, who makes a living with his CNG taxi, is clear in stating that he will vote for AAP and most of his neighbours will also do so.
Also read: 'Aam aadmi' Kejriwal files nomination for Delhi polls after 6-hour wait
Sonu, who works at a shop that repairs electric equipment like fans, goes a step further to claim that Kejriwal will win again. Nobody cared for our slums earlier, but Sisodia Ji visits our areas regularly, claim Guddu and Sonu. Power bills will go up for everybody, they warn. Mohallah Clinics have come up at various nearby areas including Vinod Nagar and the government school at Mandavali is now the pride of the locals, sporting a new building on a campus that includes a swimming pool too.
In the trans-Yamuna slum clusters that houses a sizeable population of Delhi's poor in areas like Shahdara, Kalyanpuri and Ashok Nagar that borders Uttar Pradesh, three-wheeler drivers, daily-wage labourers, hawkers, e-rickshaw drivers, and even tea-stall owners, once wooed by the BJP, claim that AAP is their favourite.
In their enthusiasm, however, they tend to forget that the BJP swept all the Lok Sabha seats in Delhi last year, with both the AAP and the Congress drawing a blank.
AAP's confidence
The leadership of AAP, however, feels that 2020 will be a repeat of the 2015 assembly election, as opposed to the 2019 Modi storm witnessed not only in Delhi but most of north India. The fact that the BJP lost to the AAP in 2015 after having secured all the seven Lok Sabha seats in the 2014 general elections gives them comfort and confidence. No other party has a chief minister candidate and it is Kejriwal vs the rest, feel AAP leaders. Hence, the campaign strategy of seeking votes in the name of Kejriwal and making his presence felt in each constituency rather than organising huge rallies.
The 2020 Delhi assembly election story, however, is not without twists. Having sensed that Kejriwal has stolen an early march and is threatening to walk away with the first election of the year, BJP has unleashed its animal spirits all over the National Capital Region.
Therefore, one finds Union Ministers, BJP stalwarts like Yogi Adityanath, more than 50 MPs and other party leaders carpet-bombing each and every corner of Delhi. Unlike the past, leading the pack is Home Minister Amit Shah and BJP National President JP Nadda, though votes are still being sought in the name of Modi.
Also read: Delhi polls: Over 1000 violations of model code of conduct
Having reserved the Modi big-bang blitz for the final stages, Team BJP is now on a micro campaign — hopping from every single neighbourhood to another in a door-to-door contact programme that was never the trademark of the party. At last count, they had done 2,000
neighbourhood meetings and the total number of meetings will touch 5,000 within days, says a visibly-overworked BJP campaign manager. We will go to people in every part of the city and make direct contact with voters, says Prakash Javdekar, Union Information & Broadcasting Minister who is the election-in-charge for BJP. Not a single constituency will be left untouched and we will do dozens of meetings at every locality, he told The Federal. The Shah-Nadda team is likely to do multiple people contact programmes in all 70 constituencies for which detailed programmes have been drawn up despite the Parliament's Budget session cropping up in between with unavoidable sittings like the Budget presentation by Union Finance Minister Nirmala Sitharaman.
Twisting narrative
The carpet-bombing does have a clear method of madness. Having realised that it is fool-hardy to try competing with Kejriwal on civic issues like education, power or water, issues on which AAP has an edge, BJP is turning the narrative on its head by making CAA and Shaheen Bagh as the core of the party's pitch. Add to it Sharjeel Imam sedition charge and JNU-Tukde Tukde controversies. To top it all, Prime Minister Narendra Modi has spoken the P word — choosing the post-Republic Day NCC parade — to stress that 10 days is all it will
take Indian army to defeat Pakistan. No wonder the saffron party is trying hard to shift the narrative to nationalism and Islamophobia from the power-water pitch initiated by the AAP. So we have established BJP functionaries like Anurag Thakur (Minister of State) and Parvesh Verma (Lok Sabha MP) raising a shrill pitch, thereby creating controversies that take eyeballs away from what Kejriwal would like to discuss as poll issues.
The delay in execution of the death sentence awarded to Nirbhaya killers and the Kejriwal government's refusal to give permission for convicting former JNU student union leader Kanhaiya Kumar are also being drawn into the poll campaign by the BJP. Article 370, Balakot, Pulwama and surgical strikes are also making a comeback as topics of discussion as opposed to local issues. The BJP, however, denies that the local issues are being side-stepped. "We will discuss all the issues. We have done more for Delhi-ites than any other party. Take for instance the ownership rights given to lakhs of people who have remained stuck with the leasehold system," says Javdekar.
Also read: Remove Anurag Thakur, Parvesh Verma as star campaigners for Delhi polls: EC
The BJP's strategy also has several other important strategic aspects. First, the Shah-Nadda lead in campaign insulates Modi in the event of another failure against Kejriwal. Similarly, not fielding a CM candidate will ensure that faction frictions do not harm the BJP like 2015 when the sudden arrival of Kiran Bedi ruffled several feathers and led to internal haemorrhage. When the party went for elections in Maharashtra and Jharkhand without a CM face in 2014, the BJP won. These states voted against the BJP when the incumbent Chief Ministers were projected in 2019. Similar was the situation in Madhya Pradesh, Rajasthan and Chattishgarh in 2018. Only in the case of Haryana in 2019, the BJP managed to scrape through with a CM face, but not without the support of post-poll ally Dushyant Chautala. Hence, the party has consciously decided to go without a CM face and seek votes in the name of Modi.
Considering the string of defeats in assembly elections recently, the BJP is also looking beyond Delhi to the next, and more important, assembly elections in Bihar and West Bengal.
Outsider vs Outsider
Among those hopeful of becoming Delhi Chief Minister if BJP romps home is Manoj Tiwari who is being billed as an 'outsider' by AAP. BJP has hit back saying that Arvind Kejriwal himself is not an 'insider' and the focus keeps shifting to Punjab, Haryana and elsewhere. Whether the "outsider" issue will matter is a debatable point. Hans Raj Hans, who won a Lok Sabha seat from Delhi last year, is from Punjab and the singer was little known in Delhi political circles before his candidature was announced last year.
Gautam Gambhir, another winner of BJP in the last Lok Sabha polls, was brand new to Delhi politics at the time of the election. In fact, Manoj Tiwari — a popular Bhojpuri singer — is from Varanasi in Uttar Pradesh.
Also read: After Akali Dal, BJP-ally JJP not to contest Delhi polls
Interestingly, political parties may dub opposition leaders as "outsiders" but are going all out to woo lakhs of people from Uttar Pradesh and Bihar who are settled in Delhi. Known as Purvanchalis, people from Bihar and eastern Uttar Pradesh are estimated to be around 40 lakh in number out of the 1.5 crore electorate in Delhi. Gujjars, jats, Muslims and Punjabis are other groups with significant numbers in the national capital.
Missing Congress
In the high-profile battle between AAP and the BJP, the Congress has been left behind. The absence of late Sheila Dixit is being felt by the rank and file, while Ajay Maken is not as involved as he used to be. So the reins are with old warhorse Subhash Chopra who used to be a force to reckon with in the pre-Sheila Dixit days. The uphill grind of Congress has been made even more difficult by the reticent Rahul Gandhi who is not campaigning as actively as his rivals in the BJP and AAP. Congress offices, as well as campaign meetings, are so lacklustre that the party seems to have already given up. The active role played by the grand old party in opposing the Modi Government on the JNU and Shaheen Bagh controversies has pitted the party directly against the BJP, while AAP has been steering clear of this debate. When the BJP and the Left locked horns over the entry of women of all ages into Sabarimala Temple, the Congress gained. In the case of Delhi, the Congress seems to be at the receiving end.
P C Chacko, the election-in-charge for Congress, has been trying hard to salvage the situation and has been putting up a brave front. "Congress Governments have done a lot for Delhi and we will do much better than what people think", has been his refrain in recent days to motivate party leaders and workers. However, Congress supporters on the ground seem to have lost their enthusiasm ever since AAP forthrightly rejected the possibility of an alliance with their party.
Interestingly, the Congress got 22% vote share in the 2019 Lok Sabha election, securing the second place while AAP was a distant third with just 8% votes. Curiously, even the BJP which has been out of power in Delhi for the past 23 years despite back-to-back victories in Lok Sabha elections and forming governments in major States, is hoping for a decent performance by the Congress as that will ensure the division of votes and deflate arch-rival AAP. Such are the complexities that run wheels within wheels in this two-horse race for power, with the third having the potential to pull down one of the two in case of a close contest.
In many ways, the Delhi assembly election has become a laboratory for the CAA-Shaheen Bagh impact on voters as this is the first major election after protests broke out all over India. It is also a litmus test for N P Nadda who is facing elections for the first time in the hot seat of BJP national president.
Delhi assembly election results on February 11 would determine if Nadda gets off to a flying start, succeeding where his predecessors could not, and also in deciding if BJP will push full throttle of the CAA-Shaheen Bagh type of agenda in the Bihar and West Bengal elections also.