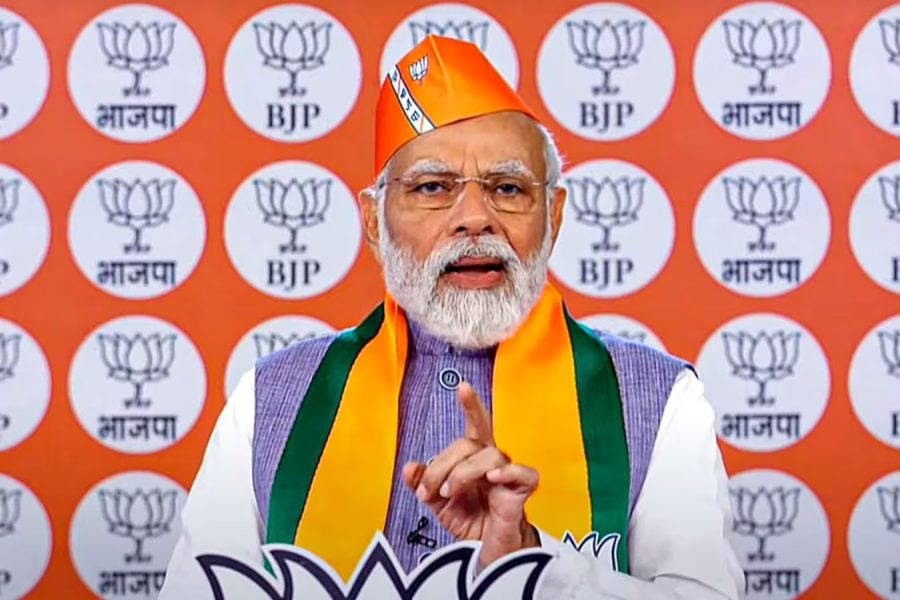 During the BJP's 44th Foundation Day celebrations on Thursday (April 6), Prime Minister Narendra Modi reiterated the party's commitment to tackling corruption, nepotism, and law and order challenges in the country. He slammed those with a 'baadshahi' (imperial/elitist) mindset for insulting the poor and marginalised since the BJP came to power in 2014.
While cautioning against complacency among party workers ahead of key state Assembly elections and in the run-up to the 2024 Lok Sabha elections, Modi acknowledged that many people are already saying that the BJP is unbeatable in 2024. However, he emphasised the need for BJP workers to win the hearts of every citizen of the country. "Despite being the world's biggest political party, we should not be complacent," he said. 
Modi also took aim at the Congress and other political parties, accusing them of being tied to nepotism, dynasty, casteism, and regionalism. He claimed that the BJP represents a new culture of inclusivity and taking everyone along. Although the PM did not directly refer to allegations levelled against his government, he accused other parties of being full of hate and frustration and resorting to levelling allegations and conspiracies against the BJP.
A dash of rhetoric
In his speech along expected lines, Modi said: "Today, they have become so desperate that they have openly started saying Modi teri kabar khudegi (your grave will be dug)," he said, adding that the BJP should not be confined to winning polls. "We have to fight every poll with the same hard work that we have put in since the time of Jana Sangh."
Significantly, Modi also drew parallels between Lord Hanuman, whose birth anniversary is being observed on Thursday, to assert that the party believed in the ideals of selfless service. India realised its potential and strength after 2014, just like Lord Hanuman did after eliminating self-doubt, Modi said.
Also read: BJP foundation day: Modi underlines commitment to rid India of corruption
"If we see the whole life of Lord Hanuman, he had a can-do attitude that helped him achieve big successes. As Lord Hanuman took on demons fiercely, the government will also act stringently in ridding the country of ills like corruption, nepotism and law and order challenges," he added.
Opposition parties have accused the government of using probe agencies like the CBI and the ED against their leaders on corruption charges as part of a political vendetta. Modi cited the free ration scheme, health insurance and other welfare measures to assert that social justice was an article of faith for the BJP while other parties used to advance the interest of particular families without helping society.
While the BJP thought and dreamt big and then set out to dedicate itself to achieving these goals, opposition parties could think small, set small goals, and pat each other on achieving even smaller targets.
"The BJP believes in dreaming big and achieving even bigger goals," Modi said. The Opposition parties never imagined that Article 370 would be history one day and they cannot digest the work BJP was doing in ushering peace and development, he said.
The PM asked BJP workers to use social media, backed by technology and training, in a better way and asked them to work in accordance with the party's ideology and within the confines of India's Constitution. He said, "The BJP has taken birth from the womb of democracy, and has been nourished and nurtured with the nectar of democracy."