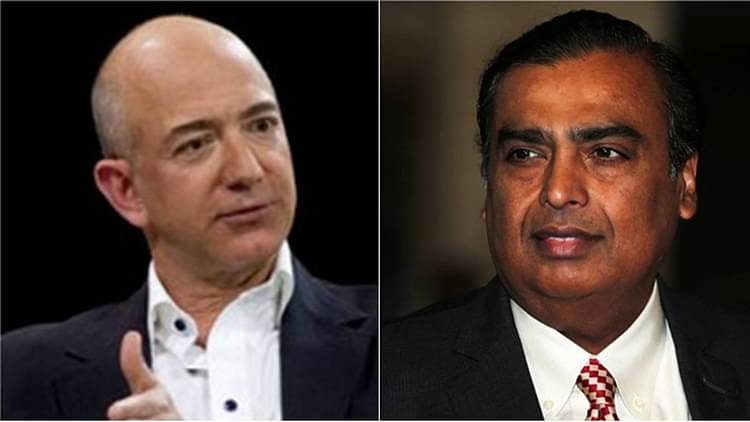 The one-billion plus Indian retail market is the lure that has got US' Amazon.com, billionaire Mukesh Ambani's Reliance and beleaguered Future Group into a legal spat, which threatens to derail India's biggest retail acquisition till date.
Some days back it looked as if the dispute was "settled" in favour of Amazon at a Singapore arbitration court, but it has now unfolded into a courtroom battle in New Delhi and will only get worse with no immediate solution in sight.
What is the dispute about?
In 2019, Kishore Biyani's Future Retail struck a deal with global e-commerce giant Amazon. Accordingly, Amazon spent Rs 2,000 crore to acquire a 49 per cent stake in Future Coupons, the promoter firm of Future Retail.
In August this year, the Future Group signed a deal with Reliance Retail, a subsidiary of Reliance Industries Limited (RIL), to sell its retail, wholesale, logistics and warehousing to the latter.
The Jeff Bezos-led e-tailer has objected to this $3.4 billion deal, arguing that it violates a contract with the sale to its rival and wants to stop it. The Mumbai-based Future Group has said the company would collapse and thousands would lose jobs if the Reliance agreement fails. The Future Group suffered a severe cash crunch when the country went into a lockdown in March to contain the spread of coronavirus.
Amazon says Future Group's Kishore Biyani has violated the disclosure rules and has now approached the Competition Commission of India seeking a stay on Reliance's takeover of Future's assets.
Why is Amazon miffed with such a small deal?
Taking advantage of a global recession and reduced valuation of companies, Amazon thought of increasing its stake in Future Retail in the month of May. While the discussions were on, Future cut a deal with Reliance. This miffed Amazon, which claims that its last year's contract with Future Group prevents the latter from transacting with a number of persons and companies, including Reliance.
But is that the real reason for the fight?
The conflict between the three companies is essentially for the control of India's huge, relatively untapped retail market, which as per market estimates, is worth $1 trillion. The Future Group has become a scapegoat in this fight for supremacy between two of the world's biggest companies.
It makes sense for Reliance to see that its deal with Future materializes. Taking charge of Future Group's retail, wholesale, logistics and warehousing units would give Reliance an unparalleled edge over its rivals. This is precisely the advantage Amazon does not want Reliance to get. If Amazon wants to flourish in India then it has to stop Reliance from gaining further ground.
Temporary relief for Amazon
On October 25, an arbitration court in Singapore temporarily restrained Future Group from selling its assets to Reliance.
​Future and Reliance, however, argue that the Singapore court's ruling is not binding on them.
The Future Group has filed a petition in the Delhi High Court seeking to quash Amazon's case. Amazon and Reliance too have hired a battery of top lawyers to fight their case.
In the Delhi High Court…
The Future Group's petition reads that Future Retail – which is selling assets to Reliance — was not part of the contract between Amazon and the unlisted group firm in which the U.S. e-tailer acquired a stake. In response, Amazon's lawyer said both the Future firms were controlled by the same owners.
Also read: Ahead of Diwali, Mukesh Ambani unleashes e-commerce price war
Future Group's lawyers told the HC that the sale to Reliance is necessary to keep the company afloat and save thousands of jobs.
Amazon is seeing this as India's willingness to enforce business contracts. If Future is allowed to breach the contract, Amazon would present it as a blot on India's image of a business-friendly destination, thus impacting foreign investment.
Former solicitor general Harish Salve is leading more than 50 lawyers representing Biyani and his family in the court.
Besides, India's former Attorney General Mukul Rohatgi, former solicitor general Gopal Subramanium and former additional solicitor general Abhishek Manu Singhvi too are representing different sides.
It is a matter of survival for Kishor Biyani's Future Group which has posted massive losses for two straight quarters and its shares have plunged 80% this year. But does Amazon care? Stopping Reliance from growing in strength is the US retail major's supreme objective right now.