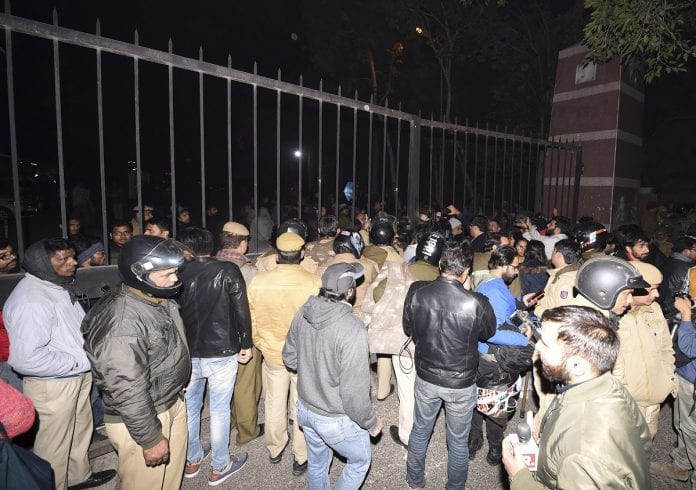 After unexpectedly witnessing violence on Sunday (January 5), the mood within the Jawaharlal Nehru University (JNU) was one of uneasy calm and apprehension on Monday (January 6).
The JNU campus and its entry points were on TV channels the whole of Sunday evening and Monday morning. As a response to this violence, massive vigil marches and sit-ins took place on Sunday night, in which teachers and students from the Delhi University, Jamia Millia Islamia, IIT, All India Institute of Medical Sciences (AIIMS), Indraprastha University, and other institutions participated.
There was a palpable tension in the air, especially from the girls. The attack that took place inside Sabarmati hostel had housed girl students in one of its wings. At least two of my PhD students who were supposed to meet me in the noon decided not to venture into the campus despite my assurances.
Advertisement
Also read: Varsities from UK to Chennai throw weight behind JNU students
Several students and a few of our colleagues were injured in the attack. Information about them was trickling out slowly. All of us were concerned. People were calling up from far and wide to know how to enter the campus safely. Many called up to check whether we were safe and fine.
Those of us who live in JNU and know its thousand-acre green geography well could locate and manage to enter through its five gates with our official JNU stickers. For outsiders, entry is usually from the North Gate, which is the main gate with tokens for the vehicles.
Police had immediately closed the main gate once the news of violence broke out on Sunday evening. The chaos ensued till the wee hours of Monday. One could see the presence of a large police force around these gates even on Monday.
On Monday morning, when we all met at our parking areas where we were transacting our consultation and teaching with students there was disbelief regarding what happened on Sunday. This kind of overt violence was not known to JNU. Agitations and protests were not new to JNU. They use to happen as part of our lives and everyone accommodated such things while pursuing their teaching and research. JNU administration usually used to take note of such protests and handled them with a bit of dialogue and negotiation. The dismay expressed on Twitter by several prominent JNU alumni on both sides of the ideological divide explains this.
Also read: Meet Aishe, the JNUSU president who led from the front
However, on the fee rollback issue, despite Central government intervention earlier to resolve it, the agitation this time reached some kind of an unending apprehensive level. When unresolved agitation reached end semester assessments and new registration schedule the entire issue became very complex. Students boycotted both the examination and the new semester registration process even risking their entire career. These were one of the most difficult moments for the teachers who work closely with the students. Even the university administration came out with the plan of an e-mail and WhatsApp examination which many of us tried to comply with. Even we did not know how this would end. Some colleagues kept on asking and wondering `ab aage kya hoga?' (What will happen next?). Unfortunately, for JNU this massive protest, with nearly 90 per cent of the students supporting it, went out of hand when allegedly outside elements with masks entered the campus on Sunday evening.
Large police presence within and outskirts of the campus was not unusual for us as it had happened twice earlier recently when students had decided to take up their march towards the Parliament. At that time, as one JNU security official put it, the police had put up four or five security rings around JNU to confine students. Despite this, students breached and braved police barricades and marched towards Parliament in thousands a few weeks ago. These have been well reported as well.
As teachers, we also decided to keep the work schedule today as normal as possible. Many of us went to our respective school buildings in the morning to assess the situation. Last few days the registration for the new semester was on despite a boycott call given by the JNU Students Union (JNUSU). For the last one month or so our school buildings were largely locked down by the striking students. Students were demanding rollback of the fee hike pending proper discussion and consultation. This demand was supported by all students groups belonging to diversely opposite ideological groups. Everyone within the campus respected students' right to protest peacefully and accepted their lockdown mode of agitation. At the same time, every one of us felt that dialogue and consultation should happen between the agitating students and the JNU administration. A committee set up by the Ministry of Human Resources Development also suggested this.
Also read: Left or Right: Who was behind Sunday mayhem on JNU campus?
We all cherish and practise unique JNU culture of debate and dialogue. We also cherish its relatively high autonomy in terms of its teaching and research. Even its admission policy with a grating of deprivation points, in a way, is sui generis and should be emulated by other universities. Relationship between teachers and students in its residential setting creates many possibilities for the students and their future growth. Everyone agrees with this and accept its unique legacy that has given so much to the nation-building. JNU attracts attention not merely because of its intense intellectual and ideological content, but also for its vigorous academic excellence. For that matter, all kinds of ideological hues exist with equal ease in JNU. On a given day within JNU, one could attend ten different kinds of discussions, meetings and seminars. This adds to its academic excellence and builds up confidence among its students who graduate as scholars at some point in time.
Even the response to Sunday's unprecedented violence that shook our roots since yesterday, by all means, has been measured. We walked around the campus in the cloudy and chilly afternoon today forming a human chain to ameliorate the pains of this violence. All of us agree that physical violence per se is not an issue. The psychological impact, scare and uncertainty it creates among students is what is worrying. As teachers, we need to deal with it and I am sure JNU can do that.
(Professor Venkatachala G. Hegde teaches International Law at School of International Studies, Jawaharlal Nehru University)