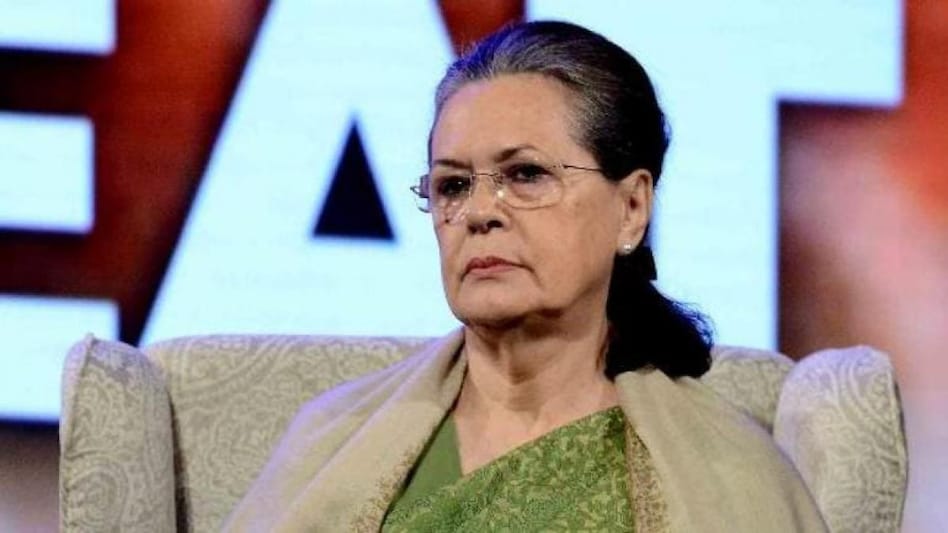 The Congress party finally released its list of 10 candidates for the biennial Rajya Sabha polls late Sunday (May 29) night.
After days of intense discussions, frenzied lobbying and frantic speculations over who among the litany of aspirants would make the cut, the list surely succeeded in springing a few surprises.
Yet, for those hoping that interim Congress president Sonia Gandhi's picks would give a pointer towards her crisis-ridden organisation's willingness to reinvent and revitalise itself, the list of candidates gave nothing more than familiar disappointment.
Given that the party had, just a little over a fortnight ago, pledged at its Nav Sankalp Chintan Shivir to reform and revive itself in time for the 2024 Lok Sabha polls, the list of candidates suggests that the pledge of self-correction made in Udaipur has already been consigned to the dustbin.
Confrontation over conciliation, implosion over invigoration, morass over merit and sycophancy over synergy seem to be the choices that the Congress high command finally made.
The candidates that the Congress picked include P Chidambaram (Tamil Nadu), Jairam Ramesh (Karnataka), Ajay Maken (Haryana), Vivek Tankha (Madhya Pradesh), Imran Pratapgarhi (Maharashtra), Rajeev Shukla and Ranjeet Ranjan (Chhattisgarh), Randeep Surjewala, Mukul Wasnik and Pramod Tiwari (Rajasthan).
Also read: Congress' Udaipur roadmap gets marred by party's leadership issue
While 57 seats will be up for election in the current round of Rajya Sabha polls on June 10, the Congress can hope to win just 11 seats on the basis of its legislative strength and support from its allies in different state assemblies.
With 10 names declared, the party now has just a lone candidate to declare — from Jharkhand, where its senior ally, chief minister Hemant Soren's (Jharkhand Mukti Morcha), has been driving a hard bargain and isn't averse to denying the Congress support in the absence of a consensus candidate.
Predictable names
For anyone who knows the eminences chosen by Sonia, Rahul Gandhi and Priyanka Gandhi Vadra, a cursory glance of the names is enough to understand why the list inspires little confidence in the Congress party's serious willingness for course correction.
Of course, the choice of Chidambaram and Ramesh can be explained away purely on the basis of their utility for the Gandhis — both have repeatedly pledged loyalty to the family even while occasionally lamenting the state of affairs in the party and both play key roles in drafting the Congress's official stand on matters of public policy.
What about the others? Let's first look at the two states where the Congress is currently in power and where assembly polls are due at the end of next year. Not one among the three candidates from Rajasthan and two from Chhattisgarh belongs to the state. Clearly, with elections to these states barely 18 months away, chief ministers Ashok Gehlot and Bhupesh Baghel could have done well by fielding a local candidate, keeping the aspirations and caste matrix of the electorate in mind.
Instead, Sonia chose Shukla and Ranjan. Shukla, a man of resources and bipartisan friendships has been positioning himself as Priyanka's close aide but within party circles, especially in poll bound Himachal Pradesh, of which he is in-charge, he is viewed by colleagues with a great degree of suspicion.
Also read: The Udaipur match result: Gandhis 1, Congress 0
Party leaders from Himachal have, in fact, repeatedly urged Sonia to replace Shukla with a more reliable leader but Priyanka, say sources, has continued to firmly back the BCCI vice president.
Former Lok Sabha MP and wife of controversial Bihar politician Rajesh Ranjan 'Pappu Yadav', Ranjeet Ranjan is the only woman candidate on the list. She is no doubt a feisty orator and the Congress may want to project her as a top rung leader in Bihar in the near future but why the party chose her as a candidate from Chhattisgarh is a mystery.
Going non-local
The choice of candidates from Rajasthan is even more baffling. It is no secret that Surjewala, a Rahul confidant, had missed out on a Rajya Sabha ticket from Haryana the last year when Bhupinder Hooda practically bullied the party into naming his son, Deepender Hooda, as the candidate.
This time around, while the party had a chance to send Surjewala to the Rajya Sabha from Haryana, it chose to field Maken from the state and packed Surjewala off to Rajasthan instead. Further, the nomination for Surjewala comes at a time when his handling of the party's media department for the past five years came in for unqualified criticism from the party brass at the Udaipur chintan shivir amid demands of a complete overhaul of Congress's communication strategy.
Similarly, Maken, another Gandhi-family loyalist backed by Rahul and Priyanka, has been repeatedly blamed by his colleagues in the Delhi Congress of systematically ruining the organisation by promoting factional feuds and internal strife.
The other two candidates from Rajasthan — Wasnik and Tiwari — are also outsiders, the former from Maharashtra and the latter from UP. Wasnik, a Dalit leader with a reputation for being a good organisation man, was a member of the so-called G-23 but has, over the past year, made his way back into the coterie that surrounds the Gandhis.
Though Congress insiders say they have nothing against the party sending him to the Rajya Sabha, they are puzzled as to why he is being fielded from Rajasthan when the party had a seat to offer him from his home state of Maharashtra.
Also read: Bullet points: What the 6 Congress panels recommended at Chintan Shivir
Tiwari, whose daughter Aradhana Misra 'Mona' is one of the Congress's two MLAs in the UP assembly, is another Priyanka nominee, and barring his credentials as a Brahmin leader or one with warm personal equations across party lines, there's hardly any other organisational, electoral or legislative strength that he brings to the table.
It is also pertinent to note the party saw no reason to field a candidate from the tribal community despite Rahul's recent push to woo them through rallies in Gujarat and Rajasthan or for the fact that both Chhattisgarh and Rajasthan or even Gujarat where elections are due at the end of this year have a sizeable pockets of tribal voters.
There had earlier been speculation that the party would field at least one tribal candidate — either from Rajasthan or from Chhattisgarh — as part of its recent push for promoting SC, ST, OBC and minority leaders in the organisation but clearly the high command had other ideas.
Imran Pratapgarhi's rise
The biggest surprise in the list is poet-politician Imran Pratapgarhi, another key aide of Priyanka from Uttar Pradesh. The 34-year-old Pratapgarhi's rise in the party has been meteoric. He had joined the Congress party shortly before the 2019 Lok Sabha polls and unsuccessfully contested the elections from Moradabad.
Though he lost the election to the Samajwadi Party's Dr ST Hasan by over five lakh votes, his proximity to Priyanka brought him the post of chairman of the Congress's minority department last year. He has been a star campaigner for the party in several assembly polls since, drawing crowds for the party's rallies but no votes.
This leaves Vivek Tankha, another member of the G-23. A senior advocate, Tankha's electoral utility is practically non-existent but he does serve a few purposes for the party. His Kashmiri Pandit identity may come in handy for the Congress at a time when the BJP has been aggressively cultivating the community as a vote bank and, perhaps more importantly in the Congress's scheme, he is among the few leaders from Madhya Pradesh, who shares equally good terms with both Kamal Nath and Digvijaya Singh.
Caste equations skewed
The fielding of non-locals from a majority of the states is not the only reason that has irked many party leaders. With five of the 10 candidates belonging to the Brahmin community, no representation for tribals and only one Dalit and Muslim in the list, Sonia has also skewed the caste matrix that her party had pledged to promote in its Udaipur Declaration earlier this month.
Several Congress leaders have expressed their dismay over the disproportionate representation that Sonia has chosen to give Brahmins or the fact that the list has only one woman candidate.
"Earlier this month we were making big promises of social justice, fighting for women's reservation, caste census and OBC reservation in legislatures and Parliament… Rahul went to Gujarat to launch an adivasi satyagraha and then chose Banswara, a tribal dominated district, to address a rally… when it came to Rajya Sabha tickets, we stacked the list with Brahmins… is this how we wish to regain the trust of the oppressed communities?" a senior Dalit leader told The Federal.
Further, with the exception of Pratapgarhi and Ranjan, all other candidates are above 50 years of age, suggesting that the Congress is in no hurry to extend its resolution of reserving 50 percent posts for those aged below 50 years to ticket distribution.
Ground for dissension
A section of party leaders The Federal spoke to also expressed their "deep disappointment" at the high command's decision to promote "rootless wonders", "drawing room politicians" and those who are "always in high positions irrespective of whether we are in power or in the Opposition".
Some leaders suggested that while the party had "done the right thing" by not giving Rajya Sabha berths to G-23 leaders such as Ghulam Nabi Azad and Anand Sharma — there was intense speculation that Sonia may re-nominate the two in order to effect a conciliation with the group of reform-seekers; Azad is still in contention for the lone seat from Jharkhand — but added that "a majority of the leaders who have been given tickets have been rewarded for just sitting in Delhi and massaging the ego of the high command".
Also read: Nehru's death anniversary: Time for Congress to show courage and vision like the first PM
"Since 2014, how many agitations have Maken, Tankha, Surjewala or Shukla organised? What have they done at the grassroots? Can any of them win an election on their own — Maken and Surjewala have lost successive elections, Shukla is happy with his cricket politics, Tankha can't even win a municipal election. This list only reinforces the criticism that those who sit in AICC all the time or run around the Gandhis telling them how great they are get rewarded while those who are working on the ground, agitating and fighting against the BJP's vindictive and fascist politics get ignored. This is exactly why we fail to win any election; those who sit next to the high command and whisper in their ear about party strategy have no clue about what is happening on the ground," said a senior party leader from Rajasthan.
Congress spokesperson Pawan Khera, who was reportedly in the race for a Rajya Sabha ticket from his home state of Rajasthan, also put out a cryptic tweet after the party declared its candidates. "Shayad meri tapasya mai kuchh kami rah gayi (perhaps there was something lacking in my efforts)," Khera wrote.
In the run up to the Rajya Sabha candidate selection process, Congress insiders had speculated that another round of attrition coupled with internal discord would begin in the party if Sonia fails to strike a fine balance between aspirations, merit, caste representation and other factors. To many, it would seem she has failed the test, and spectacularly.