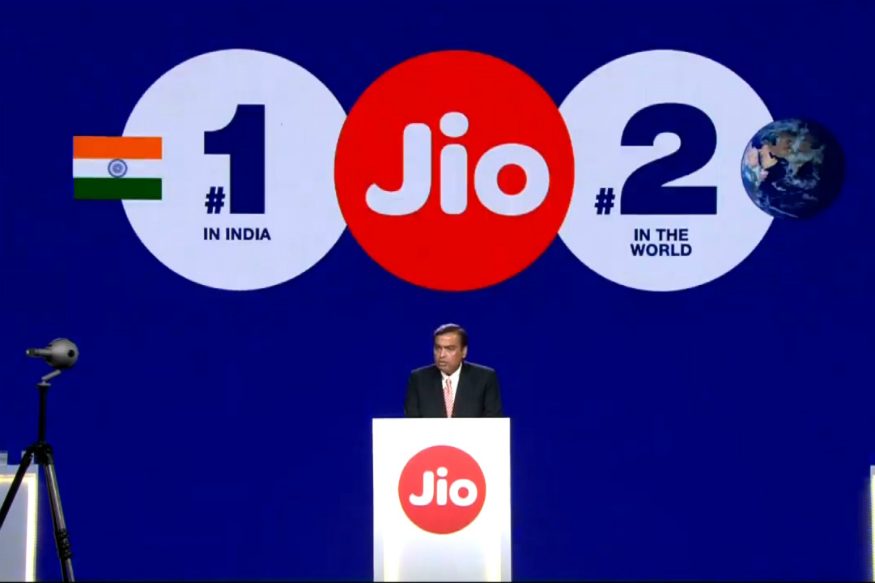 At the last count, Reliance Jio had mopped up $20 billion in investments from companies ranging from Facebook to Google for a total of 32.97 per cent stake in a matter of over three months.
Even as eager investors poured in money into a company which was launched in 2016, the Reliance Industries' worth rose to $75.1 billion, which placed Mukesh Ambani, the chairman of the parent company, in the seventh position among the top richest in the world. A simple math will tell us that Reliance Jio is fast becoming the crown jewel in the multinational sector.
The transformation, from being just another multinational to one of the most sought after by international marquee names, has been swift at a time when the country itself is slipping into what can now be called a bottomless pit as its GDP growth rate forecast for the current fiscal is expected to be -3.2 per cent.
Advertisement
So, what makes Reliance Industries stand out in a country whose economy is finding new depths? If one traces the history of Jio, one will find that Ambani was perhaps the first to adopt the Big Bazaar model to his new business much better than even its founder, Kishore Bayani, could do.
Ambani was quick to realise that the only way to get ahead of the race where Airtel and Vodafone already had a huge footprint in the telecom sector, was to be innovative. His Jio (a cleverly worded name which means 'live') was launched amid much fanfare, allowing access to free data. In a country where mobile handsets have more than one SIM card, the offer was unputdownable, too good to let go.
That was the first victory for Reliance, when Jio was able to find a place in millions of mobile handsets across the country. The rest was easy. Reliance used the platform to offer more freebies like access to unlimited music and cinema, capturing the mindset of the subscribers like no other telecom operator had been able to.
The reason for being able to do that was largely because of the successful business Reliance Industries ran in the oil and gas space, something other telecom operators were unable to do because their bread, butter and jam came from the same sector they were involved with.
The next step was to charge a fee which a small towner would pay to buy a cinema ticket. For ₹99 per year, Jio offered more freebies. Within a year, Jio had accumulated 108 million users of which 72 million were paying subscribers. By then, Jio had become the world's fastest-growing telecom operator. That was a milestone which was next in the agenda for the company and was easily achieved.
Between 2017 and 2020, Reliance had forced other telecom operators to lower their tariff rates and now 1 GB of data costs as less as ₹18 and this has put Jio on the path to becoming the country's largest telecom operator with nearly 400 million subscribers. In 2016, even the strongest supporter would have scoffed at such a possibility.
With Jio getting enough bandwidth from subscribers, Reliance Industries made another significant announcement to further disrupt the sector. From being a telecom operator, the company pushed the envelope further by offering services which connect every touchpoint of a customer. It would offer every service spanning across all segments of consumer tech: internet of things, blockchain, online gaming, video streaming, artificial intelligence, virtual reality, e-commerce, retail and health.
It was just a matter of time before some of the biggest names in each of these services would come calling to tie up with Reliance Jio because of the fact that it was extremely well-positioned as far as its reach is concerned and its ability to cross-sell services to users, something other platforms don't have. Within four years, Reliance Jio now has 428 crore GB per month of data traffic, 38.8 crore users, ₹131 ARPU (average revenue per user), and 11.3 GB average monthly data user customer.
The first to tie up was Facebook which bought 9.99 per cent stake in Reliance Jio for ₹43,573.62 crore followed by Silver Lake, Vista, General Atlantic and others. As of today, Reliance Jio has mopped up ₹1,52,055.45 crore from 14 investors for a total stake of 32.97 per cent.
The company has a clearly laid-out plan for itself and wants to interconnect each of the services it wants to offer. These include connectivity through smartphones, broadband, DTH; community connectivity through social networking (read Facebook), instant messaging, video calls, content through gaming, news, music and entertainment, commerce through e-commerce (read Reliance Retail), grocery, clothing, currency through online payments, digital wallet and capital through small-scale banking for SMEs, consumers and partners.
As Reliance Industries pushes its Jio platform pouring in billions of dollars, it is becoming clear that the multinational believes that the future lies in telecom, consumer retail and other communication fields. What it could also lead to is a situation where oil & gas could take a secondary role in its overall portfolio.
Last year, Ambani announced to his company's shareholders that Saudi Aramco will be picking 20 per cent stake for $15 billion in Reliance Industries. Since then, there has been no progress on the deal with the promoter declaring this July that due to unforeseen circumstances in the energy market, and the COVID-19 situation, the deal has not progressed according to the original timeline.
But there are downsides to Reliance Industries' ambitious plans as well. Going forward, its main business of oil and gas may not necessarily give the returns that may be needed to promote its telecom venture. Hence, while the future looks uncertain, Ambani will have to pursue the path he has laid out for the company with the steadfastness and zeal only he is capable of.