As India completes a long period of lockdown because of Covid-19, The Federal revisits the biggest story of our times and tries to make sense of the surreal events that have unfolded around us since March. We look at how life has unfolded in a pandemic, what it has told us about ourselves, our country, society, religion and government, and what can we expect from a post-Covid world, if it exists. Today, we look at how the crisis has put time on a slow burn, and made us yearn for the life we had till a few weeks ago.
Tyranny of a pandemic: When time stops, and you count just blessings
Uploaded 20 May, 2020
Advertisement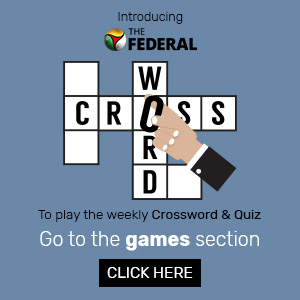 It is early in the morning but the phone just wouldn't stop ringing. It is Ranju again, for the fifth time in the lockdown—one for every round and a little more.
She wants to know how long she has to wait for the talabandi (lockdown) to end so that she can stop thanking the women who have been paying her full month's salary as asked by the prime minister. "Doesn't feel right to get paid without working. I don't like to live at people's mercy. Garib ka bhi toh atmasamman hai (the poor too have self-respect)," she says.
Apparently, Ranju doesn't figure in the big, bulging, difficult-to-count zeros in the financial packages announced by the government -- tranche 1, tranche 2...3…and more awaited.
"But can we stop living didi?" she wants to know.
Related News: Before COVID, Chakma, Hajong tribes of Arunachal battled stormy migration
"Of course not," I tell her. "We have to learn to live with the virus," I mimic political rulers who can't seem to get the math of the dead bodies right. It's complicated.
She stops pressing for answers and says she is hanging up. "Dekhiye kya hota hai (Let's see…)."
I want to tell her that enough people are dying to keep the rest alive… 7 migrants, 16 migrants... 26… Every day a new tally until the media starts counting the "many migrants" and "several ill-fated".
I get back to sweeping the dirt on the floor left by yesterday's dust storm. They seem to gather in the dustpan without much resistance, unlike human lives that never lose hope of not making it to the coming New Year's eve...then the next, one more please…
Time passes tediously in the lockdown. I wouldn't know if I'm right because long back I chose not to have a clock watching me from the wall. The blank walls of the house make me miss my friend who never cared for time...late to work on Day 1, Day 3...15 years.
'Friend' reminds me of some people I have met over the years who out of generosity call me their friend -- a common friend, to be precise. I choose to call them acquaintances. It gives me the vanity of not answering their once-in-two-years phone calls.
Related News: 18,000 Arunachalis to be brought back in batches: CM Khandu
But nothing lasts forever. Not even my vanity. I now long to talk to them. I don't know how many I can count on to answer my call...1, 2...0?
'Zero' keeps appearing in my life. I have spent the best years of my life in an eponymous place -- spelt Ziro -- in Arunachal Pradesh. Not many outside the Northeast in those days had heard of Ziro. So, I treasured for long the anonymity of it. Of course, that has changed now. Everything has changed. In those days, the news of a murder in a godforsaken corner like Arunachal used to be talked about for not less than a year. Before every sunset, children were told to come home before the ghost of the murdered person came draped in a shroud of dusk to stalk them. The news of a murder refused to die in those days.
A few days ago the security forces shot down someone in Arunachal. But, it was forgotten immediately, like the ones who are succumbing to the virus. The picture of the listless body though threatens to haunt the memory of those few who got to see it -- the pool of blood under the head, the broken trail of dried and caked blood from the corner of his mouth and nostrils, and an umbrella -- with yellow and pink flowers, and a blue handle -- tucked under his left arm. Yes, you heard it right -- you don't jump into a war of bullets with a floral umbrella in hand.
But then who wants to talk about Arunachal? Not the national media, unless people there have feasted on a king cobra. "The tyranny of distance, my friend". Somebody once said...100 km, 500 km...2,100 km.
Related News: Arunachal gets its first ICU as Covid-19 exposes NE's health woes
My school friend who now lives in Itanagar shouts at the top of her voice over a crackling phone line to say: "Upai kama (there's simply no way out)." She then repeats the same two words thrice -- 1,2,3 -- fearing I haven't heard her the first time. "The network is too bad but can we really complain?"
She is right, we can't and shouldn't because there are some who have been battling this lockdown isolated from phone lines and mobile internet for months now...1 month, eight months... soon a year?
I don't live in Arunachal anymore nor have been to Kashmir ever. I look at the big, blank wall in my room and imagine a wall clock. I feel like checking the time today. I feel like counting my blessings...tick-tock, tick-tock!
End of