On February 5, Neyveli — a staid township in Tamil Nadu's Cuddalore district — suddenly found itself caught in the middle of an action movie. Neyveli hadn't witnessed such a huge flutter even when popular actor Vijay landed there four days before to shoot for his upcoming film Master.
As everyone was busy filming a fight sequence, Income Tax sleuths appeared from nowhere and walked up to Vijay. They were there to question him for alleged tax evasion. He was brought to Chennai. In the next couple of days, news channels kept flashing details of raids at his house, questioning and summons issued to the actor by the I-T department.
While the sudden development would have made any other celeb run for cover, on his return to Neyveli on February 10, Vijay posted a selfie on Twitter — the actor standing atop a van with a massive crowd in the background.
Thank you Neyveli pic.twitter.com/cXQC8iPukl

— Vijay (@actorvijay) February 10, 2020
Thalapathy, or young commander that Vijay is fondly called by his fans, thanked the people for their love and support over the apparent "political targeting". Even before an official statement came from Income Tax department, Vijay 'worshippers' in Tamil Nadu were quick to point out the selective treatment — I-T raid at Vijay's house and the 'overlooking' of superstar Rajinikanth's alleged tax evasion"cleary because of the superstar's support to the contentious Citizenship Amendment Act (CAA)".
But more than the massive crowd gathered at Neyveli, what was unmissable were the flags of Vijay Makkal Iyakkam's (Vijay People's Movement) fluttering among the fans. Many saw it as another manifestation of the growing cult of Vijay and his rumoured political interests that have long been the talk of the industry.
The growing cult
By now, even movie buffs in North India know Vijay as one of the biggest names in Tamil cinema, thanks to his recent films and the controversies stirred over the strong political messages in them.
His 2017 blockbuster Mersal faced vehement opposition by the BJP in Tamil Nadu because of its strong messages against central government policies, including demonetisation and GST.
Then came Sarkar, which drew the ire of the ruling AIADMK, over attacks on its freebie culture and Amma's — former chief minister J Jayalalithaa — style of politics.
From corruption and medical malpractice (Mersal) to crimes against women (Theri), farmer displacement (Kaththi) and terrorism (Thuppakki), there isn't much that his movies haven't touched upon.
His last release, Bigil (the IT raids and questioning were reportedly related to the actor's investment in immovable properties and remuneration for Bigil) is a sports drama.
But Vijay's image of a 'crusader of social justice' goes much beyond these movies. In fact, the 44-year-old actor's debut movie, Naalaiya Theerpu, in 1992 saw him playing an idealistic college student. The action drama was directed by his father, SA Chandrasekhar, and produced and written by mother Shoba Chandrasekhar.
Vijay may have never been very vocal about his political interests, but the political overtones in his movies, says writer Stalin Rajangam, reveal a lot about his future in politics.
"His films speak a lot about his line of politics. For instance, in Pokkiri (2007), there is a song which says that "grandchildren deserve to be born in a city without slums (Cheeri Ila Oorukulla Poraka Venum Pera Pulla). It goes on to talk about becoming the beacon of hope and ending discrimination (Theepandham Aduthu Theendamai Kozhuthu). These things show that he has been positioning himself as a torchbearer, a leader — if at all he happens to join active politics in future," Rajangam says.
All this subtle political messaging often drew comparisons to his contemporary Ajith Kumar, who despite his popularity chose to stay away from politics. In fact, Ajith (48), popularly known as Thala (Tamil for leader), has categorically denied any interest to get into politics.
'Motor-racing' Ajith Vs 'people's star' Vijay
The contrast between Ajith and Vijay off the screen too is stark. On one hand, there is a flamboyant motor racing enthusiast who wears his passion for luxury cars and bikes on his sleeve. On the other, there is Vijay, who has been careful to connect with his audience both on and off the screen. "Be it the Jallikattu protests, Thoothukudi massacre (police killings during anti-Sterlite protests), or NEET aspirant Anitha's suicide, Vijay made it a point to stand by these people in their hour of need, sometimes even away from the public gaze," Stalin says.
Ajith, on the contrary, feels he needs to stay away from politics or anything remotely related to it. Last year, when rumours were rife that he may join the BJP, the actor issued a statement.
"I am here to act, not to indulge in politics. That's why I have always ensured that even my films do not have any political colour," his statement read. "A few years ago, I dissolved my fan clubs because some people tried to link it with politics. I was always careful to remain aloof and away from politics."
This is where the two actors are way different from each other.
A filmmaker, who has worked with both Vijay and Ajith, says that Vijay may not have "chosen his dialogues consciously, but he was completely aware of what he was speaking".
"At times, even if we make slight changes to a scene and add new elements, he would ask us whether it is absolutely necessary. Sometimes, he would suggest we tone it down in order to make the common man connect better with the film," says the filmmaker who wishes to remain unnamed.
"So, it's not that he is oblivious, he is very much aware of the message going out."
However, with Ajith, the same filmmaker says, it is not possible to have a single line/dialogue with a political connotation. "At times, even when the script demands, he would ask us to remove it as he wants to stay away from politics completely. Even at public functions, including audio launches, he does not want to appear in front of the media."
The last promotional event in which Ajith participated, the director says, was for Asal.
Politics and films — opium of the people
While politics often influences cinema, in Tamil Nadu it has been the other way around with megastars turning into popular politicians. The list is endless — from the swashbuckling MGR (MG Ramachandran) and the powerful J Jayalithaa (both actors) to CN Annadurai and M Karunanidhi, both celebrated scriptwriters who went on to become chief ministers. Even acting legend Sivaji Ganesan, whose political journey was not very spectacular, couldn't resist the pull of politics despite their successful film careers. After years of anticipation, the latest to bite the bait are Kamal Haasan and Rajinikanth.
If Tamil films take politics seriously, politicians too are always watching out for the growing list of new competitors.
A producer, on condition of anonymity, says that it's only in Tamil Nadu that political overtones in movies are taken so seriously.
"When Mudhalvan (Chief Minister, remade in Hindi as Nayak with Anil Kapoor) starring action king Arjun was released, the then-ruling party in Tamil Nadu, DMK, viewed it as an attempt to criticise Karunanidhi."
Interestingly, he adds, then-Andhra Pradesh chief minister N Chandrababu Naidu invited director Shankar for a special screening of the movie and appreciated the director.
"While Naidu reportedly said that he could identify with Arjun's one-day CM character, DMK saw actor Raghuvaran's role (of a corrupt CM) as a portrayal of Kalaignar and took offense," the producer says.
He goes on to add that political outfits and politicians in Tamil Nadu need to take films less seriously. "Like in Kerala. Sakhavu (Comrade, Malayalam political drama) and Comrade in America (abbreviated as CIA, Malayalam action-adventure based on some recent developments in Kerala politics) were released without opposition from any mainstream political parties. We need such a healthy environment in Tamil Nadu too."
Caste, class and fans
Coming back to Vijay, author of Madurai Formula Films: Caste Pride and Politics, Karthikeyan Damodaran, says that political overtones in his movies started much before Pokkiri.
"In Ghilli (2004), Vijay as Velu plays the son of a police officer, who is angry with him for wasting time in a 'lowbrow' sport kabaddi instead of focusing on studies." Velu later takes on a ruthless factionist leader, Muthupandi, to rescue a girl.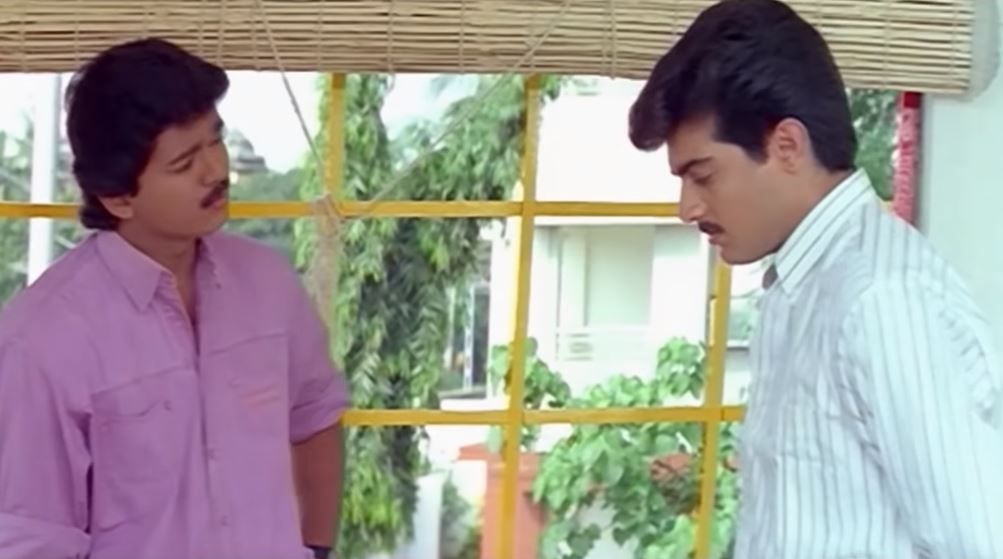 But the political overtones in his movies released in the early 2000s were not noticed much,  Damodaran says, given his low fan base back then.
Based on their (Vijay and Ajith) movie plots over the years, the size of their fan base too has changed.
A cross-section of assistant directors who have worked with both Vijay and Ajith say both the stars mostly started their careers with love stories. "So, their fan base too was common. There was a shift only after Ghilli, in which Vijay takes on Muthupandi. The name Muthupandi is often associated with dominant caste Hindus," an assistant director tells The Federal.
According to Karthikeyan Damodaran, the divide in fan base on caste lines is more evident among the audience in southern districts of Tamil Nadu. "Ajith's face has started appearing next to every caste-based outfit and leader's photo in southern districts."
So much so that Devars (from the politically powerful Thevar caste) have started to identify with Ajith as their caste icon. "One can often see Ajith's face embossed on wedding invitations. It is mostly because of the characters and role they choose to play in movies," Damodaran adds.
Also read | More trouble for actor Vijay as BJP workers stage protest
The two recent releases starring Ajith — Veeram and Viswasam — implicitly convey that the hero belongs to an intermediate dominant caste.
Writer Stalin Rajangam points out the factors behind Vijay's expanding fan base. "Earlier, Vijay had an equal number of fans among both rich and poor, but now his popularity has grown among the less privileged sections in both urban and rural areas." It is mostly because many see Vijay as the boy next door while Ajith is more of a chocolate boy soaked in privileges.
Poo Ko Saravavan, translator of MSS Pandian's Bimba Chirai (The Image Trap) — a book on the fascinating career of MGR and the image of the actor on- and off-screen — says that the two actors, Vijay and Ajith, may have consciously picked their roles, keeping in mind which section of the audience they want to appeal to. In doing so, the larger question of political interests and political benefits are obviously difficult to ignore.
Irrespective of the bouquets and brickbats thrown at him, today it's difficult to separate Vijay, the actor, from Vijay, the political and social activist. Just like he said in Mersal, "It takes 10 months for a baby to be born, three years for a person to graduate, four to become an engineer… but it takes an entire lifetime for a leader to emerge."
"Oru kulanthai uruvaahurathukku 10 maasam, oru pattathaari uruvaaga 3 varusham, oru engineer/doctor uruvaaga 4 varusham, oru thalaivan uruvaaga oru yugame thevaipaduthu!"