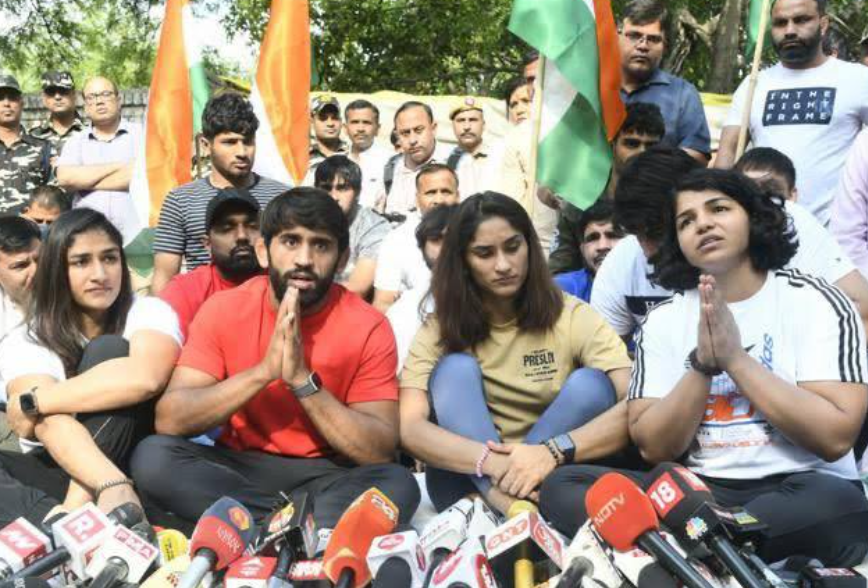 Wrestlers' protest | Sakshi, Punia meet Anurag Thakur, place 5 demands
Ace wrestlers Bajrang Punia and Sakshi Malik, who are leading the protest against Wrestling Federation of India (WFI) chief Brij Bhusan Sharan Singh, met Union Sports Minister Anurag Thakur at his residence in Delhi on Wednesday (June 7).
They have reportedly made five demands of the government. One, they want free and fair elections to the WFI. Two, they want a female chief to be appointed to the apex wresting body. Three, they do not want Singh or any of his family members to be part of the WFI.
Four, the wrestlers want the police case lodged against them over their protest near the new Parliament building last month to be scrapped. Five, they want Singh to be arrested, which they have been demanding throughout their protest.
Vinesh Phogat, who has been the third ace wrestler to lead the protest, did not attend the meeting, as she had to attend a pre-scheduled khap mahapanchayat in her village Balali in Haryana. The other two are scheduled to join her later. The mahapanchayat, led by farmer leaders, will reportedly help chalk out the future course of the protest.
Anurag's invite
In a late-night tweet on Tuesday (June 6), Thakur said the government was willing to hold talks with the protesters. "The government is willing to have a discussion with the wrestlers on their issues. I have once again invited the wrestlers for the same," Thakur tweeted.
On Saturday, a delegation of protesters including Punia, Malik, and Phogat, had met Home Minister Amit Shah with their grievances.
The wrestlers have been demanding action against Singh, whom at least seven female wrestlers have accused of sexual harassment.
"Everyone" to be consulted
While it was being speculated that the protesters have struck a deal with the Centre after meeting Shah, Punia cleared the air by stating that no such arrangement has been made and that they will intensify their protest if their demands are not fulfilled. He also said the delegation that met Shah was asked to keep the meeting a secret.
Earlier on Wednesday, Malik told reporters that everyone involved in the protest would be consulted before agreeing to any proposal by the Centre.
Probe against Singh
Meanwhile, a Delhi Police team has reportedly visited Singh's residence in Uttar Pradesh's Gonda and recorded his statement and those of his associates, including those working at his house and his driver.
The minor girl has also reportedly recorded a fresh statement under CrPC Section 164. This wrestler's statement is crucial because the case under Protection of Children from Sexual Offences (POCSO) Act against Singh rests on it.
Over 125 people have reportedly been interrogated in the case so far and their statements recorded. Singh has reportedly been questioned twice already.
(With agency inputs)