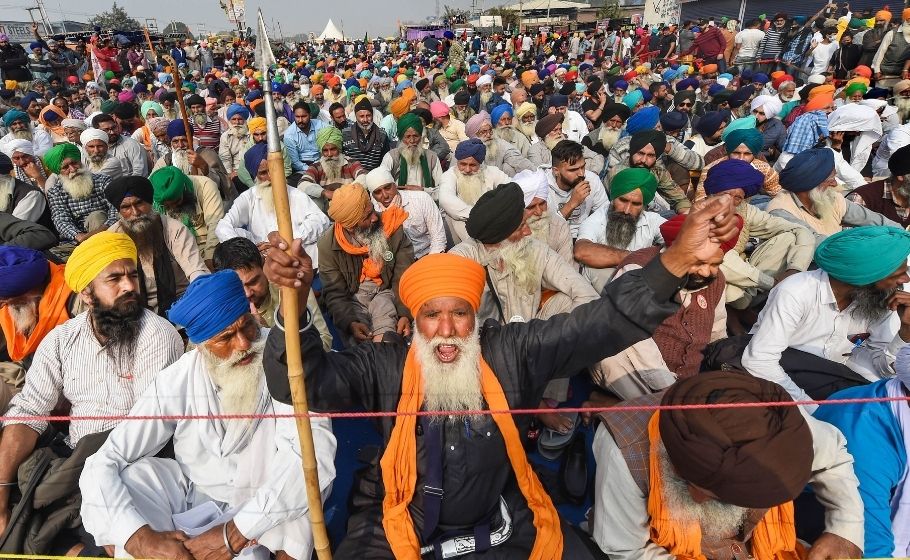 The Supreme Court, on December 16, proposed a panel that includes representatives of the centre and farmer groups as it opined that the government's negotiations with farmers on the farm laws 'will not work and are bound to fail again.'
Prime Minister Narendra Modi's cabinet would, in all likelihood, discuss, after taking into account all options, the continuation of Minimum Support Price (MSP) and the possibility of exempting Punjab, Haryana and Uttar Pradesh from the farm laws. The cabinet meeting is to be held on Wednesday (December 16).
According to sources, though the discussion on MSP is not officially on the agenda, it is not being ruled out, considering the intensification of farmer protests over more than two weeks.
Also read: Farmers' protest spells trouble for Khattar govt in Haryana
Farmer unions have remained firm in their demand that the government repeal the farm laws. The government has been promoting the fact that the farm laws will bring reforms to the agricultural sector by the elimination of middle-men intervention, allowing farmers to sell their produce anywhere in the country whereas farmers say it will leave them vulnerable to corporates. Farm leaders have said they will "make" the government repeal the laws.
PM Modi alleged that the opposition is conspiring to 'confuse' the farmers. At a public gathering in Gujarat, he appealed to farmers: "I want to reiterate that my government is ready 24 hours to resolve all your doubts."
Also read: Day 18: Tomar flays Oppn, says 'some people just oppose, weaken country'
Meanwhile, Agriculture Minister Narendra Singh Tomar spoke separately, on December 15, to the Bharatiya Kisan Union (Kisan), who said they were willing to end their protest. Tomar said the government was willing to talk to 'genuine farm unions' and that MSP was "an administrative decision and it will continue as it is." Some say that separate talks is an attempt to weaken the protests by affecting farmer's unity.