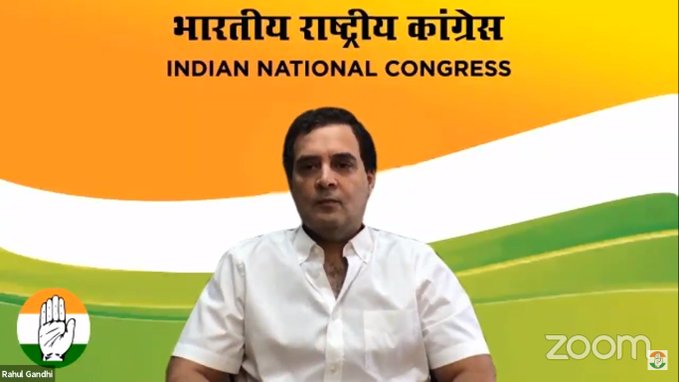 Lockdown is just a pause button, and not a solution to check the spread of COVID-19, said Congress leader Rahul Gandhi on Thursday (April 16), as he stressed on aggressive testing across the country.
In a press conference held via video-conferencing, Gandhi said the government's COVID-19 testing is not up to the mark, and is neither strategic. "Lockdown is neither a solution, nor a treatment. Therefore, we must come out from the lockdown phase. Prime Minister Narendra Modi's role should be to empower the states," he said.
Describing the current situation as "emergency", Gandhi said it's important that the COVID-19 fight is taken to the district level. "We are in a very serious situation. People of India and parties need to work together," he said.
Related news: Mass testing key to fighting COVID-19, India nowhere in game: Rahul
Talking about states, Gandhi appreciated Kerala's approach in containing the deadly virus. On Wednesday (April 15), Kerala reported only one positive COVID-19 cases, attesting to the sharp decline of the outbreak in the state.
He suggested the prime minister should have detailed conversations with states. "But the prime minister has a different style of working and we can work around that style," he added.
"I disagree with Narendra Modi ji on many issues but today is not the time to disagree. We have to fight this pandemic as a united country. We must not fight with each other at this point", he said.
BJP takes a dig
The BJP responded with a dig at Gandhi, and asked the Congress as to why states where his party is in power extended it before the central government did so.
#LockDown is not the solution acc to @RahulGandhi … Then why did the CMs of @INCIndia Cong partnered govts extend the lock down first …?

— B L Santhosh (@blsanthosh) April 16, 2020
Maharashtra, where the Congress is part of government, had backed the lockdown, and had extended it to April 30 even before Prime Minister Modi announced the nationwide extension of the lockdown till May 3.
Punjab, where the Congress is in power, had also extended the lockdown before Modi's announcement. Modi had said most chief ministers had favoured lockdown extension to combat the pandemic.
(With inputs from agencies)