COVID lockdown 2.0: What is in Centre's revised guidelines
A day after Prime Minister Narendra Modi extended the nationwide lockdown until May 3, the Union Ministry of Home Affairs on Wednesday (April 15) issued revised guidelines. The new guidelines will be operational from April 20.
The Centre has relaxed some restrictions on sectors like health, agriculture, transportation and finance, MGNREGA works and e-commerce services. Here is the list of activities and services that have been allowed or restricted as per the guidelines.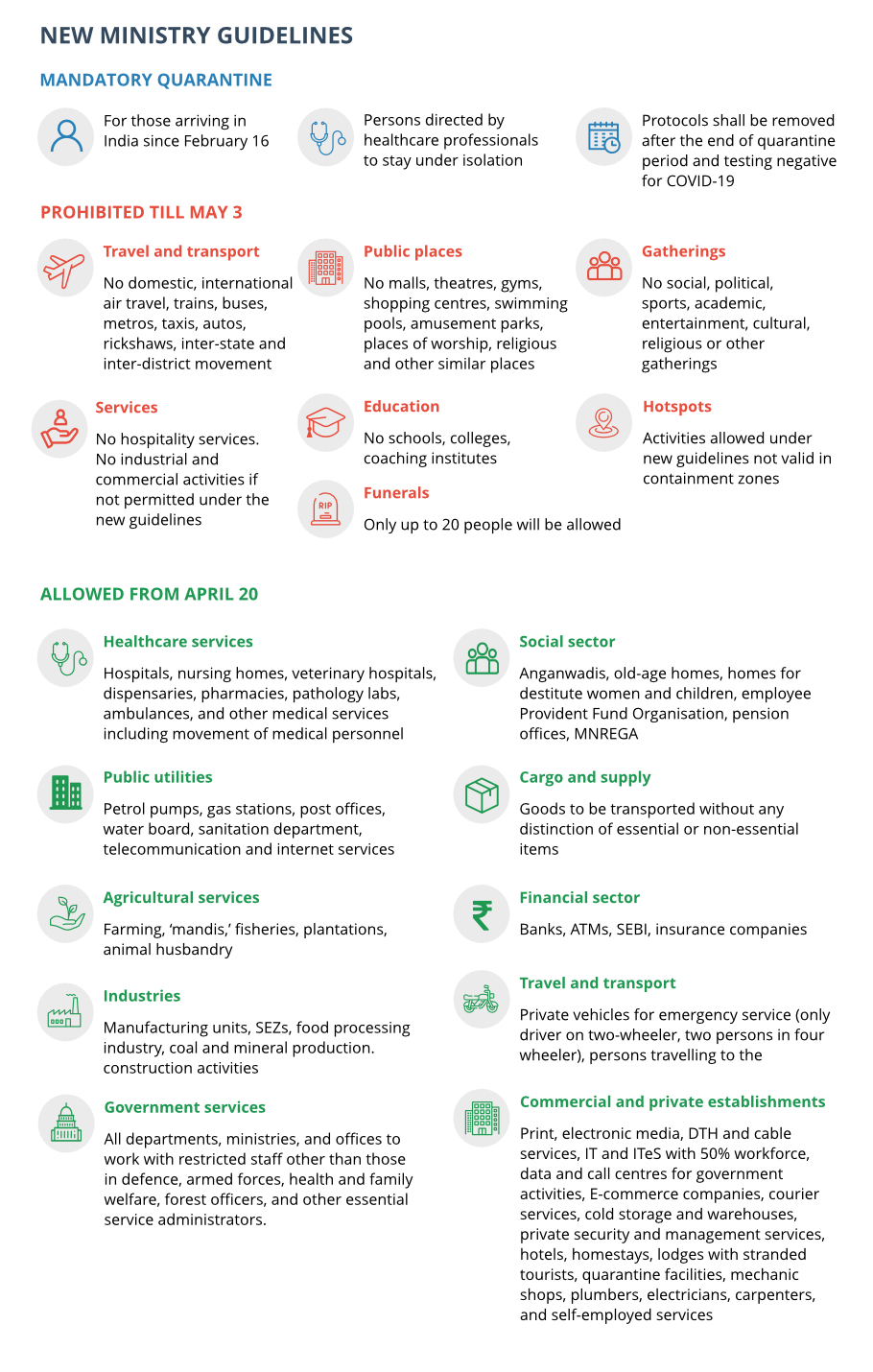 Public movement
With the extension in lockdown, the public movement continues to be restricted. The guidelines prohibit the operation of any means of public transport — air, rail, road and metro — and, autorickshaws and cabs.
However, it allows travel in private vehicles for medical or veterinary care and to buy essentials. Only two persons — one in the front seat and the other in the rear — can travel in a car, while only one can ride a motorcycle. Inter-state and inter-district travels have also been allowed for medical reasons.
Health services
All healthcare facilities, including hospitals, nursing homes, clinics and veterinary hospitals, will remain operational. Pharmacies, labs and collection centre will also be open. Authorised private establishments that offer essential services or those for the containment of COVID-19 can function.
Manufacturing of all drugs, medical equipment and ambulances, and the construction of medical facilities is allowed. Transportation of healthcare staff and scientists is not prohibited as per the guidelines.
Agricultural activities
The guidelines allow all agricultural and horticultural activities, and procurement of produces. Market places that have been notified by state governments can remain open. All agricultural machinery can be manufactured and sold.
While the manufacture of seeds, pesticides and fertilizers is allowed, machines used for sowing and harvesting can be transported. Plantation, processing and sale of tea, coffee, rubber and cashew can happen with 50 per cent of the workforce.
Fisheries and animal husbandry
Both marine and inland fishing is allowed and so is the sale of fish. Aquaculture farms can also operate and all fish products can be transported. Activities like poultry and livestock farming is allowed, while both fish and poultry hatcheries can be operational.
Manufacture of animal feed is also allowed. All shelter homes, including Gaushalas, can remain open. All activities — from collection to sale of milk products — is allowed in the dairy industry.
Financial services
All bank branches and ATMs can remain open and social distancing must be ensured at banks. Also, all banks are allowed to function as per the normal working hours.
Social and educational sector
All homes for children, senior citizens, widows, physically and mentally disabled persons, etc. will remain functional. The guidelines also allow the disbursement of pension and provident funds to employees, senior citizens, widows and freedom fighters. Anganwadis can door deliver food and nutritional supplements to beneficiaries.
All educational institutions, including coaching centres, must remain closed. But online teaching is allowed, with an advice to use educational channels, including Doordarshan (DD), for teaching purposes.
Public utilities
Refining, transportation and retail of all petroleum products — LPG, petrol, diesel, kerosene, CNG and PNG — is allowed, along with generation and distribution of electricity. Postal services will be functional, while telecom and internet services will remain in operation. All local bodies must ensure the management of waste and sanitation, and the supply of water.
Goods and supply
Rail, air and sea freight is allowed, while trucks can run with two drivers and a helper. All automobile repair shops and dhabas along the highways can function. Railway, airport and port staff must carry passes en route to the workplace.
Both retail and online sale of essential items is allowed. PDS stores and shops selling meat, fish, fruits, vegetables, dairy and other essentials will remain open. The Centre has also asked district authorities to facilitate home delivery.
Private firms and industries
Media companies — both print and electronic are allowed to operate, while IT firms can function with 50 per cent of the workforce. However, only government-run call centres can remain functional. Delivery persons working with e-commerce and courier companies can work after obtaining the necessary permission.
The guidelines also allow the functioning of hotels and lodges that accommodate tourists and other persons stranded amid the lockdown. Also, self-employed persons like plumbers, carpenters and electricians can offer their services.
Industries involved in the production of coal and minerals, and manufacture of IT hardware, packaging materials, etc. are allowed to function. Major construction activities like roads, building, etc. can happen.
Government offices
Staff of defence, police, customs and disaster management agencies will continue to work without any restriction. Those equal to and about defence secretary level in all ministries and departments will function, with 33 per cent attendance for the other staff.
Police, home guards and emergency services, disaster management and prison staff will work at the state level. Grade A and B employees of all other departments will function as required, while 33 per cent of Grade C staff will attend work.
MGNREGS workers
Workers employed under the Mahatma Gandhi National Rural Employment Guarantee Scheme (MGNREGS) will function by practising social distancing and wearing face masks. Mainly, irrigation and water conservation works must be taken up under the scheme.