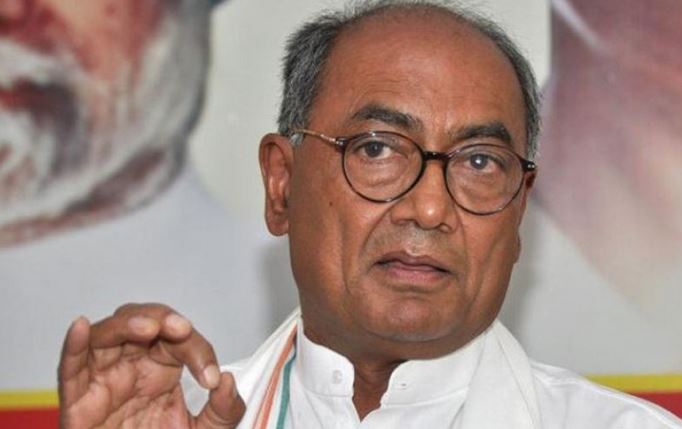 Veteran Congress leader Digvijaya Singh on Sunday alleged that votes cast by people in electronic voting machines (EVMs) during polls in the country were being stolen through hacking of these devices, posing a threat to democracy.
He also called for a public agitation on the issue of EVM hacking. He made the statements during an event organised by Birsa Brigade, a tribal organisation, in Madhya Pradesh's Seoni, where she shared the dais with Nationalist Congress Party (NCP) supremo Sharad Pawar.
"We, under the leadership of Sharad Pawar, will fight against the theft of votes being done through EVMs in the country. We press the (EVM) button but do not know where the vote goes. A feeling of distrust prevails among the voters in the country," Singh said.
The Congress Rajya Sabha member said, "Tell me, is it possible that a machine with a chip inserted in it cannot be hacked? If thefts could be carried out in the reserve banks of Bangladesh and Russia, then votes here can easily be stolen."
He also said that some hackers were trying to steal democracy, but they (ruling Bharatiya Janata Party) don't have answers to several questions, and it cannot be accepted.
"We need to start a public agitation as the Constitution and democracy are under threat," he said. Singh also alleged that the Rashtriya Swayamsevak Sangh (RSS) and the BJP want to snatch the identity of tribals.
In his address, NCP president Pawar said that tribals have paid the price for the development and betterment of the country as they have the first right over jal (water), jungle and jameen (land). Tribals are among those who have worked most to save water, forest and land of this country, he said.
"Many development projects have started in the country that are beneficial. But this is challenging for tribals, who own this land. If someone asks who pays the price of the development and betterment most, the tribals are among the first, Pawar said.
So, it has been the responsibility of all to stand behind tribals firmly, he added.
The former Union minister said that he would raise the issues being faced by tribals with the Centre and various state governments including in Madhya Pradesh, Maharashtra and Jharkhand.
---
(Except for the headline, this story has not been edited by The Federal staff and is auto-published from a syndicated feed.)