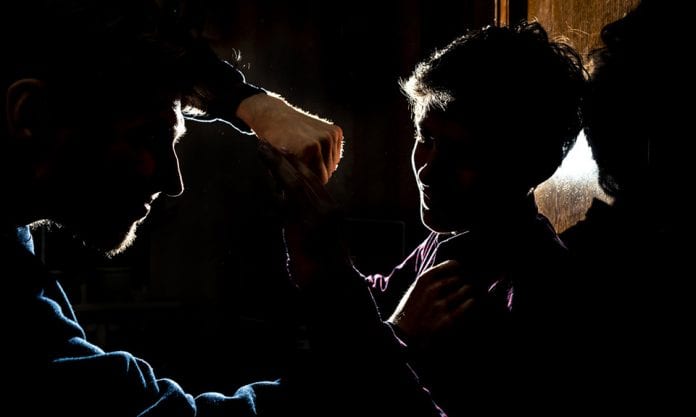 Like medieval mobs of bloodthirsty men, Indians are showing a worrying penchant for street justice.
A few days after 24-year-old Tabrez Ansari was brutally beaten to death by a mob in Jharkhand, an SUV driver in Bihar was lynched by an angry mob on Thursday after his speeding vehicle mowed down three children sleeping on a road in Patna.
CCTV footage of Thursday's incident shows an overspeeding car running over children sleeping on the main road near Kumrahar Musahari in Patna, before ramming into an electric pole in the early hours of the day. While three children died on the spot, the driver Saurav Ganguly was reportedly dragged out of the mangled remains of the car by locals and beaten to death. CCTV footage shows incensed locals thrashing a man, presumably Ganguly, with sticks and bamboos while he begs for mercy.
In the past few years there have been several incidents where the mob has acted as the judge, the jury and the executioner.
Sentence without trial
Whatever be the charge – theft, cow slaughter, abduction, accident or 'love jihad'– the judgment and execution of the mob is almost instant. The accused isn't given the benefit of doubt or handed over to the police. There is no mercy either. In such cases, the accused cries hoarse, pleads for mercy and a chance to explain himself, while an unrelenting mob snuffs the life out of him.
One such haunting image of mob barbarism was seen during the killing of Mohammed Naeem, who was beaten to death on suspicion of child abduction in Jharkhand in 2017. The last photographs of Naeem, taken minutes before he was killed, show a man drenched in his own blood, trying to convince the mob of his innocence with folded hands, while being pounded with sticks and bats.
In most cases, a growing blindness towards reason is what drives an incited mob, empowered with invisibility, unity and a cause, to kill. The Bihar lynching is an example of that. Despite the gruesome nature of the children's deaths, it was an accident where the driver, as per police reports, had dozed off and lost control over the vehicle which then ran over the children. But the driver was killed even before he could be arrested or answer for his 'crime'.
The beginning
The trend of mob rage gained momentum following the Dadri lynching in 2015. Mohammad Akhlaq, a 52-year-old was killed by a group of cow vigilantes on charges of stealing and killing a calf in Bisara in Uttar Pradesh's Dadri. In 2017, Pehlu Khan, a 55-year-old dairy farmer from Nuh district of Haryana along with six others was intercepted by a group of 200 cow vigilantes, while on his way home with his herd, and was beaten with rods and sticks. He succumbed later.  In 2019, an angry mob bludgeoned a 35-year-old man to death on charges of theft at Maniktala's Harsha Haat in north Kolkata. A Reuters report pegs the deaths due to cow related violence alone at 63 between 2010 and 2017.
Even though Muslims have been the major victims of mob rage, it has not been limited to a particular community.
Also read: 7 signs India is turning fascist: TMC's firebrand MP Mahua Moitra
On May 18, Bharat Yadav, a lassi shop owner in Mathura was killed by a Muslim mob outside his shop, after an altercation with a woman. Recently, on June 19, Gangaram, a 54-year-old man was beaten to death by a Muslim mob in Dilari, Uttar Pradesh after he complained to the police about his daughter's abduction. In February this year, Ramalingam, an anti-conversion activist and a PMK functionary was brutally murdered by a gang of Islamists, in retaliation to his efforts to curb conversion of Dalits and Hindus to Islam.
During such mob violence, a simple greeting like 'Jai Shri Ram', 'Jai Hanuman' or even 'Allah Hu Akbar' becomes a war cry. It is used to intimidate the victim and assert the assaulter's religious dominance over the other.
Legitimising the crime
Ironically, the arrests of perpetrators of many of these killing hasn't been effective to curb the crime. Many of these killings are legitimised through passive support for the killers, and heroes are made out of them – either by making them a community hero, or defending their act on social media by pointing out similar killings by the victim's community.
In 2017 a gory video showed Shambhulal Regar, a resident of Rajasamand in Rajasthan, hacking and burning Mohammad Afrazul, a 48-year-old Bengali migrant worker, accusing him of 'love jihad' and warning other Muslims against it.
It came as a shock for many when Shambhulal Regar, who is serving a sentence in jail was offered a ticket by Uttar Pradesh Navnirman Sena, a lesser known political party to contest as its Lok Sabha candidate from Agra. Amit Jani, national president of the organization later told the media that he wanted a Hindutva face to contest the elections on their party ticket and no one could be better than Regar.
Adding fuel to fire
Those who aren't blatant enough, defend their 'champions' on social media, even at the cost of basic tenets of humanity. A few days back, even as the death of Ansari was trending on Twitter, a few swore at media houses for covering the death of a 'thief', while ignoring the death of other 'Hindus' who were being killed by Muslims.
Others made fun of those opposing the lynching, by suggesting that the thief instead of being beaten up should have been rewarded.
This is totally wrong. He should be awarded with the same motor bike and should be given additional RS. 5000 for petrol.

— Avadhut Wagh (@Avadhutwaghbjp) June 24, 2019

Hateful taunts with communal colours worsen the matter. For instance, soon after Twitter trended with the hashtag #NoToJaiShriRam after the Jharkhand killing (where the victim was asked to chant Jai Shri Ram and Jai Hanuman), #NoToAllahHuAkbar was also seen trending, with many comparing Tabrez Ansari's death with lynchings of other 'Hindus' and asking why social media didn't cry foul over their deaths.
Muslim in India are forced to chant Jai Shree Ram and are lynched by mobs at the name of Ram, a king and a god(to some hindus) who is also known for lynching Shambukan (for being a shudra).
Tamils have started a campaign to fight back.#NoToJaiShriRamLynchings
#NoToJaiShriRam pic.twitter.com/bRmQiJ9BnN

— Sumera Baloch (@sumera_baloch) June 27, 2019
Does this qualify for lynching? A chor was assaulted by public who later died but what was the fault of Gangaram. Lynched by Muslims pic.twitter.com/rfX54lny17

— Counter Jihadi ('Radical Fringe Hindu') (@Laddoo87) June 24, 2019
Also read: Bihar deaths shameful, Jharkhand lynching painful: Modi in Rajya Sabha