Sameer Danve is a young engineer from Latur in Maharashtra. Two years ago, he decided to become a solar entrepreneur instead of taking up a job with a meagre salary that couldn't even cover his graduation fees for years. Today, Sameer installs rooftop solar plants for household and commercial consumers and also provides jobs to 10 people. But he may have to shut shop because a recent Power Ministry notification makes it compulsory for every rooftop solar unit above 10 kw capacity to move to gross metering.
Why is gross metering rule bad for you?
The Ministry of Power notification glorifies an electricity consumer as a "prosumer" (a consumer who is also a producer) and encourages him to set up rooftop power generation unit, but on one condition: If the unit has the capacity to generate more than 10kw energy then it will have to run on gross metering and not net metering.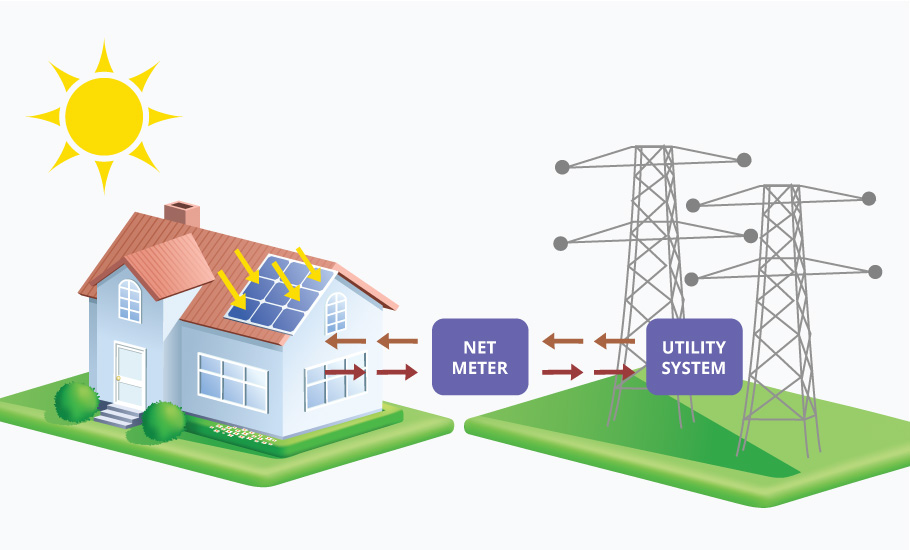 Net metering: It is an arrangement in which electricity exports are adjusted against imports, directly lowering the final electricity bills of the prosumers, such that, electricity produced is deducted from the total electricity consumed over a fixed period of time.
For example: Suppose your rooftop solar unit generates 100 units (100 kW) a day, but you use only 60 kW. So, under net metering system, you could send the remaining 40 kW to the DISCOM (power distribution company) during the day time when the sun shines bright and get the same electricity back at night (free of cost).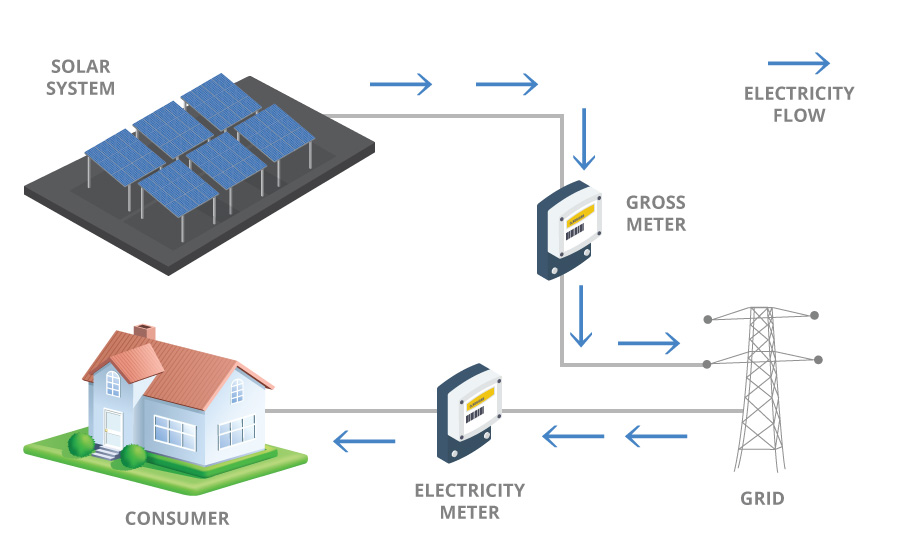 Gross metering: Now, the government wants prosumers generating above 10 kw solar electricity to move to gross metering. So, now you have to sell the entire 100 units to the DISCOM at a fixed rate (about ₹ 3.50) and buy back at a price which could be double or even triple of what you sold for.
"A prosumer, who invests lakhs of rupees installing the solar unit on the terrace, is now expected to sell the energy to the DISCOM for a low price and buys back the same at three times the price. Why would anyone install a solar rooftop?" asks Abhijeet Shukla, founder and CEO of Mega Power, a solar entrepreneur based in Nagpur.
Also read: Solar power gets cheaper; it's time we moved away from coal for electricity
Why do people install solar rooftop?
It is definitely a clean and green source of energy, besides it is economically viable, thanks to constantly falling prices of solar photovoltaic cells (solar panels).
Solar units above 10 kW capacity are mostly installed by small scale and medium scale industries. "Installing solar rooftop helps a businessman increase profitability by saving on electricity bills. The cost of solar installation is recovered in 3-4 years. However, the proposed gross metering system takes away that cost advantage," adds Shukla.
Any industry buys electricity for about ₹ 8 per unit from the local DISCOM. By putting up solar panels on the roof, the cost comes down to ₹ 2 per unit. After the initial 3-4 years, the electricity is practically free for the next 20 years or so. So, it is logical for any small or medium scale enterprise to install a solar rooftop and save money.
"In Maharashtra, small solar entrepreneurs employ about 25,000 people. The Union Power Ministry notification will leave all of them jobless," said an official with the Maharashtra Energy Development Agency (MEDA).
The Modi government has set a target to develop 100GW solar energy capacity by 2022. Ground mounting solar set up (60GW) and rooftop (40GW) are together expected to help fulfill India's commitment of cutting down carbon emission under the Paris Climate Change Agreement of 2015. Ground mounting units include huge solar parks, for example the 30,000 MW capacity park inaugurated by the Prime Minister in Kutch recently.
"Solar parks are backed by big corporates and their big money. So completing the 60GW large scale projects may still be possible. However, the 40GW rooftop target can be fulfilled only by small solar entrepreneurs. The new notification will kill these entrepreneurs' businesses," said Manish Bagadia, Managing Director of Grace Renewable Energy Private Ltd in Ahmedabad.
Notably, of the 40GW rooftop target, our country has been able to achieve only about 3GW capacity development target till the end of 2020. So there is a lot more to be done.
Why does the government want to kill solar rooftop business?
Firstly, to save power distribution companies and secondly to benefit big corporates.
Theory 1:
"In any given location, solar installations are allowed up to 70% of the transformer capacity. So if 70% energy requirement of Delhi is generated through solar then the 70% operational cost of maintaining the transformer during the peak period (when sun is shining bright) becomes the operational loss of the DISCOM. Therefore, I see gross metering notification as an attempt to save DISCOMS, which will find it difficult to survive if industries go whole hog with solar installations," said Shukla.
"We know DISCOMS across the country are in bad financial health because of mismanagement. Their losses are mounting each year. Their power purchase rate (PPR) from NTPC or Tata, Adani etc too keeps increasing every year. The government wants to save DISCOMS, but why do so at the cost of solar entrepreneurs and the honest tax-paying citizens?" asked Bagadia, who said the Confederation of India Industries (CII) and the National Solar Federation of India (NSFI) have already taken up with the matter with the Union Power Ministry.
"Today, I employ 200 people directly or indirectly. If the 10kw restriction happens, my staff will be cut to 10. Across Gujarat, lakhs of youngsters will become jobless," said Bagadia.
Also read: How you can make the planet a cleaner, greener place in the New Year
Theory 2:
Big corporates have made huge investments in the solar businesses. Adani Solar (Mundra Solar PV Ltd.) has a 2GW cell and module expansion at its manufacturing facility in Mundra in Gujarat. It will make Adani Solar India's largest and most technologically advanced player with a total capacity of 3.5 GW of high efficiency cells and modules.
A state like Gujarat, which is leading India's solar revolution, has about 600 registered solar vendors and about 400 unregistered ones. "These small entrepreneurs have the potential to fulfill India's target of achieving 40GW rooftop solar installations in the coming years. But if that happens who will our Adanis and Tatas and Ambanis sell their solar power to?" said an official.
Vinod Shirsat, General Manager (solar) Maharashtra Energy Development Agency (MEDA) said, "Maharashtra has a target to set up 2000 MW solar capacity, of which we have fulfilled only 350 MW so far. So gross metering will be introduced only after our target is met. Solar entrepreneurs need not worry now." However, the Union Power Ministry notification makes it mandatory for all states to ratify the decision by June this year. It remains to be seen how different states respond to the Centre's diktat, or the solar entrepreneurs succeed in pressurizing the government to withdraw the notification.