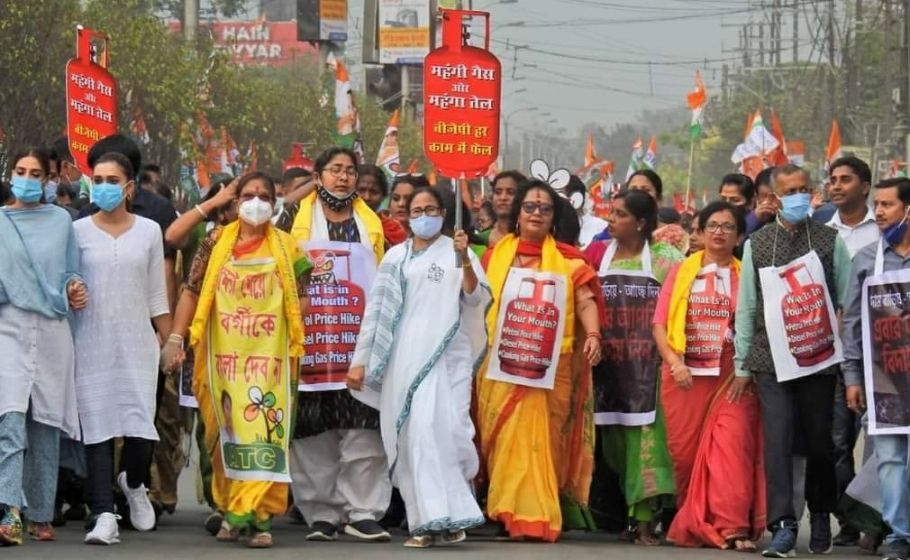 Mamata protests LPG price hike in Siliguri, questions PM Modi
While Prime Minister Narendra Modi addressed a rally at Brigade Parade, Kolkata, Chief Minister Mamata Banerjee led a "padayatra" (foot march) in Siliguri to protest against the hike in fuel prices, including LPG cylinders on Sunday (March 7)
While Prime Minister Narendra Modi addressed a rally at Brigade Parade, Kolkata, Chief Minister Mamata Banerjee led a "padayatra" (foot march) in Siliguri to protest against the hike in fuel prices, including LPG cylinders on Sunday (March 7).
Thousands attended the rally, led by Mamata and joined by Chandrima Bhattacharya and party MPs Mimi Chakraborty and Nusrat Jahan. The attendees were seen holding red-coloured cardboard replicas of LPG cylinders.
"Narendra Modi and Amit Shah are the only syndicate in India. Covid pandemic happened, fuel prices rose but the prime minister is nowhere to be found. You get free rice but to cook it you spend for gas," Banerjee said at the rally in Siliguri.
"He says there is no poriborton (change) in Bengal. The prime minister is lying everyday. Before election, Ujwala, after election there's jumla," she said.
Also read: Modi promises 'Asol Poriborton' in Bengal, teases Mamata over Nandigram seat
She sought to know "why the PM has not yet deposited Rs 15 lakh in the bank accounts of every citizen, as promised by him before 2014 Lok Sabha polls".
"You have made many empty promises. People will not accept your falsehood every day. We demand you make LPG cylinder affordable to every citizen of the country. You have made LPG cylinders inaccessible for the common man," Banerjee said in her address.
The CM also said that Modi should be "ashamed of his habit of telling lies". "He gives speech in Bangla, but the script in always written in Gujarati, and kept under a transparent sheet of glass before him. He just pretends that he knows Bangla well," she said.
"Your party had vandalised Vidyasagar's bust. Your party dishonoured Birsa Munda. Your party wrongly said Rabindranath Tagore was born in Santiniketan. This shows your depth of knowledge about Bengal and its culture," she said.
Asking people to raise their voice against the "riot- mongering BJP," Banerjee said, "People of Bengal, who had been living in peace casting aside barriers of community and language, would come under grave threat if a divisive force such as the saffron party comes to power in the state."
Banerjee had said on Saturday: "We need to organise massive demonstrations to make our voices heard. Many of those taking part in the rally will carry empty LPG cylinders to mark the protest," Banerjee was quoted as saying by PTI.
Last month, the West Bengal chief minister arrived at work on an electric scooter to symbolically protest against rising fuel prices. Banerjee rode pillion as Urban Development and Municipal Affairs Minister Firhad Hakim rode the battery-powered scooter for a considerable stretch of the five-kilometre trip from Kolkata's Hazra More locality to the state secretariat in Nabanna.
The Chief Minister had then addressed the media and said: "Kerosene is not available. One crore people in Bengal use it. Petrol-diesel (prices are) up. Gas up…even last night. That's why I decided to take the scooter to work."
Also read: BJP biggest pandemic; Dalits being tortured most: Mamata Banerjee on Hathras rape
"Modi is selling the country. This government is anti-people, anti-women, anti-farmer, and anti-young generation. We want this government to go," she said.
At his Kolkata rally, PM Modi lashed out at Banerjee and promised a "Sonar Bangla" (Golden Bengal) if the BJP is voted to power. He attacked the state government for allegedly letting down the people who had placed much expectation in it. "Bengal trusted Didi for Pariborton. She broke the trust," he said.
"I have come here to make you believe in 'Asol Poribortan', believe in Bengal's development, in change of Bengal's situation, in increasing investment and industries in Bengal, and in the reconstruction of Bengal," PM Modi said.
The West Bengal Assembly Elections will be held in eight phases from March 27 to April 29 and the results will be declared on May 2.
(With PTI inputs)