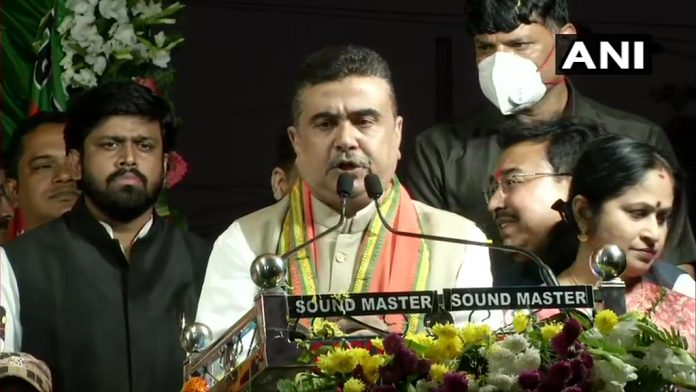 Suvendu Adhikari, who quit the Trinamool Congress last year and joined the BJP, on Sunday said West Bengal would become another Kashmir if the Mamata Banerjee-led party were to come back to power in the state.
At a speech in Muchipara, Behala, Adhikari, the BJP's Nandigram candidate, also said that, if not for Jan Sangh founder Syama Prasad Mukherjee, India would have been an Islamic country like Bangladesh.
"Had Syama Prasad Mukherjee not been there, this country would have been an Islamic country and we would be living in Bangladesh. If they [the TMC] came back to power, West Bengal will become Kashmir," he said.
Also read: Modi promises 'Asol Poriborton' in Bengal, teases Mamata over Nandigram seat
Adhikari will be taking on his former boss Banerjee in Nandigram. The chief minister confirmed on Friday that she will be fighting from the constituency. He claimed that he would quit politics if he does not defeat Banerjee by more than 50,000 votes.
Also read: Mamata calls Modi 'dangabaaz', 'a demon' in response to 'tolabaaz' jibe
Meanwhile, former Jammu and Kashmir chief minister Omar Abdullah called Adhikari's statement "stupid" and "tasteless".
"But according to you BJP-wallas Kashmir has become paradise after August 2019, so what's wrong with West Bengal becoming Kashmir? Anyway, Bengalis love Kashmir and visit us in large numbers so we forgive you your stupid, tasteless comment," Abdullah said.