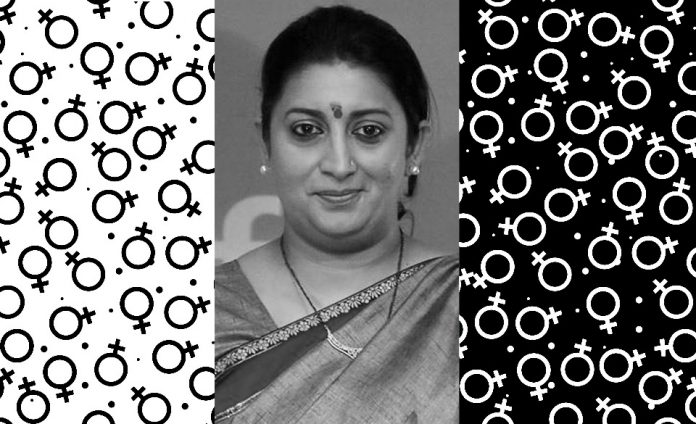 On May 26, newly elected member of Parliament (MP) Smriti Irani's close aide Surendra Singh was shot dead by unknown assailants in Amethi. Smriti rushed to her constituency and gave mourners a shoulder to cry on, literally and figuratively. Photos of her being a pallbearer and walking towards the funeral grounds quickly grabbed everyone's attention.
Many are hailing her act as the single most important milestone in the history of women empowerment in India. But she is not the only woman to do something like this in recent memory. Mallika Sarabhai, Pankaja Munde and Atal Bihari Vajpayee's daughter Namita Kaul, have all broken traditional norms. Many praised Smriti Irani for being an inspiration for every woman, for she marches ahead without forgetting her 'true culture and heritage' as an Indian woman.
One Twitter user described her act as one that challenges feminism: "Decades from now, when the achievements of equality in this society would be written, then this picture of Amethi's respectable parliamentarian @smritiirani will be a signature in the history books. This image is a challenge to the feminist voices (that are) burning in this funeral pyre."
आज से दशकों बाद जब समानता के एक पर्याय की इबारत इस समाज में लिखी जाएगी तो अमेठी की माननीय सांसद @smritiirani जी की यह तस्वीर एक सशक्त हस्ताक्षर के रूप में इतिहास में दर्ज होगी।
देह मुक्ति की ज्वाला में जलते फ़ेमिनिज़म की कुंठाओं को चुनौती है ये जीवंत छवि।
ॐ शांति,शांति,शांति🙏 pic.twitter.com/zWLhhrR9as

— Shubhrastha (@Shubhrastha) May 26, 2019
Hindu religion does not prohibit women's participation in funeral rites as per scriptures, but it does impose a cultural ban for various reasons. Some crude ones cite women's "roles" as a homemaker and caregiver who must stay back to clean the house. Others rest on stereotypes of women being weak and dainty who could not possibly lift a dead body, or witness the gruesome sight of one burning to cinders. One theory also suggests that since women must have long hair and cannot shave it off, unhappy ghosts loitering around funeral grounds might find her an easy target to possess.
So, in essence, this ban is for the protection of women, which is the core component of benevolent sexism. When you think of this, there's no doubt that Smriti Irani has challenged and broken many cultural barriers, something that is inherently feminist in principle. And as feminists, we must applaud this 'feminist' action by her even though her views on feminism are problematic. One must praise her actions without glorifying her.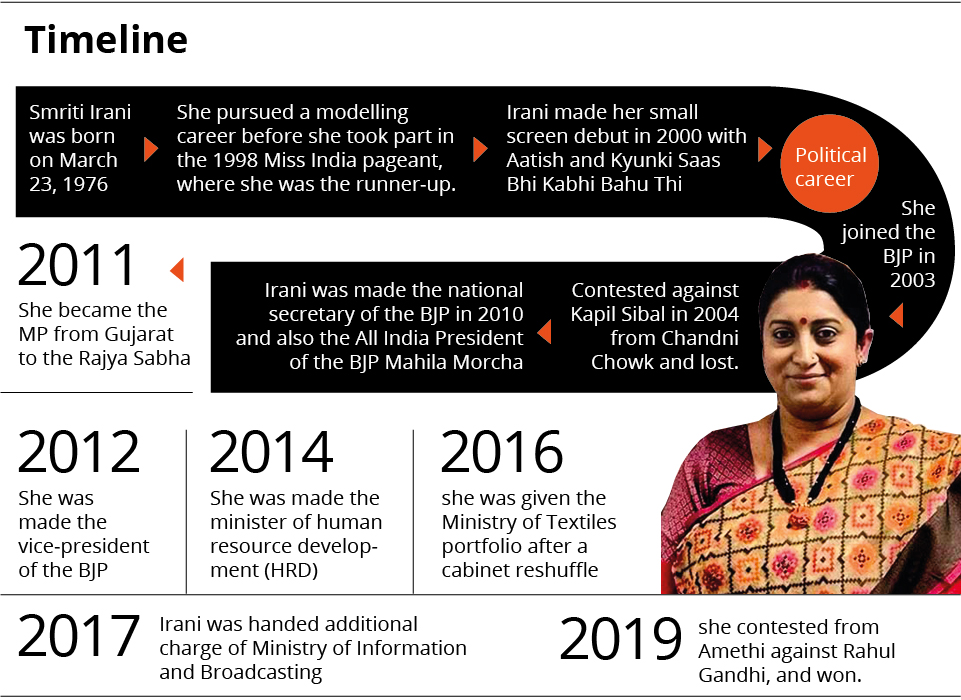 Not a binary concept
Feminism is not a binary concept. In all its simplicity, its definition can very well be 'the freedom to be you and me'. Smriti's act of turning pallbearer for her dear friend may be feminist, but she is not because she has spoken out against the concept. Feminism also requires one to question power structures, and this incident bears witness to the strength she has as a politician who could do this without being challenged. It must be noted that none of Surendra Singh's female family members were visible at his funeral.
Women's rights in India have progressed considerably, but we still have miles to go. Our journey into a New India will remain a bumpy ride if we continue to see the concept of women empowerment through the lenses of benevolent sexism. This form of empowerment allows for women to grow and rebel as long as they fulfil their primary roles of motherhood and caregivers. Smriti's image of an ideal daughter-in-law, thanks to her being the star of one of India's longest running soap opera, has added bonus points for her image as the ideal empowered woman of India. A woman who is a powerful minister while being a simple Indian woman clad in saree, chappal and sindoor.
Compare her image to those of the new candidates from West Bengal, Mimi Chakraborty and Nusrat Jahan, who have been trolled for their attire, evidently 'modern' and 'western', when they posted their 'first-day at parliament' pictures on social media.  Both these young women from Bengal and a veteran like Smriti, among others, have broken glass barriers and made 'feminist' strides towards a new India.
Unpalatable
In this context, we must also reflect whether the concept of feminism is so unpalatable to the Indian society that we need to use one powerful woman's isolated feminist acts and brand it as the face of a tolerable 'feminism', neglecting everything else she has done in furthering brahminical patriarchy. Liberal feminism is divided as it is, churning on the discord created by savarna [upper caste] feminists running the show. We hardly need feminist torches being passed into the hands of women who have the privileges of class, caste and sheer political power.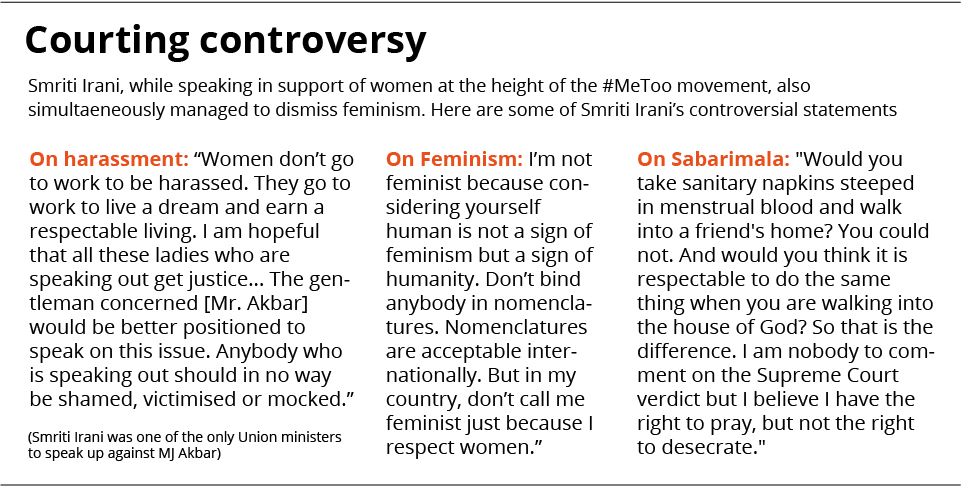 Smriti is as much a product of sexism as she is a victim. Throughout her life, she must have dealt with various forms of gender discrimination and sexism. It might be easy to forget her comments on Sabarimala issue, in the context of menstruation and the role she played in Rohit Vemula's death. One must not forget the support she received when her complaint about being spied at in FabIndia showroom's changing rooms made headlines. One must also remember how she was one of the first ministers to speak out against MJ Akbar when allegations of sexual harassment in the workplace surfaced.
There must be a way to separate the act from that person's ideology. Yet, there must be efforts to view their activities within the spectrum of their ideological viewpoints. Sounds confusing? It is.
Commendable, not exceptional
Many feminists are, understandably so, grappling with the perspective of applauding Smriti's act while taking care not to glorify her as the icon of Indian feminism. This ever-evolving plurality of feminist principles is a significant reason for its own alienation, more so in a country that thrives on binary ideologies in the backdrop of diversity.
In feminism, personal is always political. Smriti's politics involves mocking the silence of her fellow male politician with a jibe about gifting him bangles — a traditional, cultural and societal symbol of decorative fragility that is often synonymous with women. Unless women now start participating and claiming equality in funeral rites, Smriti Irani's act of being a pallbearer for her friend would remain commendable, not exceptional.
(Sonam Mittal is a feminist activist and writer who has worked on issues such as environment, human rights and gender equality)
(thefederal.com seeks to present views and opinions from all sides of the spectrum. In case of articles by contributors who are not staff of thefederal.com, the information, ideas or opinions in the articles are of the author and do not reflect the views of thefederal.com)