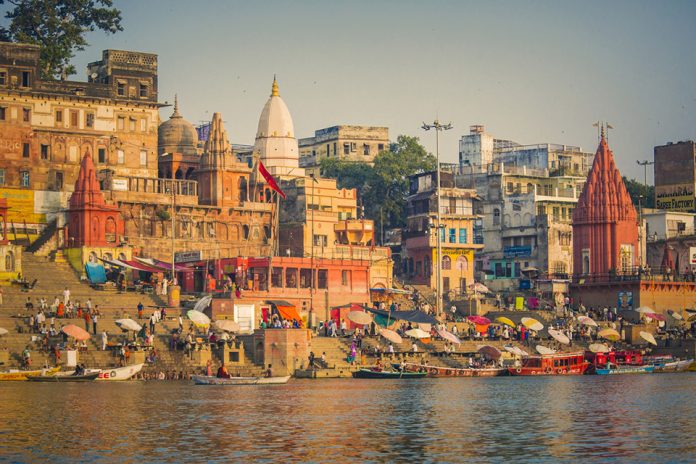 At Varanasi's Dashashwamedh Ghat, a middle-aged man covered in sandalwood paste is gazing at the Ganga, unmindful of the goings on around him. The world-famous 'aarti', the ritual of offering prayer to the river, has just ended. The people, largely tourists, have begun to empty out, but the man stands still. He isn't wonderstruck by the beauty of the rituals, he is someone who represents the city's cultural ethos, which is caught in a time warp.
Naked Naga Sadhus, 'charas' smoking holy men draped in saffron robes, early morning and late evening walkers, revellers taking a dip in the sacred river, foreigners, pundits, pujaris, pandas, fishermen, birds, stray dogs and even corpses reach the riverbank everyday without a pause. The two cremation grounds set up on the banks of the crescent-shaped river is always open. The devout — largely Hindus — seek the ghats to attain 'moksha' or liberation from the cycle of life and death.
On April 14, in continuation of a medieval practice, 'nagar vadhu' or 'brides of the city' (euphemism for nautch girls) gather from all over North India at Manikarnika Ghat, which hosts a cremation ground, and dance through the night amidst live pyres. The dance ritual, a 365-year-old tradition, is said to have been started by Raja Mansingh. The dance is an act of faith and the dancers perform without a fee, with a belief that they will be liberated in their next birth from the hellish lives they lead now.
To continue reading this article...
You have to be a Premium Subscriber
Start your subscription with a free trial
Enjoy unlimited Eighth column, archives and games on
The Federal.com and The Federal APP and many more features.
You will also be supporting ethical and unbiased journalism.
After trial subscription plans start from Rs. 99