C Gilbert, 57, can still feel the sting of the wind whipping his face, the angry sea leaping up to swallow his brother C Josebath. The fisherman from Tamil Nadu's Kanyakumari district lost his brother to Cyclone Ockhi that struck the country's southern coast two years ago in November, killing more than 250 people and ripping apart several homes and hearts.
Gilbert, Josebath and another fisherman Shallo, all residents of Chinnathurai village, had ventured out into the sea at 2 am on the fateful day. A few kilometres into the waters, the three men were ambushed by violent winds and rains. They were not new to such conditions, but that day was different. "It was abnormally windy and raining," recalls Gilbert, who survived the cyclone.
"We thought the storm would calm down, but within hours our boat capsized. The three of us somehow managed to stay afloat by holding on to a raft. After sometime when the storm subsided a bit, we started swimming towards the shores."
However, after swimming for nearly 36 hours, Josebath lost hope and started showing signs of giving up. "He let go of my hand and drowned. I couldn't do anything," Gilbert says, recalling the painful look on his brother's face. Gilbert and Shallo were lucky enough to find a foreign vessel in the sea and reached Kozhikode in Kerala, from where they finally came home.
It's been two years since the incident but Gilbert often wonders if it would have been better if he too had drowned along with his brother that day.
"I saw my brother dying in front of my eyes and couldn't do anything. He's gone but I'm drowning in a sea of mounting debts," Gilbert laments.
While a number of fishermen never returned home and are believed to have died in the sea, some like Gilbert and Shallo did manage to get back home. But life is no longer the same for those left behind.
Every time R Stella, a resident of Poothurai fishing hamlet, hears a sound from the sea, she runs to the shore, hoping to see her husband Robby and twin sons Danny and Darlee returning home. "It's been two years since they went missing in the sea, I can still smell their sweat in the air. I believe they are somewhere around."
Robby and his sons, then aged 28, used to go for deep sea fishing. "They would often spend at least a month in the sea," she adds.
Apart from the loss of lives, the loans that the fishermen took to buy high-end mechanised boats continue to haunt the families that are neck deep in debt now.
In deep waters
"The moment we got a cheque of ₹20 lakh as relief from the district collector and got down from the stage, money lenders gheraoed me, asking to return the money my father took from them to buy a boat," says J Vijovin, son of K Josebath, a resident of Thoothor, who died in the cyclone.
"We didn't get a single penny from that ₹20 lakh and had to transfer all the money to those sharks. And yet we have lakhs of rupees to repay," says Vijovin.
A mechanised boat used for deep sea fishing costs a minimum of ₹40-50 lakh. But it's not the money or the loss of their boat that  Vijovin's mother Vijaya wants to fret about. She just wishes her husband was alive. "We are not bothered about the money or the boat. Had my man been alive, the sea would have given back what it took from us," says Vijaya.
But even those fishermen who managed to survive the cyclone are finding it hard to tide over the financial crisis. "The government has agreed to pay only ₹5 lakh for each boat. However, even that amount is yet to be distributed. If they give us the relief money, we can at least buy a new boat, go fishing and repay the loans," says N Anitus, another Ockhi survivor.
Not everyone has Anitus's grit. Shaken by the horrific experience, several fishermen have quit fishing. Shallo is one of them. "The life at sea is totally uncertain. I have seen death from so close that I don't want to make another mistake. So, I will stay in the shore and sell fishes instead," he says.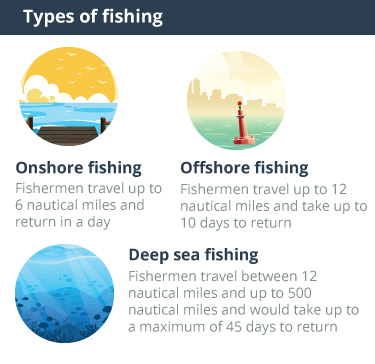 Shallo is not alone. Most of the traditional fishermen, who have been fishing for generations, no longer want to do the same. They fear that either the sea or the debt will kill them.
Twenty eight-year-old K Aneesh from Poothurai lost both his father and grandfather to the sea  and feared he too was headed for the same fate. "Now, I am the sole breadwinner of the family. So, I have bought an autorickshaw."
Even though Aneesh had to take a loan to buy his autorickshaw, he hopes to repay it soon. "It's any day cheaper than a boat, and safer too, I hope," he smiles. Aneesh no longer earns as much as he used to with deep sea fishing, but he feels it is more important to be alive than earning more.
But can everyone afford to quit fishing?
"No, that's not an option for most of us," says J Jose Bilbin, Thoothoor Fishermen Cooperative Society president. "The sea is like our mother. Can someone leave the embrace of his mother?" Bilbin, however, admits that fishing involves a lot of risks.
What is more disappointing, he adds, is the government apathy. "It seems like the entire universe is conspiring against us."
If the fishermen were caught off guard in 2017 — after the India Meteorological Department failed to provide enough warning in advance that led to many fishermen heading out on the day of the storm — Bilbin claims unnecessary panic created by coast guard officials now is forcing them to stay on the shore.
"During Ockhi, the wind speed was over 150 km/hr. But now the officials, without any understanding about the local landscape and deep sea fishing, stop us from going into the sea even if the wind speed is around 50-60 km/hr," he claims.
"Sometimes they call us back from mid-sea and if we don't hear them, they come chasing us. Every time we are chased back to the shore, we end up wasting diesel and other resources invested for fishing. In the last two years, we have been at the shore for over 200 days," he adds.
Many like Bilbin feel the government hasn't learnt much from the Ockhi disaster.
Deputy director of fisheries Elamvazhuthi Thangaraj, begs to differ. He maintains that instructions are given to fishermen based on the IMD's directions. More than anything else, he says, it's important to avoid the loss of human lives.
"Even though the wind speed is between 50 and 60km/hr, since we have received an alert about chances of increase in the wind speed in the coming days, it is best to alert the fishermen in advance before something untoward happens," he insists.
IMD officials no longer want to comment on what happened during Cyclone Ockhi. They, however, claim to have better infrastructure in place to predict a cyclone well before the fishermen venture into the sea. "Even if the fishermen have already gone into the sea, we have the official mechanism to alert them and bring them to the shores," an IMD official claims.
Cyclones — an unending cycle of misery
Eight years before the nightmare of Ockhi befell the southern coast, fishermen and their families were battered by another cyclone — Phyan. Many among them claim they are yet to get any relief or assistance from the government.
To make matters worse, eight fishermen who were killed in the cyclone have not been "declared dead yet". In the absence of death certificates, their families are yet to receive any compensation money.
"Why don't they give us a death certificate?" asks Sciliya, whose brother Mariya Rajan died at the age of 18 in the 2009 cyclone.
According to Section 108 of the Indian Evidence Act 1872, a missing person could be declared dead only "if the person had not been heard of for more than seven years by those who would naturally have heard of him/her if he/she had been alive".
However, even after 10 years, according to government records, the eight fishermen are still missing as their bodies have not been traced. But in the case of Ockhi victims, the state government last year issued guidelines to declare the fishermen who went missing as dead, enabling the families to claim an ex-gratia assistance of ₹20 lakh from the government.
The families of Phyan victims have now been demanding death certificates for their kin and an ex-gratia on a par with the compensation announced for the families of Ockhi victims. They claimed to have petitioned the district administration and the Chief Minister's Special Cell more than 20 times.
"The recent petition was filed just a week ago with the district collector. He assured us he would send the tehsildhar to check and provide a death certificate, but nothing has moved so far," says Sciliya.
The government's reluctance to issue a death certificate also means no closure for these families. "With the government maintaining that they are still missing, Leela, a mother of one of the missing youths, is still waiting for her son to return," says Sciliya. Leela refuses to believe her son is no more.
Reflecting on the strange predicament, Sahitya Akademi award-winner Joe D'Cruz, who is well-known for extensively documenting the lives of Tamil Nadu fishermen, feels the government is painfully oblivious to people's grievances.
"Although these fishermen learnt to build their boats for fishing even in the deep sea, they lack infrastructure facilities, including satellite mobile. They have been able to identify the places where they will get a better catch with the help of electronic devices, but their safety in the sea is still a big question."
The government, he feels, have taken some initiatives to resolve the issues but have ignored taking the fishermen on board. "The sea, shores, ports and the type of fishing are unique everywhere. So, unless the government involves the local men, it is quite impossible to change their lives."
So, until that happens, D'Cruz adds, the victims of cyclones and their hapless families will continue to be at the mercy of a raging sea and the screaming gales.