Zodingliani, 35, grew up listening to horror stories of the 1960s in Aizawl, the capital of now picture-perfect state of Mizoram. Stories told by scarred souls, ageing relatives, of lost parents, orphaned children, burnt limbs and rice fields, of screaming jet fighters raining bullets and bombs, gutting hopes and homes.
Back in 1966, the Indian government, in its bid to quell a rebellion by the Mizo National Army (MNA) for independence from India in the Mizo Hills district of Assam, bombed Aizawl for over a week, killing civilians and burning the city into ashes. The bombing of its own civilians — which is now known as the first and only time the IAF was used to attack its own countrymen — however, didn't succeed to repress the armed struggle even though it managed to send the MNA soldiers packing to nearby hills and forests, some to Burma and the then East Pakistan. It instead led to a full-blown insurgency that went on for two more decades.
The stories of panicked civilians fleeing to forest cover to survive a brute government and its subsequent uprooting of Mizos that started in 1967 — by burning down villages and regrouping the villagers in government camps — still strike a discernible 'shock and awe' among old-timers in this scarred land.
Advertisement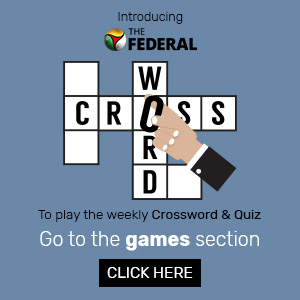 Thousands of kilometres away from Aizawl, many young women of Zodingliani's age and their familes in Kashmir today find themselves surrounded by a similar 'shock and awe' tactic and thousands of marching troops into the Valley.
On Monday, August 5, the BJP-led government scrapped Article 370 and bifurcated the state of Jammu and Kashmir. While it made J&K a Union Territory with a legislature, Ladakh will now be a separate Union Territory without a legislature.
The latest move came days after the Centre began a troop build-up in the state and asked Amarnath yatris (pilgrims), tourists and students to return home. A day later, mainstream political leaders in the Valley — including NC's Omar Abdullah and PDP's Mehbooba Mufti — were put under house arrest even as internet and telephone as well as public gatherings were suspended.
The 'shock and awe' that led to a week of panic and ultimately culminated into an announcement about Kashmir — which many have already now named #OperationKashmir — is a famous military strategy with its origin in the writings of Sun Tzu, the Chinese military philosopher. American strategic analysts Harlan K Ullman and James P Wade later formulated the concept in a Pentagon briefing document of 1996. It is basically a way to subdue the enemy through psychological shock and awe even before the actual battle begins. It became popular during 2003 when the US bombarded Iraq at the beginning of the war in 2003.
Monday's presidential order issued on reorganising Jammu and Kashmir that scraps Article 370, as many pointed out, effectively means bypassing parliamentary requirement for a two-thirds majority through a Constitutional amendment. Moreover, it also included amendment of Article 367 of the Constitution that ultimately gives more powers to the Governor rather than an elected government to decide on behalf of the Kashmiris. This, many believe, in other words amounts to disenfranchising the citizens of Kashmir.
But apart from the ex parte decision, many now wonder if the Centre's plan has fallen way off the mark of what Sun Tzu recommended as the "best war strategy". Is the Centre expecting Kashmiris to quietly resign to fate and not put up an even-stiffer resistance?
"They have just unleashed a new war on Kashmiris. There will be more resistance from the people and more blood on the Centre's hand. Why else have so many troops been deployed?" says a Kashmiri executive employed in the hospitality industry in Delhi.
In the Rajya Sabha, Vivek Tankha, a Kashmiri Pandit and MP (Congress) asked if any Kashmiri Pandit can return home now that Article 370 is scrapped overnight without consulting any of the affected groups and keeping a state under curfew, according to a tweet by senior journalist Rajdeep Sardesai.
Yet many optimists and BJP supporters would disagree with the 'failure' of #OperationKashmir. Assam Chief Minister Sarbananda Sonowal believes "a historic blunder and injustice done to the very soul of India has been corrected" with the latest move. Actor Anupam Kher declared on social media even before the official announcement that "Kashmir solution has begun".
The removal of Jammu & Kashmir's special status has been a long-standing agenda of the BJP and its predecessor, Jan Sangh. It was also a promise that the BJP made in its election manifesto.
State of shock
The government may not have declared its 'shock and awe' strategy in as many words. Nor has the media coverage sought to describe the unprecedentedly heavy-handed approach as something related to Sun Tzu's strategy but instances from the recent past show the Prime Minister's penchant for such 'shock and awe'. The first such instance was his announcement to demonetise ₹1,000 and ₹500 (old) notes back in November 2016. The surgical strike on black money was followed by a series of similar announcements and buildups such as the IAF attack on Balakot or the surprise spun around an anti-satellite missile test during the election season.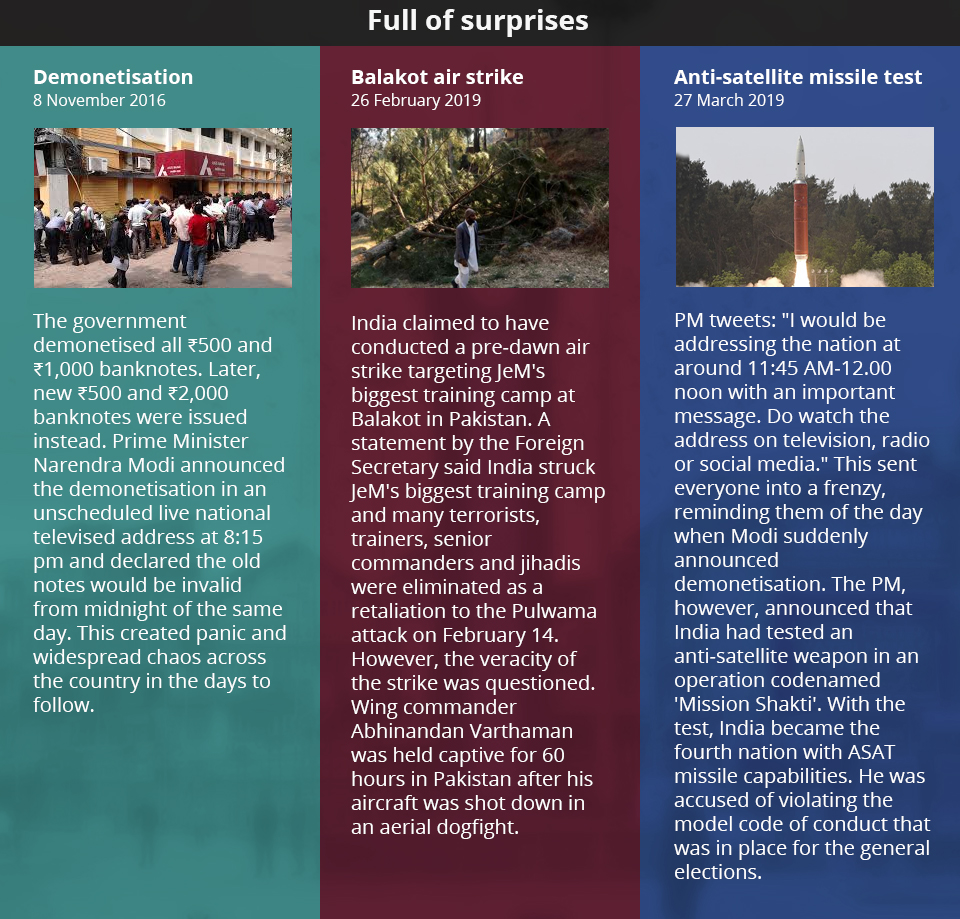 On the morning of March 26, the PM tweeted "I would be addressing the nation at around 11:45 AM-12.00 noon with an important message. Do watch the address on television, radio or social media." This tweet sent everyone into a frenzy and reminded them of the day when PM Modi suddenly announced demonetisation. While the A-SAT test was a positive news for India, the announcement coming in the election season was enough to send his political opponents into a state of shock — the enemy giving up the fight even before the battle for votes against a very popular Modi began.
"The government by asking Amarnath yatris to return home pressed the panic button. Then it enjoyed the suspense created by misleading statements to the media by its own functionaries. Amid all this it unleashed its social media army with all kinds of rumours. Who plays such mind games with their own people?" asks Rasheed Khan, a Delhi resident.
Even as Kashmir remained on the edge following the security advisory in the Valley that triggered alarm among the local residents who started panic-shopping ration and essentials fearing a long spell of curfew, J&K Governor Satya Pal Malik dismissed it. He said there was "nothing to worry about" and this was only "rumour mongering".
Of course, what happened on Monday suggest otherwise even as many are now worried if the government instead of finding solution is creating more troubles.
While many at the other end of the spectrum are celebrating "the victory", what is unmissable is the stark irony. As mainstream media reporters stood in front of the Dal Lake to announce the scrapping of Article 370, there was not a single Kashmiri in sight.
"We don't know what to expect. It's a siege imposed by India. I'm extremely worried about my parents back home," says a Kashmiri student in Delhi who doesn't want to be named.
But the 'shock and awe' didn't end with Kashmir and was on full display outside it as well.
Back in Zodingliani's northeast, which is already reeling under the ripple affects of NRC update in Assam, the 'shock and awe' seems to have deepened. A fresh wave of panic struck parts of lower Assam where many, mostly Muslims, were issued notices to attend "re-verification" hearing within 24 hours to far-off places. The notices were reportedly served late on Saturday night, asking people to appear for the re-verification at 9 am on Monday.
Assam, where the NRC update exercise has already transmogrified into a major human rights crisis, saw villagers in hordes rushing to places hundreds of kilometres away. All those who have been summoned are included in the draft NRC.
"People were served notices 24-48 hours before hearing at places which are 300-400 km away. This is violation of Supreme Court order (dated April 10, 2019) and Clause 5 of the standard operating procedure wherein it is unambiguously stated that applicants should be served with any notice at least 15 days prior to the date of hearing," Guwahati-based lawyer Aman Wadud tells The Federal.
The SC order of April 10, he says, clearly prohibits the NRC authorities from organising hearings too far away. "Most of these people are very poor and were forced to sell their ornaments and cattle to attend the hearings."
The development is being seen by many in Assam as a way to create more panic by the state and central governments, especially after the SC rejected their plea seeking a 20 per cent sample re-verification of the names included in the draft NRC from districts bordering Bangladesh and a 10 per cent sample re-verification in the remaining districts in Assam.
As if fate couldn't get more cruel, on Sunday night, one of the buses from Sontoli in Rural Kamrup district, travelling to Golaghat collided with a truck carrying tar near Guwahati. The injured passengers were rushed to the Guwahati Medical College and Hospital.
At the hospital, Wadud says, a woman carrying her baby — both covered in molten tar — asked: 'What will happen to my NRC hearing?'