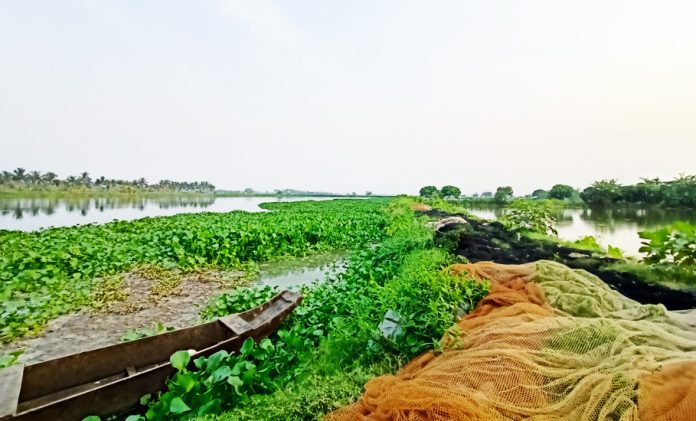 It is 38 degree Celsius this week, slightly lower than the 42 degree heat stroke which Kolkata experienced this year. I stepped out of my apartment with a palpitating uneasiness, the feeling of breathing inside a heat pocket or the concrete urban heat island to a much cooler zone, the East Kolkata Wetlands. A unique ecosystem of water bodies acting as a natural purification system for the city's waste water treatment, which was given the status of Ramsar site in 2002. Kolkata city is home to a natural body of wetlands such as like the East Kolkata Wetlands, Santragachi Jheel Wetlands, Dankuni Wetlands and Rajarhat Wetlands that sustain its people and a huge biodiversity.
From a distance, the garbage hill was always visible on the highway leading to Sector V known as Dhapa. But never had I imagined that it was home to 12,500 hectare of organic sewage recycling system that treats almost 750 million litres of everyday sewage with UV radiation within a cycle of 20 days. EKW consists of salt water bodies, Bheries, pukur or settling ponds, sewage canals, vegetable farms, paddy, jute and rice fields, salt meadows, intertidal marshes, oxidation basins, sewage farms, shallow fishing ponds, dumping grounds, long stretches of coconut and palm trees, interconnected villages, nutrient rich cultivated land for cattle to graze and flora and fauna to thrive.
In a city that is constantly taking up more space for urbanisation, EKW provides a natural retreat for those searching for endless open grounds to reconnect their restless souls with the simplicity of people and nature. Growing up in the city with high rises, billboards, bridges, cars, markets, pollution, poor civic sense, miles of concrete, rising temperatures, shorter rainfall and struggling with both internal and external noise, I searched for places to ease my anxious mind. While being a naturalist at heart, I was set on a path to find natural spots in my city to encounter and incorporate in my creative work.
To continue reading this article...
You have to be a Premium Subscriber
Start your subscription with a free trial
Enjoy unlimited Eighth column, archives and games on
thefederal.com and many more features.
You will also be supporting ethical and unbiased journalism.
plans start from Rs. 149