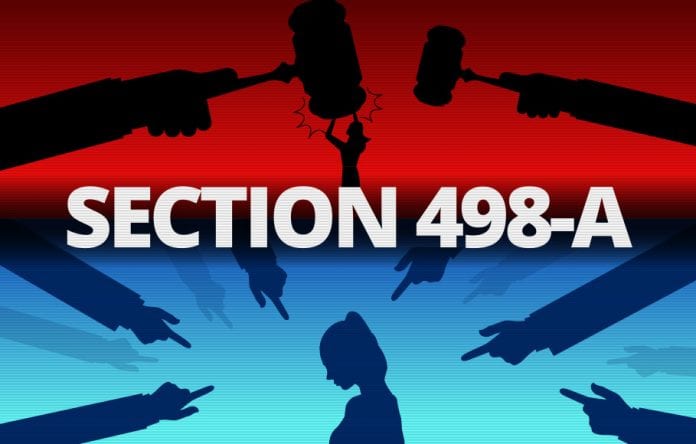 In September 2019, a group of men's rights activists conducted a special puja at 50 different locations across the country to end the 'cancer' of feminism in India. Organised by Save India Family Foundation, which works on promoting 'gender equality and family harmony', the puja was called Feminism Pishachini Mukti Puja.
According to the men's rights activists, this call to end feminism in India, in the wake of the MeToo movement, was in the global interest of family and society.
While such celebrations of misogyny are not new, similar efforts to preserve "family harmony" includes calls for a repeal of Section 498-A of the IPC, which intends to protect women from cruelty subjected by husband or his relatives.
Under Section 498-A, the criminal offence is cognisable, non-compoundable and non-bailable. Men's rights activists insist that the law is not serving its purpose and being misused by women to harass their husbands and his relatives.
So, is Section 498-A actually being misused to harass husbands?
The concern over the rising number of 'false' cases, including under Section 498-A, has also been noticed by our courts. The Supreme Court observed in 2010 that "it is a matter of common knowledge that exaggerated versions of the incident are reflected in a large number of complaints".
Lack of evidence vs false cases
While we reflect on this, we must enquire as to what makes a case 'false'. The most commonly used argument is that legal cases under 498-A have only 2 per cent conviction rate. Does it mean that the other 98 per cent cases are false?
No, it does not.
For any conviction on criminal charges, there must be evidence that proves 'beyond doubt' that the offence has been committed. Lack of evidence means evidence wasn't strong enough to prove an alleged offence 'beyond doubt'. Therefore, 'lack of evidence' in no way means a false case. It also doesn't mean misuse of the law.
It is well-accepted that our legal machinery is not optimum. Laws aimed at protecting women from abuse often unintentionally end up harassing the women instead. A study titled '498-A: Case of Use, Misuse and Underuse' published by Vimochana, a women's rights organisation in Bengaluru, found that the average waiting time for a case under Section 498-A is about 6-8 years.
Prithvi Shiv, a theatre artist and a marketer, recounts an incident he witnessed in 2015 in Bengaluru. "We had to stop a drunk man from assaulting his wife in the middle of the road. The beat officers showed up within 10 minutes. Turned out, this was the third time he had assaulted her that week. Twice before, the cops let him go with a warning. This time too, they asked the woman to give her husband another chance. It was quite disheartening to see this."
Is the law serving its purpose?
Section 498-A has seen recent dilutions in the form of a nine-point checklist that aims at "regulating the power of arrest and for taking necessary steps to initiate conciliatory effort at the earliest point of time". Now, women who file cases under Section 498-A must go through mandatory counselling from family welfare councils.
Women who want to exercise their legal right of filing a criminal complaint against an abusive husband have to overcome barriers — right from police officers to family councils to long-drawn and complex legal processes. They are asked to 'reconsider' and work on differences, often for the sake of young children, old parents-in-law, or for the sacred institution of marriage.
The responsibility of upholding the sanctity of marriage thus falls disproportionately on women. Any attempts to break free of abusive marriages are silenced with claims that family disputes are a 'personal matter'. This diverting tactic of holding the victim responsible for the abuse and consequent breakdown of family is how patriarchal status-quo is maintained. Thanks to feminist interventions, this systematic abuse of women is no longer a personal matter. Perhaps that is why it is believed that the 'foreign' concept of feminism is destroying the social and cultural fabric of Indian society.
Tara Kaushal, author of Why Indian Men Rape, says, "Feminism challenges historical systems that have traditionally favoured men. So, from their point of view, it's ruining absolutely everything."
Contrary to popular perception that mostly 'unscrupulous' and 'disgruntled' women file 'false' cases for revenge, Vimochana's study found that women do not rush into filing a complaint under 498-A. They often endure various forms of violence for a long time before registering a case. Worse so, in 40 per cent of the cases, the victim is already dead and her natal family files a case against the husband. It is important to note that women often reach out to their natal family for support, but their concerns are often trivialised. Their requests to come back home are met with hostility and concerns about social-shaming.
Various data suggest that the number of reported cases of abuse and harassment is only a tip of the iceberg. One out of every three women have experienced physical or sexual violence, including 40 per cent of married women, according to National Family Health Survey (NFHS-3). Only one out of every four women who have experienced violence have sought help. Less than 1 per cent of married women who have faced domestic violence have actually lodged a case under Section 498-A.
The National Family Health Survey has also highlighted the prevailing belief that 'wife-beating is justified under certain circumstances'.
"One of the massive themes I explore in Why Indian Men Rape is the clash of cultures," explains Tara, "How men come into relationships with historic expectations—make me tiffin, tolerate a slap or two—and are met with women who won't take that any longer."
So, who decides when 'justified wife-beating' becomes unjustified, therefore requiring justice interventions? The answer lies in the subjective understanding of abuse. Whether it merits serious redressal or dismissal as "overreacting to a small dispute".
Dilutions to prevent misuse
Various high courts, in directions given to police officers, insist that most complaints are filed in the heat of the moment and there should be attempts made towards a reconciliation, which will not be possible if the accused is arrested immediately. However, such a directive dilutes the provisions made under Section 498-A to grant immediate relief to women experiencing ongoing cruelty and threat to their lives.
Further, any arrests that should be made under Section 498-A cannot be done without the approval of the deputy commissioner of police (DCP) or additional DCP. Interestingly, there is no mandate on the timelines within which such approvals must be obtained. Considering our current infrastructure and a serious lack of resources, human and otherwise, there is no saying when married women can expect relief. While they wait for the DCP's approval, they often have no choice but to go back and live under the same roof in the presence of their abusers.
Ekta Resource Centre for Women's study on 498-A in Tamil Nadu reported that only 3 per cent of all complaints related to matrimonial issues were converted into FIRs. When trial courts had a 20 per cent conviction rate under Section 498-A, the number declined to 3.2 per cent conviction in the appellate court. A high acquittal number is often because of lapses in investigative procedures or procedural lapses on part of the investigation officer. Biases on the part of people involved, corruption and socio-economic vulnerabilities of women litigants have a direct effect on low conviction rates.
There is no denying that Section 498-A can be misused. But so can be any other law. For instance, Section 307 is the most misused law, since even a slap on the cheek can be taken as an 'attempt to murder'. Strangely enough, male-dominated judicial structures have never called Section 307 as 'legal terrorism' (Supreme Court, 2005 for a hearing under Section 498-A).
A double-edged sword
There is no concrete data to believe that Section 498-A is being misused. On the contrary, the only few studies conducted till now, including the Law Commission of India's 2012 report, conclude that there is no sufficient ground to believe that this law is being misused. In fact, Vimochana's report proves that this law is 'underused'.
Its key findings state that 96 per cent cases had an 'A' report filed after an inquiry, which means it is a true case, as opposed to 'B' report (filed when the police do not find any evidence after inquiry). The key question, thus, remains that even after such a high number of 'A' reports, why are these cases not ending with conviction?
Cases of domestic violence are taken seriously only when the victim is dead. So in effect, a 'good case of rape or violence' is a dead one.
One of the authors of the study, Bindu Doddahatti says, "We need to challenge the narrative of misuse of laws by resorting to research and campaigning, increase our presence not just online but also reach out to women in courts. We should use the reports we produce to get favorable orders from courts, and to sensitize Judges especially."
While women's rights groups have consistently maintained that women's concerns are trivialised and dismissed in every step of the justice system, men's rights activists have been insisting that the laws are against the general interest of men, because apparently, women are believed at face value while innocent men are socially convicted. They have called the MeToo campaign as 'digital mob-lynching' of men.
While institutional, judicial, societal and cultural accountability is far away from the intentions and provisions of Section 498-A, victims of domestic violence are still searching for a way to seek justice — one which does not automatically hold them 'guilty of reporting a false case' just to ensure that men are seen as 'innocent until proven guilty'. Doomed if they do, doomed if they don't.