'Ettaiyapurathil Oru Thaayin Karuppai
Eppadi Sumanthathu Indha Neruppai'
(How a mother's womb in Ettaiyapuram had borne this fire)
This is how noted Tamil film lyricist and poet Vairamuthu describes Subramania Bharathi, more famous as 'Mahakavi Bharathiyar'. Vairamuthu aptly captures the poignancy and grit of the 19th century poet and his work in Kavirajan Kathai, which rendered the life of Bharathi in verse.
That's how Bharathi was, that's how his work is taught in schools and debated in seminars — a firebrand poet.
His poems and works were full of rage — against the system of oppression, which was largely the British at the time, and thus went on to motivate people to fight against the colonisers.
In one poem, Bharathi describes himself thus:
Akkini Kunjondru Kanden
Adhai Angor kaatilor pondhidai vaithaen
Vendhu thaninthathu kaadu
Thalal veerathil kunjendrum Moopendrum undo?
(I put in the tree's hole,
a young spark I found.
The forest turned to ashes.
Are there valorous among the young and the old?
– Translation: Kalyanaraman Durgadas)
Written many years ago, the poem still resonates with the youth today. It even found a place (as a song) in a recent Tamil film, Uriyadi (2016), during a fight sequence.
From Subramanian to Bharathi
Born on December 11, 1882, to Chinnasamy Iyer and Lakshmi Ammal in Tuticorin district's Ettaiyapuram, Subbaiah aka Subramanian lost his mother at the age of five and was taken care of by his grandmother.
He started composing poems from the age of 11 and was able to turn every emotion into a poem. Overwhelmed by his skills, Ettappa Nayakar, the ruler of Ettaiyapuram, gave Subramanian the 'title' of Bharati (eloquence), which is another name for the Hindu goddess of learning, wisdom, music and aesthetics — Saraswati.
Subramanian married Chellammal when he was 15 and worked as a court poet at the Ettaiyapuram palace for a couple of years. After the death of his father, he moved to Varanasi and stayed there between 1898 and 1902. It was here that he got introduced to Hindu spirituality and nationalism. He also changed his outward appearance by wearing a turban and sporting a beard and a curled moustache.
After his return, he worked as a Tamil teacher for some time in Madurai. However most of his life, Subramanian worked as a journalist in Madras and edited many magazines such as Swadesamitran, India, Vijaya, Chakravarthini, Karmayogi and Bala Bharatham.
"In Tamil, prose and its various forms are attached to three great personalities. Prose as journal writing started with Ananda Rangan Pillai, a dubash who served in French East India Company at Pondicherry. Prose in the form of a novel started with Mayuram Vedanayagam Pillai. It was Bharathi who started writing journalistic prose," says Kadarkarai, a writer researching Bharathi and his life.
Before Bharathi started working in Swadesamitran (a Tamil language newspaper), the language used in newspapers was difficult to understand for the common people since it had lots of English terms transliterated into Tamil. Bharathi, even though his language had Sanskritised Tamil, simplified things, says Kadarkarai.
When the freedom struggle was at its peak, Bharathi (because of his revolutionary writings) came under the police radar and had to flee to Pondicherry where he lived between 1908 and 1918. He died on September 12, 1921, following an attack by an elephant at Parthasarathy Temple in Triplicane.
"Bharathi died around 1 am on September 12. But people said he died on the night of September 11 as Tamilians believe that a new day starts only with dawn. Elsewhere in the world, it is considered that a new day starts at midnight," says Bharathi Puthiran, former professor of Tamil, Madras Christian College.
For many years, people observed Bharathi's death anniversary on September 11, and it changed to September 12 only after the emergence of his death certificate in public domain, he says.
This year marks the centenary of his death and events in his honour are kicking off.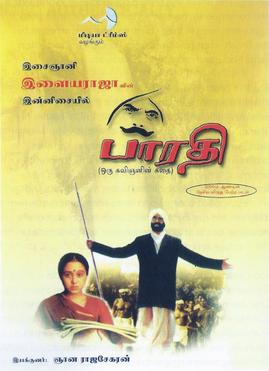 Pioneer of modern Tamil poetry
Bharathi is considered a pioneer of modern Tamil poetry. Before him, poets followed rules (such as length of the lines) while writing poetry. One needed considerable knowledge of these rules to understand such poems.
But Bharathi was more into free verse. He introduced a new form of poetry called 'Vasana Kavithai', in which simple words were used wherein a reader didn't need a dictionary or a scholar's help to understand the verses.
Bharathi himself has written about his poetic style: 'Sol Puthithu Porul Puthithu, Sothimigu Navakavithai' (Words are new, meanings are new and have more light).
Although he wrote poems mostly about the nation, he also wrote about children, nature, God and the common people.
"Before Bharathi, for almost 2,000 years, poets wrote songs exhorting kings. But it was he who sang about the common man for the first time (in Tamil)," says Kadarkarai.
He wrote Odi Vilayadu Paapa (Oh child, run and play), and with this, he became the first person to write children's literature in Tamil. With Kakkai Kuruvigal Engal Jaathi (Crows, sparrows are our clans) he kicked off nature writing, says Kadarkarai.
And if one were to go by Bharathi on who would be a poet, it would be a person who not only writes verses but lives by them.
"He took up various jobs — that of a teacher, journalist and editor. But he considered himself a poet and wrote Emakku Thozhil Kavithai (My profession is poetry). For him, writing and the pen were the only God," says Bharathi Puthiran.
Despite his progressive work, for many years, he was apparently overlooked by the Dravidian movement and parties and was not given importance as was given to Bharathidasan, his disciple.
"Bharathi was overlooked by the Dravidian movement because of his philosophical views. Besides, he was a Brahmin. But later, Periyar's magazine Kudi Arasu published his poems on the cover page. However, a feature film was made on Bharathi's life that was directed by former IAS officer Gnanasekaran. But no such honour was bestowed on Bharathidasan," adds Bharathi Puthiran.
Bharathi in contemporary times
It is interesting to note that Bharathi's writings captured the entire nation's imagination. So much so that during the freedom struggle some of his works were banned. Those writings are being discovered and republished by Bharathi researchers now.
"But the government did nothing to take Bharathi to a wider audience. Even today when researchers want to look at magazines edited by Bharathi, they have to go to the state archives in Kolkata. All those works must be brought under one roof. On his death centenary, such an initiative will be a befitting tribute to him," says Kadarkarai.
Bharathi is a household name in Tamil Nadu. People have grown up learning his poems through textbooks and films. He was well-versed in music too and wrote a number of poems based on 'taalam' (rhythm). But only when music composers started using his songs for films, they became more popular.
Poems such as Aaduvomey Pallu Paaduvomey (Naam Iruvar, 1947) to Kakkai Siraginiley (Ezhavathu Manithan, 1982), Nirpathuvey Nadappathuvey (Bharathi, 2000), Aasai Mugam (Gypsy, 2020) and many more inspired filmmakers to turn them into songs.
Filmmakers, including Kamal Haasan, used Bharathi's poems even in dialogues such as Nallathor Veenai Seithey (Varumaiyin Niram Sivappu, 1980) and Thedi Soru Nitham Thindru (Mahanadhi, 1994).
Many of his lines have become titles for books such as Oorukku Nallathu Solven by Thamizharuvi Manian, films such as Achamillai Achamillai (1984) and Kaatru Veliyidai (2017) and even television programmes such as Nerpada Pesu and Rowthram Pazhagu.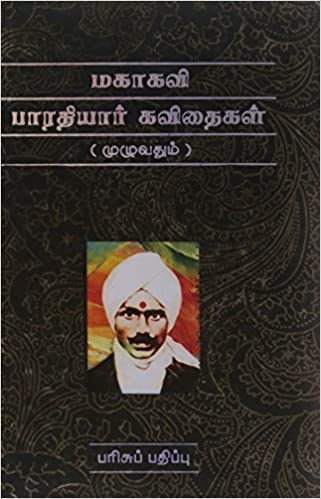 "Besides all these, many continue to name their children after 'Bharathi'. The name has become gender neutral. In fact, in every district in the state, one can see at least four or five Bharathi Nagar or Bharathi Streets," says Bharathi Puthiran.
Having written a lot about women empowerment and gender equality, Bharathi continues to inspire many women poets too.
Caste, language and humanity
Today, Bharathi's poems have gained more significance than ever with rising language wars and caste violence.
'Jaathigal Illaiyadi Pappa – Kulath
Thaazhchi Uyarchi Sollal Paavam'
(There are no castes or sub-castes
It's a sin to talk in terms of castes good and bad)
While these lines continue to resonate, what was most remarkable about Bharathi was that he was a man of his words and truly followed what he preached.
One such instance from his Pondicherry days goes on to say a lot about his conviction. He once invited five Dalit youths to his home for a feast. There he made them wear the sacred thread (adorned till date by many Brahmins) and served them food. He then asked his wife Chellamma to take away the banana leaves where they were served food.
Those who have been closely following his work for years say this was Bharathi's way of breaking the taboo and ending the caste differences.
When it came to language, Bharathi wrote that 'no language is sweeter than Tamil' but he also believed in learning other languages. He was multilingual and learnt English, Hindi, Sanskrit, Telugu and French. He also asked people to translate scholarly books from various languages into Tamil.
Many of his admirers claim when Rabindranath Tagore got the Nobel Prize for Geetanjali, Bharathi wondered whether his poems were not good enough for the Nobel. Of course, that did not stop him from calling Tagore a 'Mahakavi' (great poet).
This is what tells us, his admirers add, that Bharathi was not just a great poet but a big-hearted person too.
"Bharathi is a common thread that brings together Tamils who are spread across the world. His words resonate across all corners of the world—from the Siberian deserts to Fiji Islands. His dreams have come true…," renowned novelist Jeyakanthan once wrote.