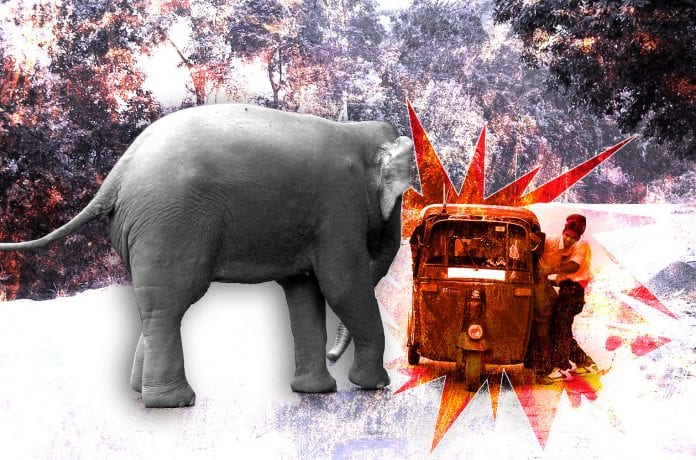 On the evening of November 9, villagers of Arthanaripalayam—located close to the buffer zone of Annamalai Forest range in Pollachi district in Tamil Nadu—had to face the wrath of a wild elephant that went rogue and entered the human settlement.
The elephant, nicknamed the tusker 'Arisi Raja', or rice king in Tamil as it was fond of devouring rice grains in huge quantities, had entered the village in search of food several times last month as well. But that day, it raided nearby farmlands before trampling a man to death and leaving an elderly woman injured.
"Unlike other elephants which usually enter farms, eat crops and move on, this one was different. It went on to kill people and attacked anyone who tried to control it," said Raja Chinnadurai, a 69-year-old farmer in the village.
Advertisement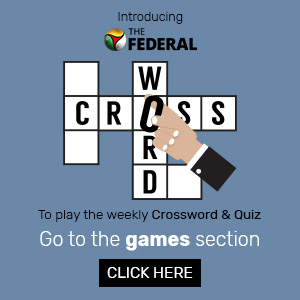 Chinnadurai, whose son got injured while trying to drive away the animal, says it broke a six-volt electric fence surrounding his five-acre farm and uprooted some of his coconut trees and corn plantation, causing an estimated loss of ₹50,000.
Another farmer who lost ₹1 lakh worth of crop, petrified by Arisi Raja's rage, says the elephant did not move even after crackers were burst, a common tactic used by farmers in the region to drive away elephants.
The same elephant had allegedly killed a minor girl and a farmer in May this year. The villagers claim to have given a written request to the forest officials to nab the jumbo. But their request fell on deaf ears.
Chinnadurai blamed the forest department for not maintaining the trenches dug along the forest borders. "If the trenches are big enough and maintained regularly, the wild animals wouldn't breach the forest area," says Chinnadurai.
He also said that the officials need to plant more trees in the forests so that the animals can feed on these, which when not done, forces results in the animals entering human habitats in search of food.
Besides the economic losses, the fear psychosis drove the villagers to resort to a protest and block roads. Action followed and the chief wildlife warden issued a capture order and set up a 70-member team of range officers, veterinarians, anti-poaching wing officers, forest guards and residents to nab the rogue elephant.
After five days of prolonged efforts, the forest guards managed to tranquilise and capture Arisi Raja with the help of two Kumkis (trained elephants used in operations to trap wild elephants). The pachyderm will now be kept in captivity in Kraal, a wooden enclosure, inside an elephant camp of Annamalai Tiger Reserve.
Wild, wild country
Elephant-human conflicts are a rising trend across the country, especially in Tamil Nadu and Karnataka's forest regions. Elephants stand out as a key conflict species causing high economic losses and the highest human fatalities among all animals. It is estimated that nearly 400-500 people are killed annually in elephant-related incidents in India. And approximately 80-100 elephants are killed due to retaliation by farmers in a bid to remove 'problem' animals.
While no proper study has been conducted and no feasible solution has been adopted to reduce the conflict, forest officials and farmers usually capture wild jumbos and 'cage' them in the elephant camps.
According to K Kandhasamy, general secretary of Tamil Nadu Vivasayigal Sangam, a farmers' association, capturing wild elephants and keeping them in camps in good care is the only solution to reduce everyday conflict. "These frequent intruders show the paths to other elephants. If they are caged, other migrant elephants will move only in their routine path and not venture into villages," he says.
After a similar incident in February, People for Cattle in India (PFCI), an NGO working towards animal conservation, filed a public interest litigation in the Madras High Court seeking suitable guidelines to be framed for translocating and rehabilitating elephants, besides studying the human-animal conflict in the forest fringes.
Ajay Desai, a consultant at the WWF-India, in a report submitted to the court noted that the number of people killed or injured by elephants range from 10 to 27 every year in the Coimbatore forest division.
While India's elephants enjoy a highly protected status under the Wildlife Protection Act of India, 1972, and are considered a Schedule I species, the situation on the ground paints a different picture altogether when it comes to their well-being.
On November 11, for instance, officials in Assam tranquilised and captured a wild elephant nicknamed Laden. Named after Osama bin Laden by villagers, the wild tusker had killed five people in October. It was tracked for days and finally captured. But without proper care, Laden died in captivity on Sunday (November 17).
However, elephants have complex societies and don't adjust easily to new habitats nor are they accepted by resident elephants. This is a key reason why they don't like to be translocated to a different forest division. The lack of knowledge of water and food in a new habitat often makes them venture out and feed on crops. Experts also say that these animals have strong homing instincts and often try to trek back to their home range.
In Karnataka's Nagarahole and Bandipur forest areas which see more such conflicts, it was noticed that the protected areas for elephants were infested with weeds like lantana and had taken over large chunks of feeding grounds of elephants. The animals were forced to look for alternative sources of food, and were attracted towards standing cash crops like banana, sugarcane and paddy nearby.
Karnataka accounts for 25 per cent of the country's elephant population. As per 2012 population estimation, there are 6,072 elephants, according to the state forest department.
Short-term measures not enough
Digging elephant-proof trenches, putting rail barricades, solar-powered fences, erecting dry rubble stone walls and creating corridors—wildlife habitats—are some of the measures taken up by the forest department and farmers in the fringe region. But these are only short-term solutions.
Wildlife experts call for long-term measures like expansion of wildlife areas, securing animal corridors, rehabilitation of human habitation, which according to them, are not prioritised. Besides this, they also suggest that the forest department maintain an updated database of wildlife movement for better policy-making and incentivise farmers to grow non-cash crops around the Protected Areas. They also recommend providing crop insurance for such cases.
Environmental activist K Mohan alleges that the same farmers who demand the capture of elephants don't seek action against illegal buildings on elephant corridors and at the foothills of the Western Ghats. Construction of religious and education institutions at the foothills obstructed the path of the elephants migrating from one place to another, he says.
"There are over 1,000 buildings that have come up in and around the elephant corridors in Tamil Nadu. If their pathway is obstructed, they will find their way and intrude into the human habitat," he adds.
In Karnataka, a night ban on traffic on the 19-km stretch of National Highway 766 that cuts through the Bandipur Forest Division has turned contentious, as it hurts the movement and livelihood of people in Kerala's Wayanad.  While the ban seems to have brought down the number of accidents and injuries to wild animals, it had resulted in massive protests, despite which the Supreme Court upheld the ban and asked the government to find alternative routes.
Looking beyond elephants
Elephants are just one part of the massive human-wildlife conflict. There are other animals like tigers, leopards, monkeys and langurs that often come in conflict with humans. According to Ministry of Environment and Forest data, tiger-human conflict has resulted in 224 human deaths in India in the past five years. West Bengal recorded the maximum number of human deaths (71).
According to government estimates, there are nearly 3,000 Bengal tigers in the wild in India, a 33 per cent increase since 2014. The Project Tiger report attributes it to better safety monitoring and stricter wildlife policies.
With much of the attention devoted to elephants and tigers, environmentalists and animal conservationists say that smaller animals fail to get the required attention and protection. Unlike tigers that prefer forest areas free from human and cattle population, leopards have adapted to human-dominated landscape, particularly on the outskirts of cities.
Instances of human-leopard conflicts are often reported from Uttarakhand, Himachal Pradesh, West Bengal, Assam, Maharashtra and Karnataka. In North Bengal, the establishment of a number of tea gardens, conversion of forest land to army cantonments, diversion of forestland for railways and highways, rise in human population have seen increase in conflicts between humans and leopards in this landscape, according to IFS officer Pradeep Vyas.
He has studied the human-leopard conflict in the region and suggested various measures to cut down such conflict cases. Conducting a leopard census to providing alternate livelihood programmes to reducing biotic pressure on the forest and education and awareness programmes for people working in tea gardens were some of the measures he suggested. Wildlife Institute of India (WII) estimates that there could be 12,000-14,000 wild leopards in the country.
R Gokul, chief conservator of forests in Karnataka, observes that young female leopards often take refuge in fields with standing crops to give birth. Unsuspecting villagers visiting their fields end up becoming victims of such leopards. The forest department in Karnataka collaborated with Wildlife SOS, a conservation organisation, to sensitise students and village communities about leopard behaviour and how to act accordingly to protect the species.
Monkey business
Residents of Delhi, Himachal Pradesh and Uttarakhand have been at the receiving end of rhesus and bonnet macaques, breaking into their houses, stealing food, damaging public property and injuring people. Between 2011 and 2016, there were 4,500 cases of macaque bites reported by the authorities.
In the early 2000s, the Union government had hired a langurwalla to guard the iconic South Block and Parliament building in Delhi. He used langurs to scare away the macaques. In 2014, Venkaiah Naidu, then a Union minister, told the Rajya Sabha that the New Delhi Municipal Corporation had hired 40 people to tackle money menace in and around Indian Parliament.
In Hyderabad, a community even made an illegal business by renting out trained langurs that scare away the bonnet macaques.  Under Schedule II of the Wildlife (Protection) Act, 1972, langur is a protected species. Owning or trading or hiring of langurs attract penal provisions.
Controlling the macaque population is sensitive considering they are revered by Hindus. While people don't resort to culling the animal, efforts to capture and relocate them to their natural habitats have failed.
In an attempt to solve the monkey menace on farmers' land, the Karnataka government earlier this month approved a project to develop monkey park in Shivamogga district. The park will be set up on 100 acres of land at the Nagavalli forest in Hosanagara taluk.
A long way to go
Wildlife activists say the country is unprepared to deal with cases of man-animal conflict. It requires political intervention to allocate more land for the protected species and funds to engage with affected communities.
India's environment ministry, however, says it aims to double the number of protected areas such as national parks and wildlife sanctuaries from the current 733, in the next few years.
The current Protected Area is far less than the biodiversity conservation 'Aichi Target' which says 17 per cent of the terrestrial land to be set aside for conservation. Aichi Target are a series of goals that were set in 2010 at a conference on biological diversity.
"At present, India has only five per cent of its geographical area as protected. This includes national parks, wildlife sanctuaries and conservation and community reserves," says Ananda Kumar, a scientist with the Nature Conservation Foundation for Western Ghats.  "There's a lot to be done to reduce the human-animal conflict."