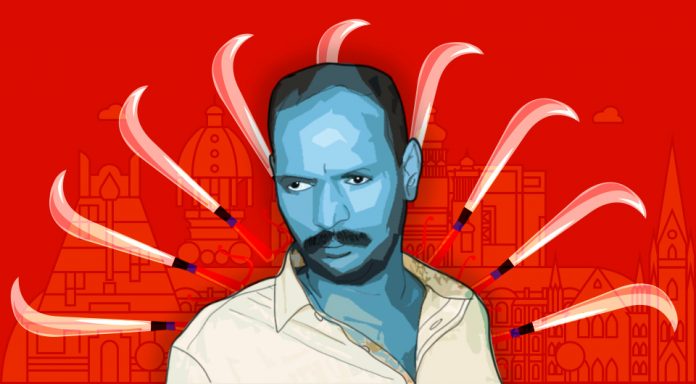 The fine print in the opening credits of the movie, 'Gangs of Wasseypur 1' contains a reference to 'Subramaniapuram' — a landmark Tamil film that showed the rootedness of gangsters in southern Tamil Nadu and the sense of kinship that spurred their violence. 'Subramaniapuram' was a period film. Released in 2008, it captured the era of Madurai, and by extension southern Tamil Nadu, in the 1980s. It showed young people luring themselves into casual violence for the sake of friendship.
Films celebrating kinship and friendship may have romanticised the brutality of gangsterism and perhaps in turn made it attractive for Tamil teens. But, over the years, many of the gangsters who had found social acceptance have been bumped off in police encounters.
The last, and perhaps the most notorious, of them, J Mohan Ram, was arrested by the police a few months ago from a hotel in Mumbai. Mohan Ram has more than 30 murder and attempt-to-murder cases — not one of them for gain or any personal motive. The murders were his way of showing loyalty and power to his clan.
He stayed put to fight for his friend's life
Born in a middle-class family, Mohan Ram was known to be affectionate towards people close to him. Friends remember young Mohan as a man who never forgets the values of friendship. "He was a man of gratitude," says one of his close aides who did not want to be named.
Mohan Ram's entry into the dark world of crime hadn't begun until he met Nagaraj, while studying at a polytechnic in Dindigul. Nagaraj was the brother of notorious gangster Madras Pandi, alias Dindigul Pandi.
In a gang war in the late 1990s, men of Dindigul Pandi killed 'Scissor' Mani, a henchman of 'Karadi' Mani who was an arch rival of Dindigul Pandi. Mani's men who were lusting for revenge found Dindigul Pandi's brother Nagaraj an easy target and hacked the youth to death in broad daylight near the Dindigul court complex, in front of Mohan Ram.
Police sources say, although Mohan Ram was injured in the attack, he fought for his friend's life till he breathed his last. "His attempts went in vain. Nagaraj died on the spot," said a former police official who worked in Dindigul at that time.
Pandi was impressed by Mohan Ram's commitment to his brother. The incident changed the life of Mohan Ram, who had never dreamt of becoming a gangster. He went on to avenge his friend's killers and decimate the rival gang including its leader Karadi Mani, say police.
Although Mohan Ram stayed away from crime for some time after the murders, he stayed close to Madras Pandi, due to their mutual affection for Nagaraj. So, when Madras Pandi was killed in a police encounter in the early 2000, it fell on Mohan Ram to lead the gang. The rest, to tweak a cliché, is bloody history. "He never got involved in any other activities like other gangsters. He took to crime to avenge his friend's death and was continuing it to help his circle of relatives," another close aide of Mohan Ram told The Federal.
A triple murder he committed in Sulur was to avenge the death of an old friend. "When our brother (Mohan Ram) was hospitalised in Jipmer hospital for an illness, it was a lawyer from Thanjavur who spent lakhs of money to save him. Lolly Manikandan of Thanjavur killed the lawyer due to rivalry between them. That was the reason our brother wanted to kill Lolly Manikandan," his aide said. In the triple murder, Lolly Manikandan had a miraculous escape while three of his men were killed.
Not in cash, but in kind
When asked about their livelihood, men from Mohan Ram's gang say they never kill for money and survive on whatever they get. "We never demanded money to commit revenge murders for people we know. We are also not involved in any illegal businesses," one of them said.
Police sources, however, say if not money, benefactors and friends of these gangsters including lawyers, businessman, real estate agents etc, often return the favour in kind, say, in the form of a house or taking care of expenses.
 Always paying debts
It is not just the strong ties with family and friends that drive men from Southern Tamil Nadu to resort to crimes. Even small favours from benefactors make them feel indebted enough to go to the extent of committing murders.
In 2013, the murder of DMK functionary 'Pottu' Suresh rocked the city of Madurai. He was intercepted by a six-member gang of lungi-clad assailants on the Jaihindpuram Murugan Kovil Road and hacked to death in broad daylight, over a political rivalry between him and 'Attack' Pandi, a local gangster.
Police arrested 16 people in the case including Saba alias Sabarathinam, M Santhanam, M Sekar, R Karthik and A Senthil. Among them M Santhanam and three of his friends had no enmity with Suresh, but committed the murder just because Pandi had bailed them out of a police inquiry related to a fight during a cricket match. Members of both the teams had bashed up one another and Santhanam had asked for the help of Pandi when the police was about to charge-sheet them. Incidentally, 'Pottu' Suresh's killing was the first murder of Santhanam, who was a sportsperson before that.
"What option did I have? It was Attack Pandi who came to the police station and convinced the police to release me when I was questioned for the fight. When his aides sought my help to kill a political big-shot, I couldn't refuse. As a gesture of returning the favour, I went to kill him. I do not find anything wrong in it," Santhanam had told one of his relatives, who went to meet him in Coimbatore jail after he surrendered before the court in 2013. The relative recounted this to The Federal.
 A legacy of brotherhood and bloodshed
Killing for kinship is a social phenomenon in not just Madurai but in Dindigul and Tirunelveli districts of Tamil Nadu, too. Notorious gangster PR Ramesh, also known as 'Anna Nagar' Ramesh in Madurai, who has been involved in serial killings, has said on record that he has committed murders, not for money, but for his friendship with 'Marakkadai' Murugan, another gangster.
In the late 1980s, Ramesh was first jailed as a teenager when he hit back at goons who had attacked his elder brother for not paying them 'maamool' (protection money). In Madurai central prison, when he was harassed by other inmates, it was infamous gangster 'Marakkadai' Murugan who came to his aid, which started a friendship.
After his conviction and release, Ramesh penned his memoirs. In the book, 'The Lost Hours', Ramesh describes Murugan as a friendly person who easily mingled with others. "He was a simple, humble but a brave man. Yet, he was a murderer. I wondered how such a nice person could kill," Ramesh wrote in his book.
When 'Marakkadai' Murugan was hacked to death by a rival gang, Ramesh pledged to kill the perpetrators. "Ramesh lost nine of his accomplices and killed 14 from the rival gang," a former police officer said.
"Nowadays, friendship doesn't assume as much significance as love does in one's life. But, actually, if love is holy, friendship is holier. Nobody seems to be realizing how true this fact is. We were fighting for our friends and in this battle friendship has provided all kinds of assistance to us," Ramesh said in his book which was translated into English from Tamil.
Rare, but deadly trend
While the number of crimes perpetrated in south Tamil Nadu in the name of friendship is alarming, experts say such a trend has become a sub-culture of crime, which in turn is endemic to the region because of its acceptance.
M Priyamvadha, associate professor at the criminology department at University of Madras, says, "It is rare to see a man getting involved in crime for friendship. But, it happens only in southern Tamil Nadu and the people who get involved in such crimes are typically adolescents, not adults. Similarly, there is a social acceptance for committing such crimes. Though one section may not accept the culprits, another section accepts them in their society," Priyamvadha said.
Writer Muthu Krishnan who has written about the culture and life in Madurai said the trend of killing for friends has been borrowed from films. "People here are more affectionate and they do help each other. But, equating it with violence was first started by films and people here started implementing it in their lives. People here value people and relationship more than they value money," Muthu Krishnan said.
Anthropologist S Kannan says that the trend cannot be generalised for a particular region. "Several decades ago, people in the region committed crimes, mostly due to lack of employment opportunities. Now we cannot say that people are doing it for friendship," he said.
A former police official, who did not want to be named said that the scene has changed after police encounters. "Earlier, these gangsters including 'Madras' Pandi, 'Dindigul' Mohan Ram, 'Pottu' Suresh and 'Attack' Pandi were all seen as a big shots in the region. They were socially accepted as they did not harm innocent people during the initial phases. But, their image soon changed," the officer said.
"In the late 2000s, police vigorously took action against these people and even killed a few. After the police encounters, those who were attracted by the social acceptance of gangsterism started to move out of these gangs," he added.