A famous Tamil folktale speaks about a prince who is able to draw a life-like portrait of a princess based on a lock of her hair. Keeladi — an archaeological site in Tamil Nadu's Sivaganga district — today is like the princess of the folktale. Recent findings about artefacts from the site have thrown up several 'princes' vying with each other to draw a picture of what Keeladi was 2,500 years ago based on a single carbon dating.
The pictures they have drawn are about as authentic as the one in the folk tale.
Last week, the Tamil Nadu Archaeology Department (TNAD) announced that artefacts unearthed during excavations at Keeladi could be dated to a period between 6th century BCE and 1st century CE, nearly 300 years earlier than previously believed — 3rd century BCE. The findings also "push back the date of Tamil-Brahmi script to another century, that is, the 6th century BCE".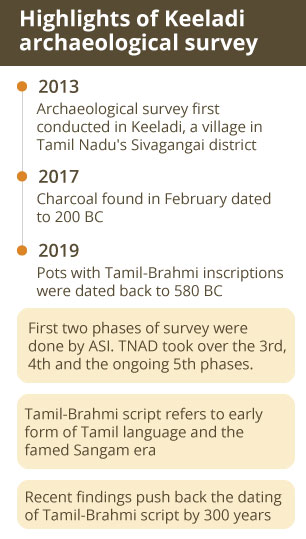 To continue reading this article...
You have to be a Premium Subscriber
Start your subscription with a free trial
Enjoy unlimited Eighth column, archives and games on
thefederal.com and many more features.
You will also be supporting ethical and unbiased journalism.
plans start from Rs. 99