On September 1, when M Muthupandi, an IT employee working in Chennai, reached his nondescript village of Old Silukkuvarpatti, for a moment he thought he lost his way in a maze of saffron flags and pandals.
"The place looked like a sea of saffron — the village entrance festooned with saffron flags, pandals in saffron hue and devotional film songs blaring from loudspeakers."
There were more surprises in store for him the next day — a giant statue of Pillaiyar (Lord Ganesha). This, Muthupandi says, wasn't a common practice in the village, nestled between Madurai and Dindigul districts, with a disparate population until last year.
It was only after some young boys told Muthupandi, he realised that the othwerwise quaint village was 'seized' by the Hindu Munnani — a frontal organisation of the Rashtriya Swayamsevak Sangh (RSS) — for Vinayaka Chaturthi celebrations. "After speaking to some village youngsters, I understood that finally the Hindu Munnani has managed to infiltrate into the village through the Pillaiyar," Muthupandi adds.
Although the Hindu Munnani and the RSS claim to have no links, the former is understood to be affiliated to the RSS. Over the years, the two organisations have exchanged several members.
Also read: Soothsayers see an uncertain future with saffron surge
According to the villagers of Old Silukkuvarpatti, Hindu Munnani men had been trying hard to place Ganesha idols for the past three years. However, the educated youths in the village had come in their way. "But after those youths left for cities in search of jobs, the Hindu Munnani managed to sneak into the village by sponsoring Ganesha idols, mainly influencing young boys of 10-15 years," says M Rangaraj, another village youth.
Apart from sponsoring the Ganesha idols, they also prepared prasadam (food offered to deity) for the whole village and sent it in a mini-van asking young boys to distribute it, says Rangaraj. But then, one would ask, what's wrong with celebrating Vinayaka Chaturthi?
Until 1981, when the Hindu Munnani was formed, Vinayaka Chaturthi was never celebrated in Tamil Nadu in the manner and scale that the outfit introduced gradually. The Hindu Munnani, founded by Ramagopalan, was formed against the backdrop of a 'mass conversion' incident in 1981, when around 1,100 Dalits embraced Islam in Meenakshipuram in Tirunelveli district over alleged discriminatory practices by caste Hindus. While the Dalit villagers had said they approached Muslim clerics on their own, Hindu outfits saw this as 'forceful conversion'.
The birth of a new tradition
The Hindu Munnani first installed a Lord Ganesha idol in Triplicane in Chennai in the early 1980s and later, it gradually increased the number to 80-90. After a decade, in 1999, around 240 Ganesha idols were installed across the city. Now, after 39 years, Chennai district has nearly 2,000 Ganesha idols while the number of all idols by different Hindu outfits stands at 2,600.
According to Hindu Munnani insiders, of the 1.25 lakh statues that the outfit has installed across Tamil Nadu during this Vinayaka Chaturthi, over 25,000 were distributed through local youths free of cost. This, despite these places not having a tradition of installing statues on streets and villages.
Also read: OPS' son attends Hindu Munnani's programme, triggers controversy
Many in Tamil Nadu allege that the celebrations have turned more aggressive in the recent years. The festivities, they say, are full of communally coloured rhetoric and display a muscular Hindutva similar to that in states such as West Bengal.
Also, the fact that Ganesha idols are available for as low as ₹200 to as high as ₹12,500 shows the involvement of big money.
By its own admission, all this has helped the Hindu Munnani make inroads into the 'uninvited' nooks and crannies of the state. Chennai-based P Karthikeyan, who has been associated with Hindu Munnani since late 1990s, hints that the outfit mostly focusses on villages and towns with substantial population of minorities (Muslims and Christians) and socially and economically backward people.
"It is easier to reach out to people during festivals. The main aim is to mobilise and unite the people to demonstrate the Hindu support that the outfit has," Karthikeyan minces no words.
The rising clout
To recruit members, they initially approach vendors in a locality, explains another Hindu Munnani functionary in Coimbatore.
"For example, we would approach a bakery owner or a grocery shopkeeper who would know the local youths. Through them, we get in touch with the youths and for the first year, we give Ganesha idols for free, besides teaching them to seek police permission and reaching out to people for donations," the functionary says on condition of anonymity.
According to a former RSS cadre, M Kandhasamy (name changed) from Coimbatore, who left the organisation after the murder of a colleague in the early 1990s, things have changed a lot.
"Now, the members don't talk much about the outfit activities with their families and friends. The processions to immerse the idols have also acquired a more aggressive communal tone," he says.
Explaining the rising clout of the outfit, Kandhasamy recalls an old incident when he returned from Madurai one night and was walking over a flyover. "A police constable beat me up only because it was under that very flyover that a colleague from the RSS had been killed the night before. This is when I left the organisation after my mother asked me to."
However, that and many more murders of members of the outfit in the 1990s didn't see any mass mobilisation, Kandhasamy adds. "But in 2016, when a Hindu Munnani functionary was murdered, the news spread like wildfire and over 2,000 youths gathered rasing slogans."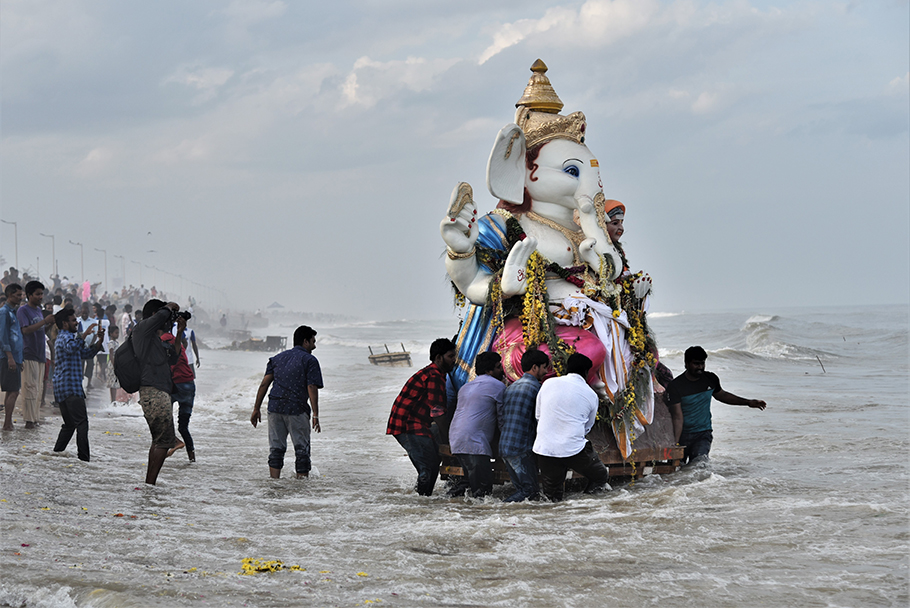 The mobilisation of people for idol immersion processions by Hindu Munnani is seen as another show of strength as youths in huge numbers join them — sporting saffron bandanas, brandishing saffron flags and dancing to loud drum beats atop mini-vans on the streets.
However, the real problem for the administration has been the sporadic incidents of violence during idol immersion processions.
Ice House mosque in Chennai's Triplicane was the first to come under such an attack in the 1980s while Muthupettai in Tiruvarur district in Cauvery delta region was the most-affected by such violence.
"In our locality, we normally address each other as mama (uncle) or machan (brother-in-law)," says Z Mohammed Thambi, member of National Confederation of Human Rights Organisations (NCHRO). "But when this festival comes, there is a sense of fear among Muslims as Hindu Munnani members deliberately ask for permission to take the Ganesha idol through Muthupettai and pelt stones at mosques and houses of Muslim families."
Following a major incident of violence around four years ago, people in Muthupettai approached the high court and got a stay on processions with Ganesh idols through their streets.
When asked about stone-pelting, Hindu Munnani state secretary J Krishnakumar denied such charges.
Shades of saffron
According to Dhirendra K Jha, author of Shadow Armies: Fringe Organizations and Foot Soldiers of Hindutva, this is typical RSS style.
The RSS calls itself a cultural organisation and claims it has nothing to do with politics, but the fact is that "it uses religious symbols and mass ritualism to create conditions for mobilisation of Hindus for political purposes".
"In Tamil Nadu, Hindu Munnani is working on the lines of Kerala's Hindu Aikya Vedi, which has been trying to get a foothold in the state," Jha says.
The BJP, he adds, was politically weak until it took up the 'cause' of Lord Ram. "By using Ram, they [BJP] created conditions of polarisation among Hindus in large numbers and that helped the BJP gain control over the north and west [India]," Jha says.
Since Ram doesn't hold the same significance among Tamils, the BJP is shifting to a new identity. "Now Ganesha and Shiva have become more important to them. Ganesha is no longer a religious symbol when the RSS uses it. It becomes a political tool," he adds.
Explaining about the radicalisation of the youths, Jha says that it starts with the exploitation of the socio-economic conditions. "These youths become the breeding ground for the RSS. The same pattern is being followed in Tamil Nadu as well."
Former intelligence officer R Ramamoorthy, who worked in Coimbatore for over a decade, believes that the Hindu Munnani is more active in places where the Communist parties and their labour unions have strong presence.
"They are ideological rivals but since Communists also need Hindu votes, they are not able to counter the narrative of the Hindu Munnani," he says.
This is evident from the fact that the Hindu Munnani is growing rapidly in Coimbatore, Tirupur, Tiruvarur and Kanyakumari districts, which are traditional pockets of the Communist Party of India and Communist Party of India (Marxist).
However, CPI(M) state secretary K Balakrishnan is confident that people in Tamil Nadu would not fall for the Hindutva trope. "Although the people are very religious here, they have never accepted a Hindutva party in the state. The north India narrative of the Hindu outfits would not go down well with the people in Tamil Nadu," he believes.
The main opposition party DMK calls Tamil Nadu a Dravidian land and views itself as a flag-bearer of secularism against communal polarisation.
"It is the only state where on one side of the road, people celebrate Vinayaka Chaturthi and on the other, they would get ready to go for Velankanni festival," says DMK spokesperson Tamilan Prasanna.
He dismisses speculations about the rise of Hindu outfits, saying even though the number of Ganesha idols have increased, people would not pay heed to their political agenda.
However, for RSS spokesperson Narasimhan, the rise of Ganesha festivities reflects the 'awakening' of the Hindus. "It is good to see people voluntarily keeping statues on the streets and worshiping Lord Ganesha," he says.
Ask him whether the RSS sponsors the idols, he says it did so initially. But he also points fingers towards the Hindu Munnani.
However, Hindu Munnani state secretary J Krishnakumar is more forthcoming about sponsoring the idols. "It is only to encourage them to worship Lord Ganesha. We do not have any hidden agenda."
People, he adds, come on their own since we conduct Vilakku Pooja (lamp ritual), sports competition for children and play the orchestra for their entertainment.