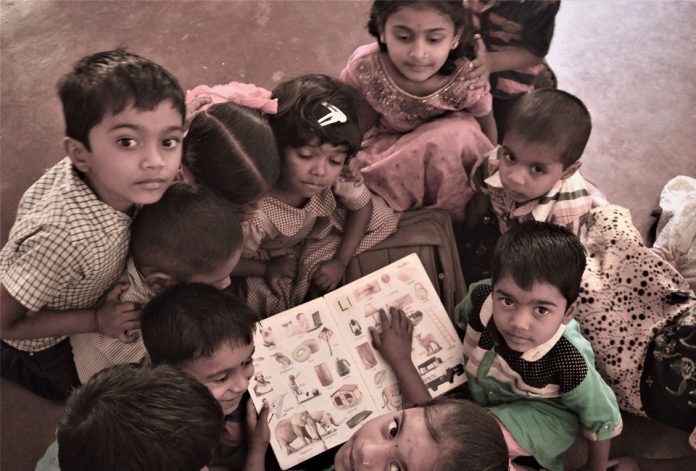 Nearly four decades ago, Arjun Singh went for his first job interview. A village bumpkin, Singh had cleared his intermediate (Class 12) exams and was looking for a job in the city of dreams Mumbai. When the interviewer asked him about his qualifications, Singh proudly said he was a village topper. The manager then asked if he spoke any English since it would be essential for working in the big city.
Any villager however talented would have been flustered, but Singh didn't bat an eyelid. "You see sir," he said, "I can talk English, I can walk English, I can laugh English, because English is a very funny language."
For those who still don't recall the incident, it was 1982. Singh was actually Amitabh Bachchan. The movie was Namak Halaal. And Bachchan's dialogue went on to become the standard joke for India's obsession with the colonial language.
However, what is not funny is that even decades later English proficiency remains the most important job skill in real life. Sampath Kumar, a migrant labourer from Tamil Nadu who works in Bengaluru, knows it well. That is precisely why he wanted his seven-year-old son Damodaran to study in a private school as there were no English-medium government schools in Karnataka until last year.
There is no denying that English is the language of an 'aspirational' India. While Hindi is considered an imposition, especially in the southern states, English is a language everyone takes pride in knowing. People want to learn it because it's the gateway to communicating with the rest of the world. It is, often, the language of modern-day global and urban success.
Back in his home state, most parents agree with Sampath. Around 250 km away in Tamil Nadu's Tiruvannamalai district, Arani taluka has seen more than 10 private schools springing up in recent years within a range of 3 km. But it's also true that not everyone can bear the expenses of a private school. Sujith M was sent to an English-medium school at the age of six. But his parents could not afford the private education for more than three years. By the time he turned nine and passed Class 3, his parents put him in a government school where the medium of instruction was Tamil.
To address such growing concerns, more and more state governments are waking up to English as a medium of instruction in government-run schools. While states such as Jammu and Kashmir, Nagaland and Arunachal Pradesh have English as the primary medium of instruction in all schools, the states of Andhra Pradesh, Telangana, Tamil Nadu and Kerala have had English as a parallel medium of instruction in government schools for many years now. States such as Rajasthan, Uttar Pradesh and Punjab too are following suit. The Karnataka government had in October last year issued an order to introduce English-medium classes in 1,000 primary schools of the state from Class 1, in addition to Kannada-medium classes on an experimental basis starting this academic year.
Launching the programme, Karnataka Chief Minister HD Kumaraswamy said introducing English will help increase the chances of getting better jobs. He added that the Karnataka government was funding the education of one lakh children in private schools under the Right to Education Act, 2009, and he gradually wants parents to send their children to government schools. The decision has found support from several quarters. "The government's intent is good. It is not forcing a language on students but giving parents a choice.
Considering the wide range of job opportunities available to the English-speaking population, parents (particularly those from the lower-middle class and economically weaker sections) prefer their kids to have English as a medium of instruction," says R Manohar, director of South India Cell for Human Rights education and monitoring.
However, not everyone is happy with the change even though Kumaraswamy said he is only "fulfilling the aspirations" of the economically backward families and not sidelining the local language.
What critics say
Pro-Kannada activists argue that there has been a decline in the growth of Kannada-medium schools as they are being shut down to make way for private English-medium schools.
Between 2014 and 2018, the Karnataka government shut 1,030 of the 26,308 schools in the state, according to the state economic survey report. VP Niranjan Aradhya, fellow at the Centre for Child, says the government's hasty decision will deprive students of their interest as well as opportunities to comprehend and respect Kannada heritage.
Aradhya notes that there were 47,670 Kannada-medium schools in Karnataka in 2010-11, but the number fell to 43,895 by 2017. Meanwhile, private English-medium schools rose from 10,215 to 13,438 during the period.
"Now that the government approved the plan, it has a lot in hand. It has to quickly improve the infrastructure and recruit teachers to improve the quality of education and increase fund allocation to the education sector," Aradhya says.
As part of the new endeavour, the state government plans to utilise the existing Kannada-medium school teachers to impart education in English, and has engaged about 13,000 teachers across the state. It also conducted skill development programmes with the help of Regional Institute of English.
However, if a school teacher from Kundgol taluk is to be believed, while the government initiative saw good response, the teachers were given only 20 days of training and that clearly wasn't enough for them to prepare themselves to teach.
Why Andhra, Tamil Nadu failed, but not Kerala
Interestingly, similar experiments of implementing English medium in schools across neighbouring states of Andhra Pradesh, Tamil Nadu and Kerala yielded different results. While it failed in Andhra and Tamil Nadu, it has been successful in Kerala .
In undivided Andhra Pradesh, the government granted permission to run English-medium sections parallelly to Telugu-medium in government schools back in 2008. About 5,500 in Andhra and 2,200 schools in Telangana were given the permission. However, a social audit conducted in these schools by Campaign for Learning Outcomes last year indicated that about 40 per cent of the students in Class 10 could not even read simple English words.
Clearly, insufficient training and lack of resources has resulted in the poor implementation of the move. Professor K Nageshwara Rao, former member of Telangana Legislative Council, says that the government didn't fail. The initiative was taken because of the interest shown by teachers, which led the government to recognise it. However, he agreed that inadequate training to the teaching staff and thrust on regional language resulted in poor implementation.
"Bilingual classrooms are not easy. The teacher who spoke and taught in the regional language until recently would suddenly have to shift to English. It is not easy for them to learn a language of instruction in less than a month or two," Rao argues.
Chukka Ramaiah is a renowned educationist who has travelled across southern India. According to him, the need for English-medium schools followed three parameters — market trends, political atmosphere and public awareness. "While market forces (corporatised education system) were responsible in Andhra and Telangana, political trends (push by political parties and educationists) were reason in Tamil Nadu, and public awareness drove the trend for English education in Kerala," says Ramaiah.
He adds that in a state like Andhra, people looked for return on investment in education, which is why they wanted to adopt English as a medium of instruction. In Tamil Nadu, people gave more importance to culture and were slow in implementing the move while Kerala pushed the government to provide better infrastructure, much on the lines of private schools. That is why the participation increased tremendously.
Kerala Chief Minister Pinarayi Vijayan last year announced that in 2018, public education made history by posting a steep increase in the number of students admitted to government and aided schools, thereby reversing a 25-year-old trend of losing students. "The total strength of students in the public education stream increased by 1,85,971. This was in comparison to previous year's figure of 1,45,208," the CMO says.
The Kerala government planned to equip classrooms with laptops, multimedia projectors, whiteboards and sound systems, and provide high-speed internet to a central server that hosts educational content. It implemented a pilot project of a hi-tech school programme across 139 schools under four Assembly constituencies in the state.
However in Karnataka, in about 25,278 schools across the state, as many as 66 per cent (16,638) of them lack library facility, about 36.5 per cent (9,226 schools) lack playgrounds and about 1,500 schools do not have toilets and electricity, according to the Economic Survey Report of Karnataka. Also, about 33,000 posts for teachers are vacant in primary schools in the state.
The Kerala government earmarked 15 per cent of its budget for education in 2019-20. It allocated 17.5 per cent for this purpose in 2017-18. In contrast, Telangana allocated 8.2 per cent in 2018-19, Tamil Nadu 14.7 per cent in 2019-20 and Karnataka 12.6 per cent in 2019-20, according to PRS legislative research.
Does push for English mean pushing around regional languages?
While various governments are trying to understand the public demand and trying to contain shutting down of government schools by introducing English medium parallelly, many are of the opinion that English is just a means of communication and teaching in regional language ignites the creative imagination of kids from an early age.
Renowned educationist Prof Anil Dutta Mishra compares India with countries like China and Japan and says India, too, should adopt a similar strategy. "To impart real education, native tongue is the only media. English is only an ornamental language. If parents are worried about jobs, let the government impart English education at the higher secondary and graduate levels.
"The government should create better infrastructure and train rural teachers so that people are encouraged to put their children in school where regional language is a medium of instruction. This move to push English will only weaken the status of regional language," Mishra laments.