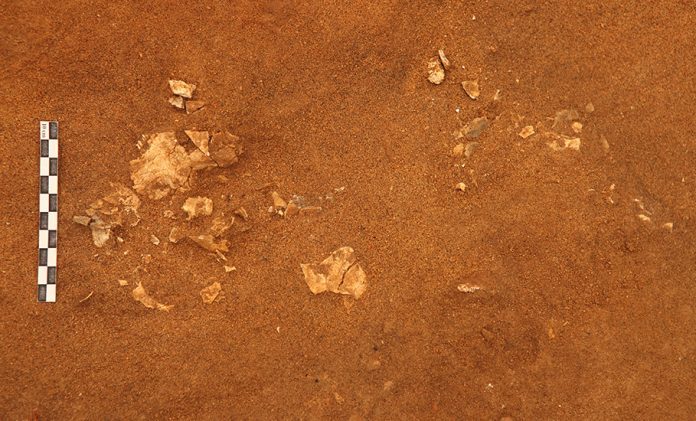 Pattanam, a mound on the banks of the Periyar river in Kerala, is considered a part of the ancient port called Muziris or Muciri Pattinam. The port city, according to historians, might have played a significant role in the trade and cultural exchanges between India and the Middle East, North Africa and the Mediterranean regions about 2000 years ago. A huge volume of (1.3 lakh) artefacts made of iron, copper, gold, lead, glass, precious stones and terracotta have been unearthed since the excavation began in Pattanam in 2006-07.
Archaeologists have found objects such as human bones, storage jars, gold ornaments, beads, utilitarian objects, early Chera coins and wharf with bollards on the site. At least 45 lakh Indian-made pottery assemblages and 1.5 lakh pottery pieces of the Chinese, South Arabian, Red Sea and Mediterranean provenance have also been excavated from the site so far. As studies go on the various artefacts that have been excavated, a recently-held ancient DNA research confirms the West Eurasian genetic imprints in Pattanam.
Published in the recent edition of Genes, a peer-reviewed journal of genetics and genomics, the study was based on mitochondrial DNA genotyping using a mass array Sequenom platform. The analysis, however, was based on haplogroup determination. Led by Kumarasamy Thangaraj and PJ Cherian, the DNA analysis was the first attempt at genotyping of mtDNA markers to understand the demographic distribution of the Pattanam region.
Scientists used the DNA from human skeletons to pinpoint the genetic ancestry of the people found in the region. "We have analysed the mitochondrial DNA of 12 ancient skeletal samples. We found that these samples show the presence of both South Asian and West Eurasian-specific lineages," said Niraj Rai, co-corresponding author of the paper, and a senior scientist at DST-Birbal Sahni Institute of Palaeosciences, Lucknow in a joint statement issued by the Hyderabad-based Centre for Cellular Molecular Biology (CCMB) and PAMA Research Centre at Pattanam.
To continue reading this article...
You have to be a Premium Subscriber
Start your subscription with a free trial
Enjoy unlimited Eighth column, archives and games on
thefederal.com and many more features.
You will also be supporting ethical and unbiased journalism.
plans start from Rs. 149