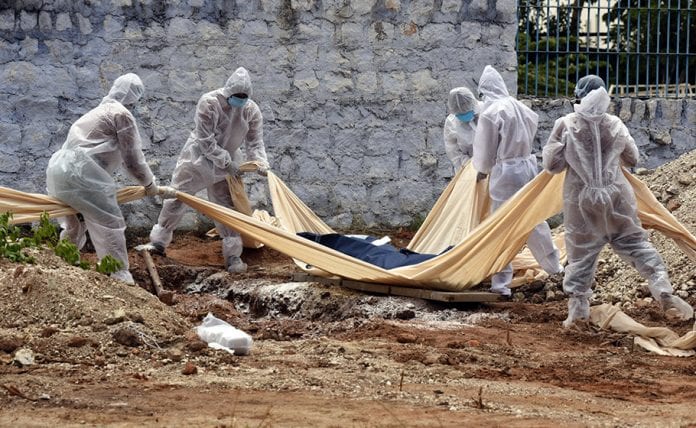 A fortnight ago, as 48-year-old Muthukannan drifted off to sleep after a hard day's work, an urgent knock at his door woke him up. It was 2 in the night. A friend from work wanted Muthukannan to come and help him bury a COVID-19 victim. Muthukannan found it strange that the burial couldn't wait till morning. But just as they reached the hospital from where the body was supposed to be shifted to the burial ground, Muthkannan fell into a deep trench that was possibly dug to bury a COVID-19 victim.
"But why was a trench dug here in the hospital?" Muthukannan screamed in desperation. However, his voice didn't reach his friend or anyone else. Soon, his cries for help too got muffled behind his face shield. But that was not supposed to happen. He tried one more time to scream for help. And then, of course, he woke up and realised it was a bad dream and everything was okay. "Well, not exactly okay, but we have to be okay with everything that's happening around us," Muthukannan tells The Federal and adds that this wasn't the only such nightmare that punctuates his sleep these days.
At the burial ground in Chennai where Muthukannan has dug several graves in the pre-corona days, it's the sight of sealed bodies in plastic bags that haunts his sleep the most these days. "The bodies just keep coming. It was never an easy sight to watch dead people being laid to rest in normal circumstances. But COVID-19 has made it even more difficult. Family members are not even allowed to touch their loved ones one last time," says Muthukannan, who, along with other workers, mostly stands some feet away from the grave as they oversee the burial process.
"We don't dig the graves as JCB machines [earthmovers] are used since COVID-19 cases must be buried at a depth of 12 feet [as per WHO guideline]. Even as the body is lowered into the ground, we mostly take help from the volunteers and tell them how to place it," he explains the process. A similar process is followed in cremation grounds.
To continue reading this article...
You have to be a Premium Subscriber
Start your subscription with a free trial
Enjoy unlimited Eighth column, archives and games on
thefederal.com and thefederal.com and many more features.
You will also be supporting ethical and unbiased journalism.
plans start from Rs. 99