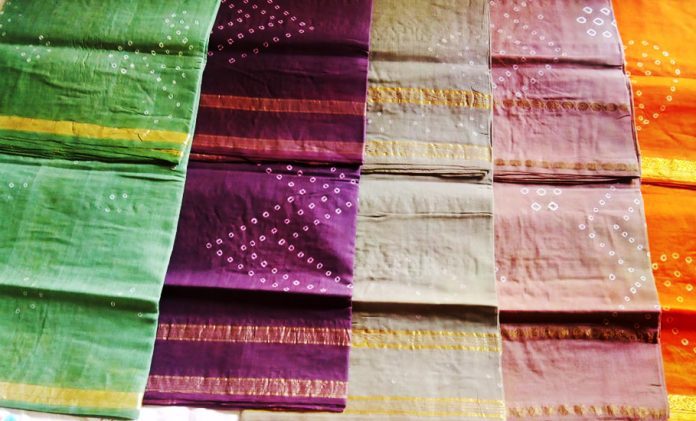 The fingers move so fast across 6 yards of fabric, it is difficult for even the keenest eye to follow the patterns being woven. The fast moving fingers make thousands of intricate knots on an unbleached handwoven cotton fabric. The knots are spaced evenly and are tightly knit using a thread. So tight are the knots that they remain unshaded during the dyeing and drying process.
Even after the dyeing and drying, the fabric in vibrant colours and appealing patterns, appears plain. But they come to life as Sungudi saris once the thread connecting the knots are untied. The tied parts of the sari, which remain unshaded in the original colour of the fabric, give the sari its characteristic, gorgeous Sungudi. The undyed knots look like stars or geometrical white dots of a grand kolam. It is said the craft is creating sungudi saris was inspired by the night sky.
"Just like many other art forms, nature inspired our forefathers to make the first Sungudi sari," said AK Ramesh, a traditional Sungudi sari maker, who hails from the Saurashtra community living in Madurai. "Just like stars in the sky, the knots are tied in the sari to give it an artistic look. Legend has it that our forefathers were mesmerised by how the stars appeared spread in the canvas-like sky. They tried to recreate the same pattern on a sari and thus invented Sungudi saris," he told The Federal.
To continue reading this article...
You have to be a Premium Subscriber
Start your subscription with a free trial
Enjoy unlimited Eighth column, archives and games on
thefederal.com and many more features.
You will also be supporting ethical and unbiased journalism.
plans start from Rs. 149