When Nektal Marimadaiah Prathap, or Prathap NM as he is popularly known, returned from an international Robot Exhibition (iRex) in Tokyo, Japan, in December 2017, there was a flurry of activities at his college, JSS College of Arts, Commerce and Science in Mysuru.
Hailing from a financially backward family and travel funded by the college management and his teachers, he had returned successfully. He said he had won a prize and showed his professors and college authorities a certificate and medals.
Buoyed by his achievement, the college administration issued a press release saying he had won gold and silver medals at the event and a cash prize of $10,000.
Advertisement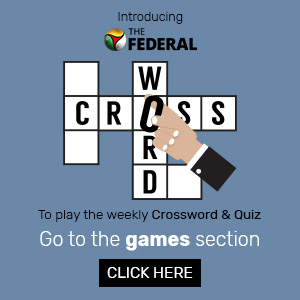 The next day, local newspapers such as City Today carried the youngster's feat in a small column. But news spread around town soon. The college then held another press conference in February 2018 where its CEO introduced him to the media. The administration mentioned all his awards in the college's annual report too.
Soon, several regional and English media, TV, print and online, (Indiatimes, Deccan Herald, The New Indian Express, Better India, Yourstory, Suvarna news, TV5 Dighvijay TV, TV5, Zee Kannada among others) picked up his story and ran special programmes/editions. They called him 'young scientist', 'Drone Prathap', 'Drone Acharya', 'India's Drone Boy'.
Prathap turned a hero overnight and there was no looking back. Actor and a former MLC Jaggesh, who had helped him financially, introduced him in a TV show and talked about how he should be a role model for young kids.
He soon started appearing in more TV shows, where he claimed to have built nearly 600 drones from e-wastes. And Prathap also kept posting pictures of him with drones on social media from time to time.
In some TV shows, he spoke at length about how tough it was to achieve something coming from a poor background. Some regional channels interviewed his entire family and narrated their story to the world. Prathap gained sympathy. Politicians to bureaucrats and academicians, all heaved praises on him. Photos of him with former chief ministers Sadananda Gowda, HD Kumaraswamy, TV actors like Thara, Upendra, did the rounds.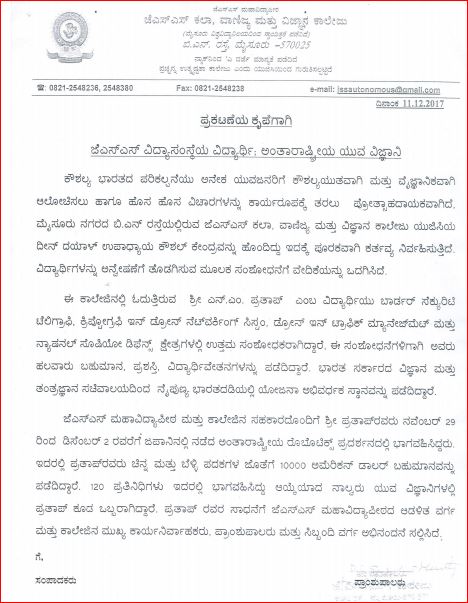 In 2019, he claimed he was part of the state's disaster management team and used drones to help the department identify flooded areas and stranded villagers. Media again highlighted his feat.
His story was too good to be true for many. With the non-stop success ride, there was no turning back. Soon money started pouring in from all corners. Schools and colleges started to invite him for a talk. He then became a motivational speaker. Some said he charged to speak at events.
The sudden fall
Over the years, Prathap (22) made tall claims about being invited to over 87 countries to show his drones, winning an 'Albert Einstein Innovation Gold Medal' at an International Drone Expo in Hanover, Germany, and being invited to give lectures at IIT Bombay, among other things.
Prathap had even signed a movie contract with a Kannada filmmaker. The film was supposed to be a biopic, on the life and struggle of a young boy from a rural area. In June 2020, he incorporated his company 'Aerowhale Space and Technologies Private Ltd'.
It was around this time that a WhatsApp message titled 'Interesting story of DRDO scientist appointed by PM Narendra Modi' about him went viral. It said he had rejected a foreign offer of ₹16 lakh monthly salary to take up this job at PM Modi's behest.
On July 7, fact-checking websites like AltNews and BoomLive broke the story on how the WhatsApp message was false and that he was never offered a job in DRDO by Modi.
Prathap then told AltNews that he hadn't "received any offer from the Prime Minister's Office". "The PM cannot recruit for DRDO, isn't it? Several people from Kannada media have told me that I will be getting a call. But I am not sure. Till now I haven't received any call or email."
He, however, told them that his other achievements were true but the fact-checking portals said they could not verify all his claims.
Trial by media
But it did not end there. Two days later, on June 9, OpIndia, the right-wing news website, put out a report saying many of Prathap's claims of winning awards and travelling to 87 countries over the years were fake.
It raised questions as to why not a single photo or video of the 600 drones he made were available so far on the internet. All the photos of drones that appear with him are commercial production drones made by various companies, the OpIndia report said.
In the same manner that TV channels out-rivalled each other to celebrate Prathap's success once, they now fought to denounce him, calling him 'Fake Prathap', putting the onus on him to prove his claims. Many YouTubers too started to review and mock his speeches. But some, in the quest for truth, they put out his fake marksheets.
It was revealed that he never won the $10,000 prize at Tokyo while some of the photos he posted of him posing with drones were made by other commercial companies. Also no such thing as Albert Einstein Innovation Gold Medal exists.
The Federal could not verify all his claims and attempts to elicit his response failed.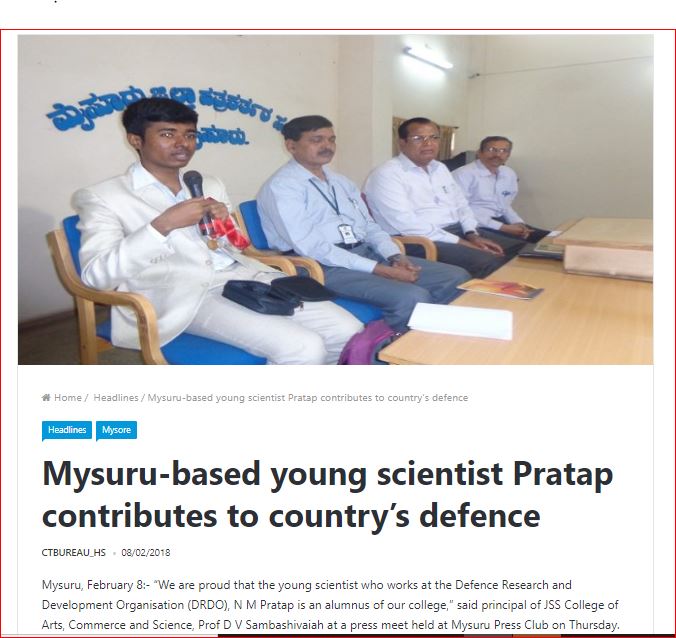 While he refuted all the allegations over the phone to some TV channels, on July 16, he appeared on BTV and admitted that some of his claims were false and others were exaggerated.
All those who helped him over the years, now resented. Parents who showed him as a role model started to blame him. Filmmakers, politicians, academicians, the media in particular, all cringed for not having verified his claims.
"If the media had done their groundwork, verifying the source things wouldn't have ended like this. They forgot the basics. It is they who created the hype and glorified him," said Dr Thejasvi Naviloor, associate professor and chairman of media studies at Karnataka state open university Bangalore.
None of his claims were substantiated nor were his credentials. Some were exaggerated and some were convoluted. From the media, politicians, TV personalities bought his story nevertheless.
"For TV channels that promote astrology and predictions, science does not matter and they least discuss it," Naviloor says.
Even in BTV, where Prathap spilled the beans, the anchor first dramatised the way he walked into the newsroom and focussed on his looks and composure before questioning him over the allegations.
Days later, there was yet another twist. While he has not been arrested for all his false claims, the fact that he broke home quarantine rules and attended a TV show at a studio, got him jailed. Prathap had flown from Hyderabad to Bangalore to take part in the BTV show.
Not the only case
Prathap's case is not a one off instance. The media was at it again in the case of eight-year-old Licypriya Kangujam, the climate change activist from Manipur. Kangujam has been compared to Sweden's Greta Thunberg for her campaign for climate actions. Certain media hyped her activities when she actively campaigned for climate action. Incidentally, a similar scenario dragged her down. She rejected Prime Minister Modi's offer to be among the women who would take over his Twitter account on Women's Day on March 8 and post their tweets from it.
The very next day, people started to troll her on Twitter and again a section of media went against her achievements. They started to claim how her father was a 'conman' and how her father handled her Twitter account. Many rekindled the old story of EastMojo that debunked a fake story about a UN Program visit to Geneva.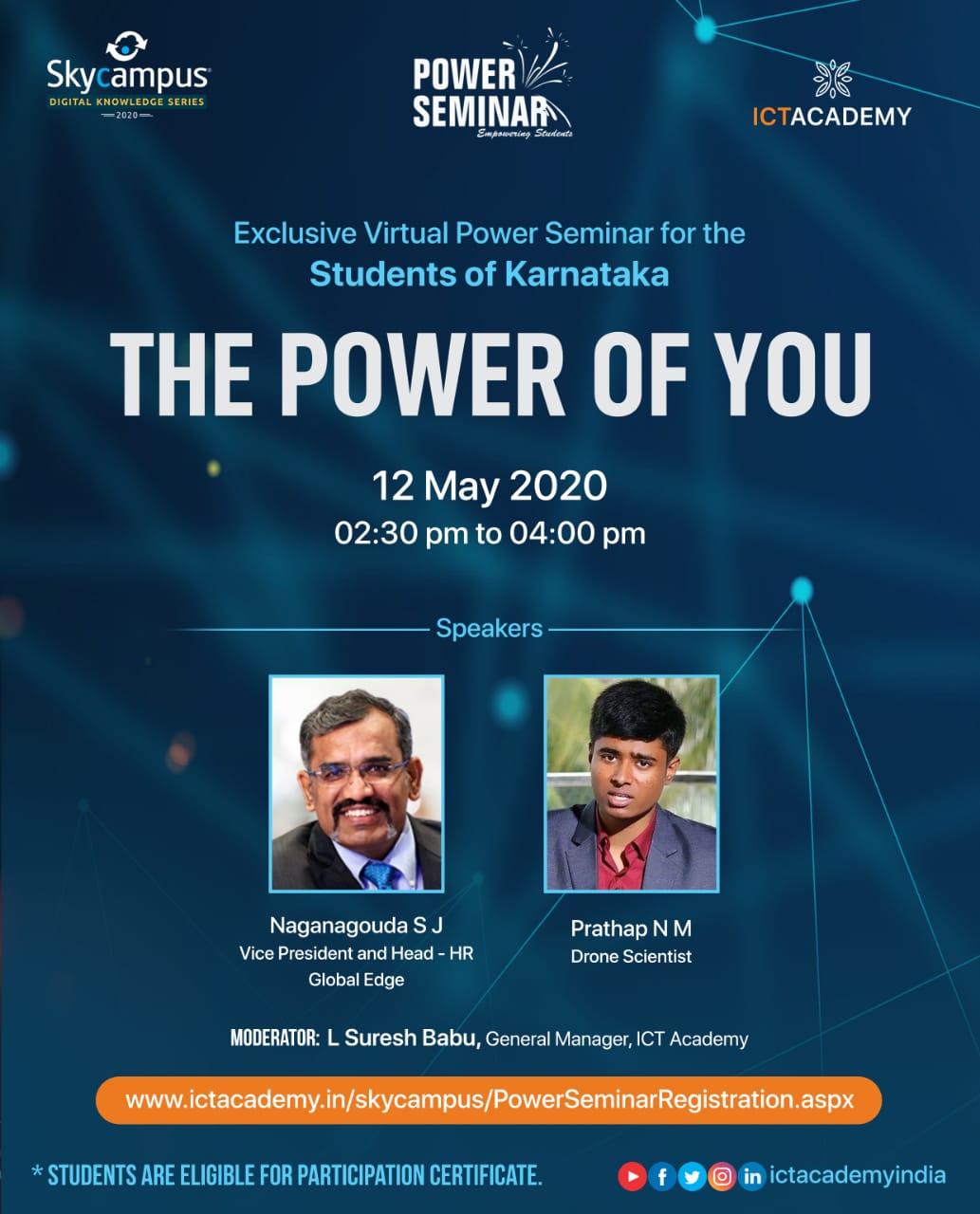 A lesson learnt
So far, there's no cheating case filed against Prathap. Even as trolls on Twitter and YouTube bay for his blood, those who helped him over the years, including the JSS institution, were willing to forgive him.
For they had believed in Prathap. Hailing from a poor family, he had shown enthusiasm and signs of being a bright student, who took part in various inter-college events and won prizes back in 2017.
In fact, when he evinced interest to attend the international Robot Exhibition (iRex) 2017 in Tokyo, Japan, it was his teachers, the college administration and the Suttur Mutt, the religious entity that runs the college, that helped him travel and funded his drone research.
"Our guest lecturers, non-teaching staff arranged for money and got him stitched a safari suit before he left for Japan. Then with the help of Suttur Mutt seer, we funded nearly ₹11 lakh for his travel and research work on drones," Prof Mahadevappa M, retired principal at JSS College told The Federal.
BR Rajashekar, the filmmaker who had agreed to do a biopic on Prathap, said in an interview that although he still has the opportunity to make a movie with latest developments, he did not want to hurt someone and hence stall the project as long as Prathap returned the advance of ₹1 lakh.
Prof Mahadevappa says all they did was to encourage a student to forge ahead with his dream, but never realised it would turn this murky until they busted the fake news of his achievements.
"I was the college principal throughout his term and I feel sad that I fed the information to the media. We all hang our heads in shame now. I served as an NCC (National Cadet Corp) officer and lived my life as a principled man. But this incident brought me down as well," he said.