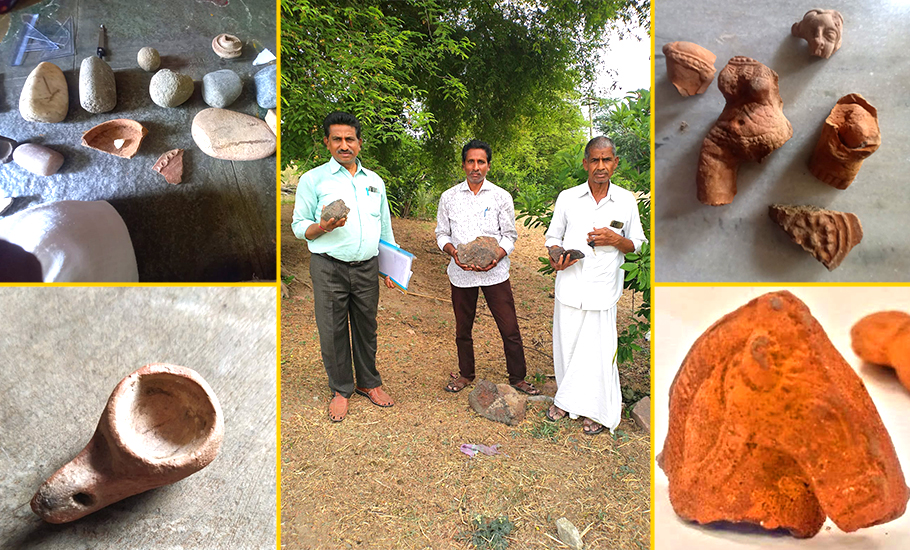 How amateur historians are lifting the dust off Telangana's glorious history
Kolipaka Srinivas assists a civil contractor. Ahobilam Karunakar is a petty businessman. Nasir is an RMP doctor. Anwar Pasha runs a small canteen and Mahesh Samaleti is a hereditary Ayurvedic practitioner. Still, they talk of palaeolithic cultures, ancient earthen pots, terracotta beads, stone tools and wood fossils with an uncanny ability.
What binds them together is their penchant for local histories. The amateur history enthusiasts comprising self-employed youth, teachers and young students among others have learnt the skills to detect historical relics lying undetected across forests, caves, and agricultural fields of Telangana as valuable archaeological artefacts. The group has picked up the skills despite not all of them being highly educated. Only a few are graduates.
Thanks to the historical consciousness, the Telangana statehood movement created among the youth, the state now abounds in amateur historians of their ilk who are combing every nook and corner for artefacts to keep their past alive. As many as 100 amateur historians are actively involved in the hunt for artefacts. Professors, trained historians and geologists are advising the group by verifying the findings.
Also read | How West Eurasian genetic imprints came to the fore in Pattanam
The group has been documenting fossils, burial sites, hero stones, rock arts, inscriptions, rock paintings, tools, coins, idols, and sculptures, which have been discovered by chance or have faced neglect and been left to decay.
Interestingly, each such archaeological finding by the volunteers has thrown light on the local history and the region's earlier human inhabitants.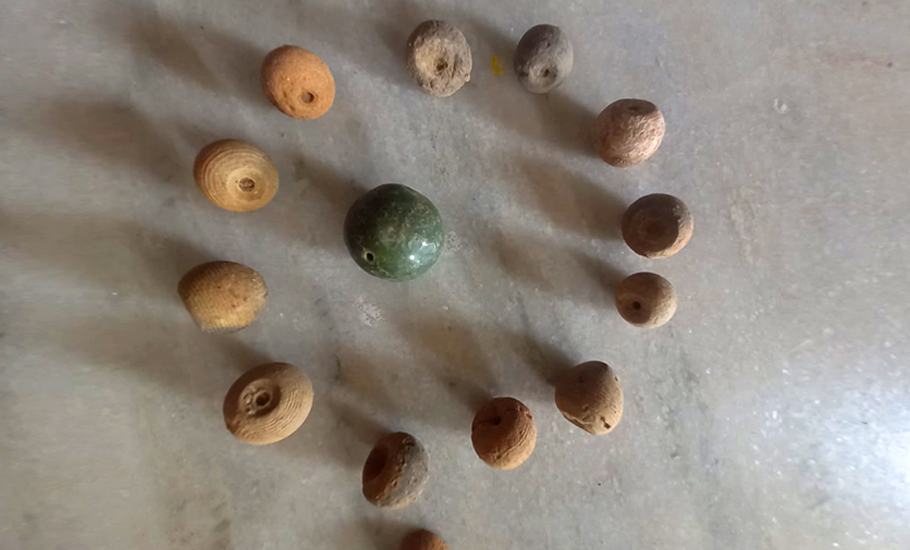 The efforts of the amateur historians, who also don the hat of amateur archaeologists at times, are organised under the umbrella of Kotha Telangana Charitra Brundam (New Telangana History Group), which was initiated by historian Sriramoju Haragopal.
On Wednesday, a team consisting of two historians Dr Byroju Shyamsunder and Byroju Chandrasekhar of KTC found traces of iron smelting near Chityala in Wanaparthy district. The sludge from smelting is believed to have been spread over an area of 14 acres.
Also read | The atlas of lost islands in a rapidly drowning world
Though the antiquity of the findings is yet to be ascertained, KTC convener, Haragopal said this smelting could have taken place around 2300 BC. "Still people in this area worship Mammai, a metallurgical goddess. Inscriptions from the Chola period also inform that the area was used to supply swords to the armies stationed at Giridurgam, a nearby village. All these findings put together indicate a flourishing iron smelting facility in the area," Haragopal told The Federal.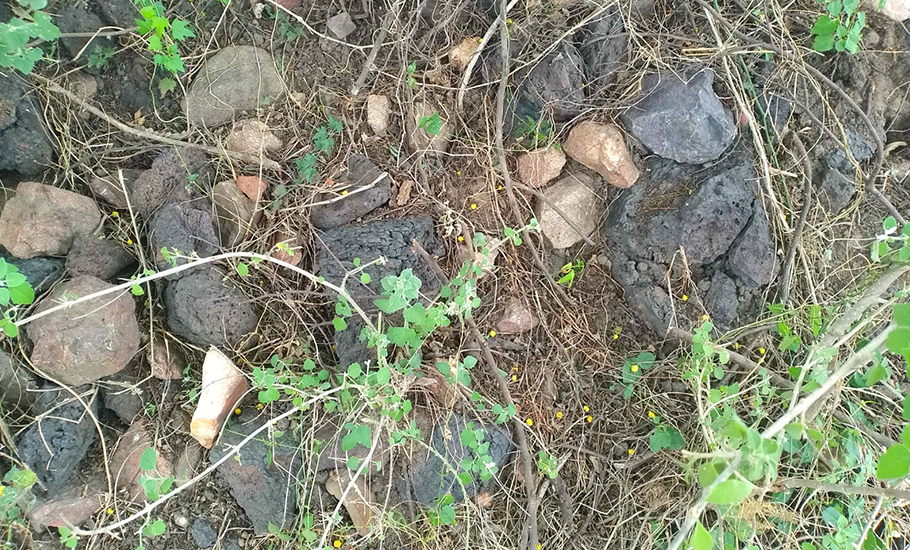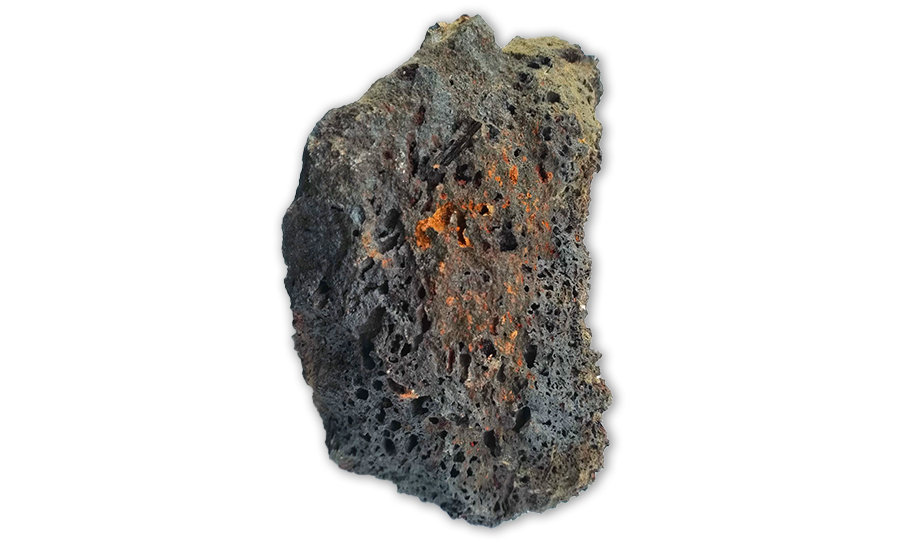 Haragopal is currently engaged in the compilation of New Telangana History, a six-volume historical account of the state formed in 2014.
"The Telangana region was not accorded due importance when history was being written. United Andhra Pradesh identified 208 monuments of historical importance, but only eight were from Telangana," Haragopal told The Federal.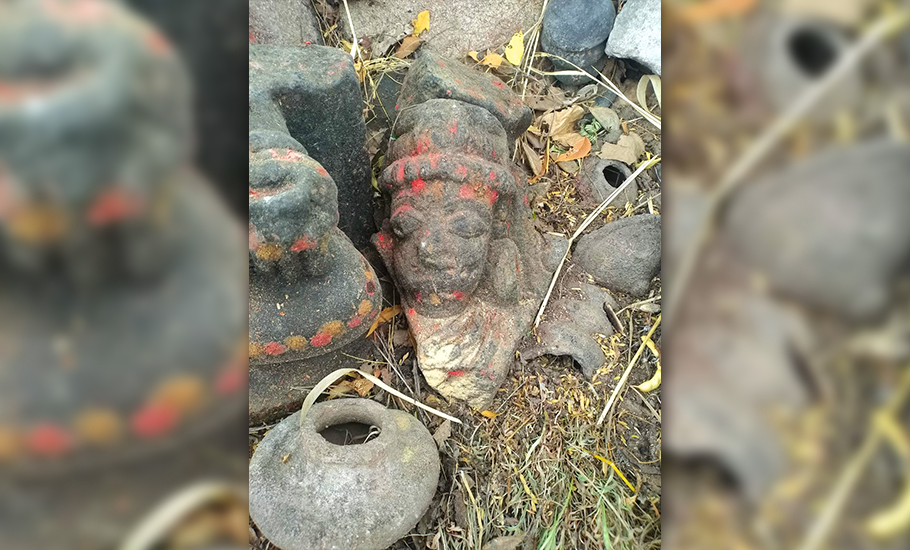 "The Telangana movement highlighted this neglect of the region. The new state has vast stretches of fertile historic and prehistoric sites lying to be explored. Fired with pride, the amateur historians, who are spread across the state, are entering even inaccessible areas, to make history accessible," Haragopal, a retired headmaster, who is about to complete his six-volume work, said.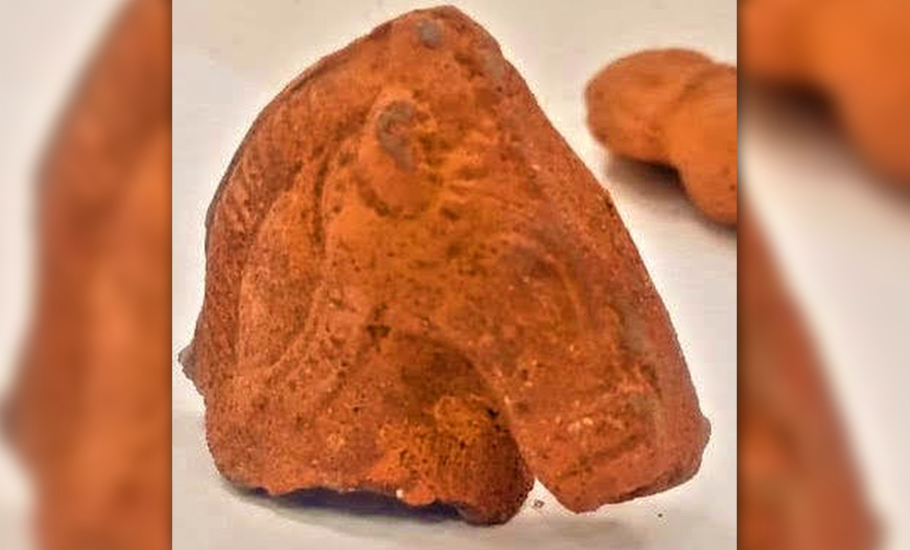 He was the first to find stalagmite and stalactite caves in the state, he said.
Recently, a team comprising Ahobilam Karunakar, Kolipaka Srinivas, Mamidi Purna Chanderrao, Mamindla Lakshmareddy, Misa Venkateshwarlu, Ahobilam Karunakar, MD Nasir, MD Anwar, Korivi Gopal, Kolipaka Srinivas, Vakulabharanam Sanoj, Ahobilam Bhuvana, Achara and Kalyan explored a Patigadda (old mound) near Cherial town in Siddipet district with an antiquity of more than 2000 years.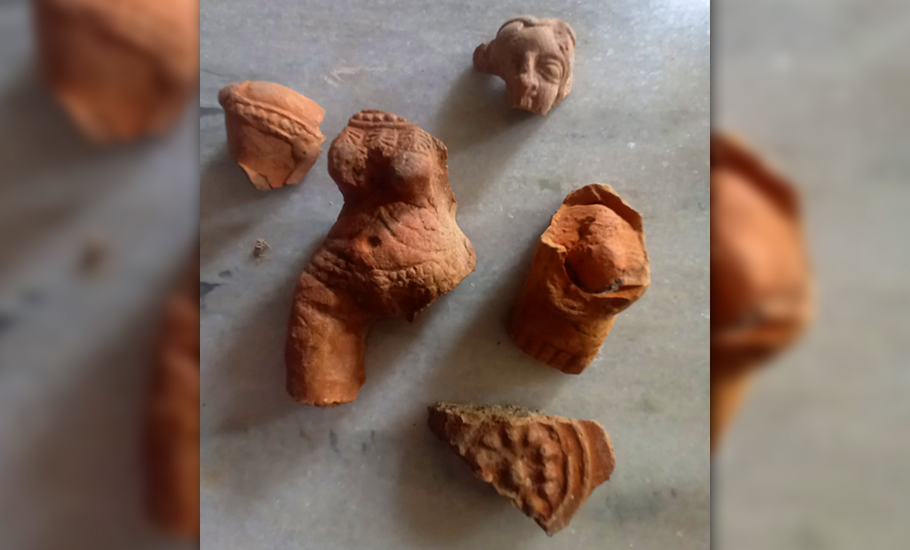 A large emerald green stone bead, smaller stone beads, terracotta figurines and ornaments of Satavahana period were found at the site. Among the terracotta figurines were a broken doll's foot, a broken fairy head, and the torso of a goddess.
According to Haragopal, goddess figurines belong to the Ikshvaku (225-340 AD) period. Three Neolithic stones, which push the area's antiquity into prehistory, were also found at Patigadda.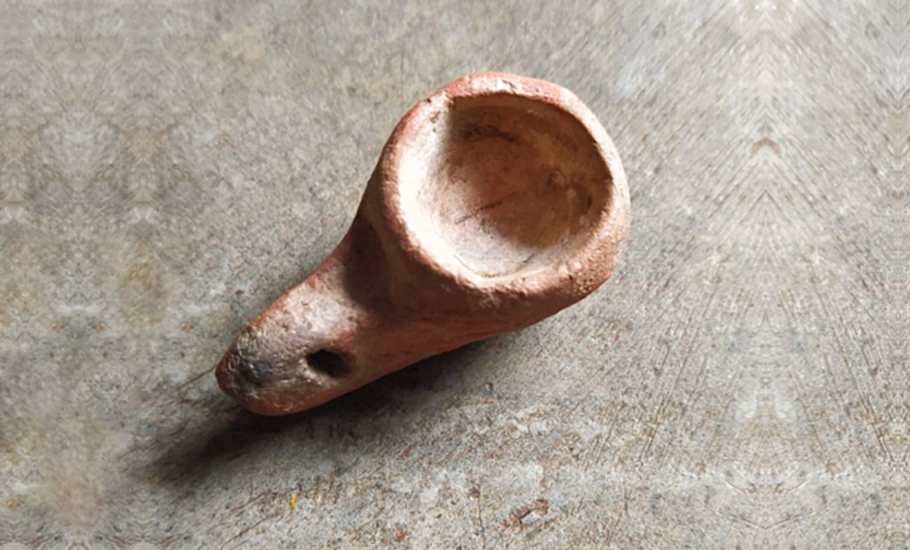 The team also found, among others things, a large brick structure with bricks having the typical dimensions (14x12x14 inches) of the Satavahana period. The coin with a symbol of Ujjain on one side and Brahmi script on the other is reminiscent of coins Prof Aloka Parasher-Sen found in her research at nearby Kondapur site.
The area falls in the archaeological zone of Kondapur, an ancient trading hub which was thoroughly studied by Prof Aloka Parasher-Sen of Hyderabad Central University.
Prof Aloka found punch marked, die-struck and inscribed coins issued by local rulers at Kondapur which she said was rare for the same historical period in other parts of India.
The local political elite's ability to issue their own coins means they had gained control over iron-ore mining, Prof Alok wrote while writing about local histories of Telangana.
"A similar history cannot be ruled out at Cherial Patigadda as well. We urge the state government and universities to study the area for hidden history of Telangana," Haragopal said.
Patigaddas of Telangana
Patigadda means mound of a deserted village. Such mounds are said to have formed after inhabitants deserted a village due to socio-political reasons. Over time, these deserted villages became a mound of soil. These mounds with histories buried underneath are found everywhere across the state. The amateur archaeologists locate these mounds and explore them for traces of the lives people who once lived there.
According to Kolipaka Srinivas, who first got the wind of the Patigadda at Cherial with the information provided by a shepherd, "Shepherds crisscross the state. Their familiarity with the geography is unbeatable. I keep enquiring about the Patigaddas. A shepherd informed me about the Cherial mound a year ago. I went there and found to my surprise a wealth of artefacts. Later, I informed the KTC group about the site," he said.
Columnar basalts
Another landmark in the journey of KTC is the discovery of columnar basalts in the forests of Ramnagar and Gauri villages in Kerameri mandal of Kumram Bhim district by an amateur historian named Tirupati Githe.
Like his peers, Githe too was guided to the site by shepherds, which is unique compared to the other such sites in India.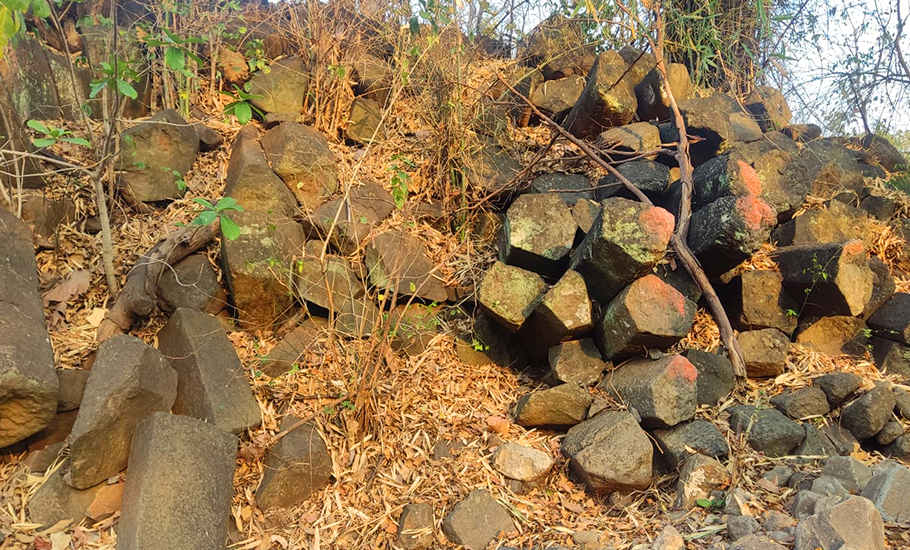 According to Chakilam Venugopal, a former deputy director of Geological Survey of India, columnar basalts are natural pillars made of lava that flowed out of volcanoes six million years ago, and then cooled and hardened. But this type of rock was unheard of in Telangana until recently, he said.
Talking to The Federal, Githe, who runs a college in his hometown Keremeri, narrated a folk tale that surrounds these rock formations.
"Locals worship these structures as pillars of an incomplete ancient temple. One day a rakshas (devil) vowed to construct a giant temple overnight. He could not accomplish this feat before sunrise. Distraught with failure to fulfil his vow he died instantly. Now, all the pillars he carved out for the temple lay scattered here and there in the forest," Tirupati Githe said.
Stressing the importance of the archaeological sites, columnar basalts and limestone caves discovered by the members of KTCB are valuable and need to be preserved for the benefit of future generations, Haragopal, urges the state government to declare all such areas where artefacts have been found as protected sites.
"If left unprotected, they would soon disappear in the spate of urbanisation," he said.
Renowned historian and author Prof Adapa Satyanarayana welcomed the role being played by amateur historians stating their findings certainly broaden the focus of traditional academic history.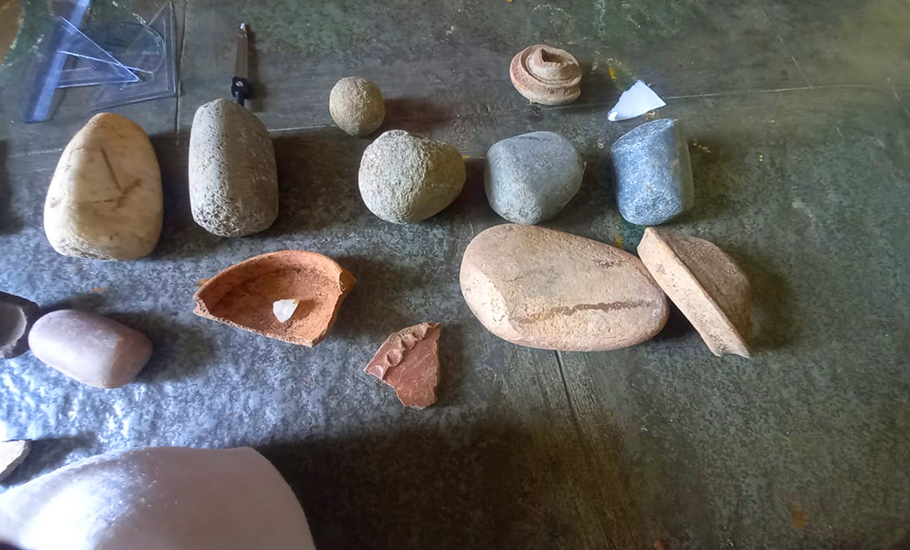 At the same, the former Osmania University professor of History, cautions against the dubious claims a few of them make.
"The construction of local history must be based on sound theoretical and conceptual framework. The enthusiastic scholars must adhere to principles of historical methodologies. Some scholars in the name of new history are repeating the old findings. This is not good history," Prof Adapa warned.