Achieving village self-sufficiency
Mahatma Gandhiji once said that India lives in villages and the development of India means development of its villages. He dreamt of villages achieving self-sufficiency and decades later, a few villages are slowly achieving the same.
How a small idea and big resolve turned this village self-sufficient
Uploaded 15 October, 2020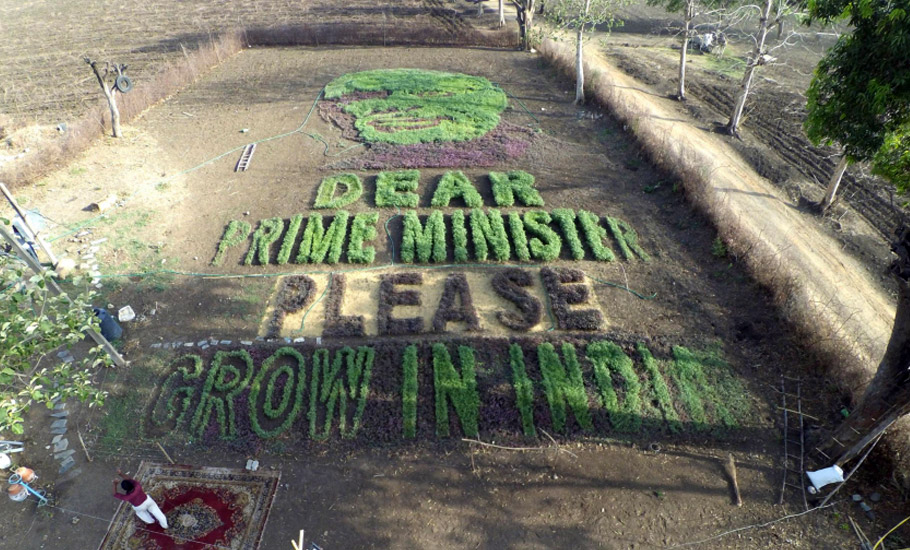 Advertisement
In April this year, like millions of migrant workers, Kisanlal Kawre returned to his village in Balaghat in Madhya Pradesh when the COVID-19 crisis struck. For six years, he worked as a waiter at a restaurant in Pune. He has mixed feelings though about coming back to his place of birth. "My heart says not to go to Pune ever. But I have no choice. As soon as conditions improve, I shall pack my bags and leave with my family," he says.
About 200 km to the southeast, 28-year-old Ankush Bavane from Paradsinga village in Chhindwara district, lying on the border with Maharashtra, and about 60 km north of Nagpur, has a different story to tell.
Ankush is a young graduate, working in an IT company, not in some metro city, but in his own village. Ankush happily balances his time and energy as a digitizer of roof designs for a US-based firm and as a cotton growing farmer — helping his father and mother in the field every day.
Kisanlal is the face of today's India — an India shining on the outside, with a gloomy inside marked by poverty, dejection, suppression and lack of dignity.
Ankush, on the other hand, is the son of the soil who has stayed back where he belongs and enjoys the benefit of working from home in his small village, which is not just farming, and leading a life of dignity without going through the pain of migrating to an unknown place, which takes more than what it gives.
Some nine decades ago, a skinny man wrapped in khadi holding a stick and wearing round-rimmed glasses had said that "India lives in villages and that development of villages will mean development of India as a whole". Mahatma Gandhi's words and dreams for self-sufficient villages are treated like gospel by leaders and speakers.
Sadly, today, he is restricted to currency notes, decorated walls of government offices and in a few library books, except maybe for the Gram Art Project in Paradsinga village tucked away in the laps of Satpura mountains.
Paradsinga village is still far from what Gandhi had envisaged, but it is slowly and steadily inching towards self-sufficiency with its indigenous cottage industries, sustainable organic farming which is linked to development of local art, women empowerment, and social upliftment.
The IT company opening its remote office here and employing 10 local youths is by far the highlight of this small movement started by a young, urban couple, Tanmay Joshi and Shweta Bhattad, which they named it the Gram Art Project.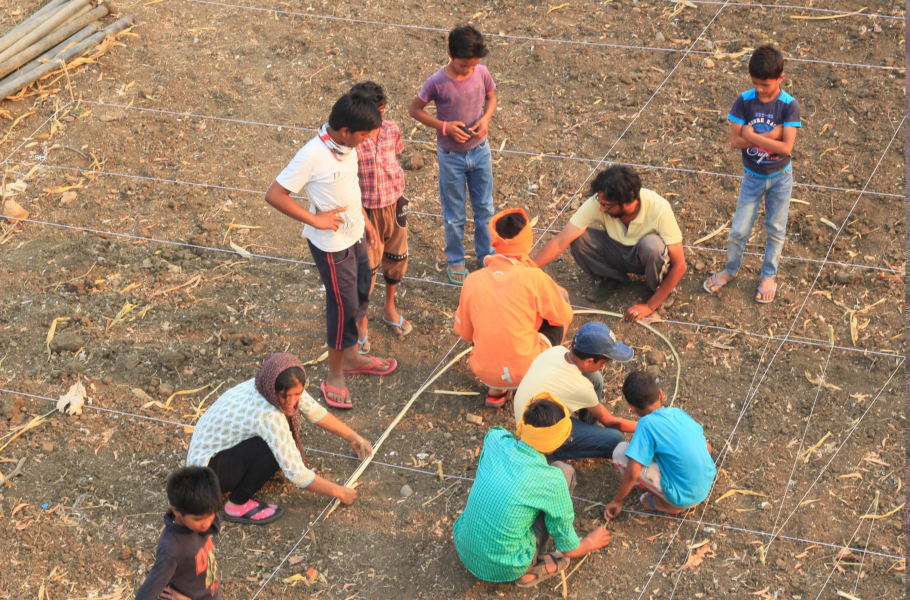 "It is a collective effort," says Shweta, a sculptor herself. "Started in 2013 by a group of farmers, women and artists to develop a collective consciousness around understanding our own village, it has myriad facets like migration, poverty-ridden circle of agriculture, patriarchy, gender inequality, exploitation, traditions, superstitions and many more."
Tanmay, who is a farmer and a proponent of native cotton, says, "The seven years of our journey have been an exercise in self-realisation which was made possible by the way we collectively worked in the area of organic farming, seed saving, jobs for women and youths in our own village, land art, weaving cloth… basically everything that entitles an exploitation-free living."
Now, Paradsinga has emerged as the centre of several activities that weave together the social, mental and economical needs of its population and presents a model of village self-sufficiency to India, if not the world.
I
Seed rakhi – More than a brother-sister bond
The first major initiative of the Gram Art Project was land art.
"We created a crop design on the farm by giving shape to cotton plants and made a portrait of Prime Minister Narendra Modi," says Shweta.
The message carved on the ground was poignant: 'Dear Prime Minister, Please grow in India'. The negative impact of growing Bt Cotton and American cotton on the village economy is well known. This land art was just a starting point for the couple to drive home the point that growing native cotton is the only way to restore peace and order in this village in particular.
That's when Shweta struck upon an idea. "She asked me to collect as many threads of desi cotton as possible," says Tanmay. "She would then gather and train women to make rakhis out of them. We called it seed rakhi because it had a seed of desi cotton fixed at the centre. You throw the rakhi in the soil and a cotton plant will emerge out of it."
'Seed rakhi' turned out to be quite a hit — the first of its kind in the country. For the first two years, they had to source the cotton of their choice from Akola district nearby with great difficulty.
"You see, only 1% farmers today grow desi varieties of cotton. Before Independence, 99% farmers grew native cotton. Now, we are growing cotton in our own fields in Paradsinga. In 2018, we sold 10,000 rakhis, in 2019 we sold 15,000 and this year we beat the corona blues to sell a whopping 30,000 rakhis all over the country. Most of the sales happened online with clients from Mumbai, Delhi and other big cities," says Tanmay, who has an expertise in growing cotton and is presently working on setting up a process to convert raw cotton to fine fabric i.e. khadi.
"Our rakhis foment revolutionary thoughts," says Shweta with a laugh. Each rakhi gives a social message which is written on the seed paper (read below) attached to the rakhi.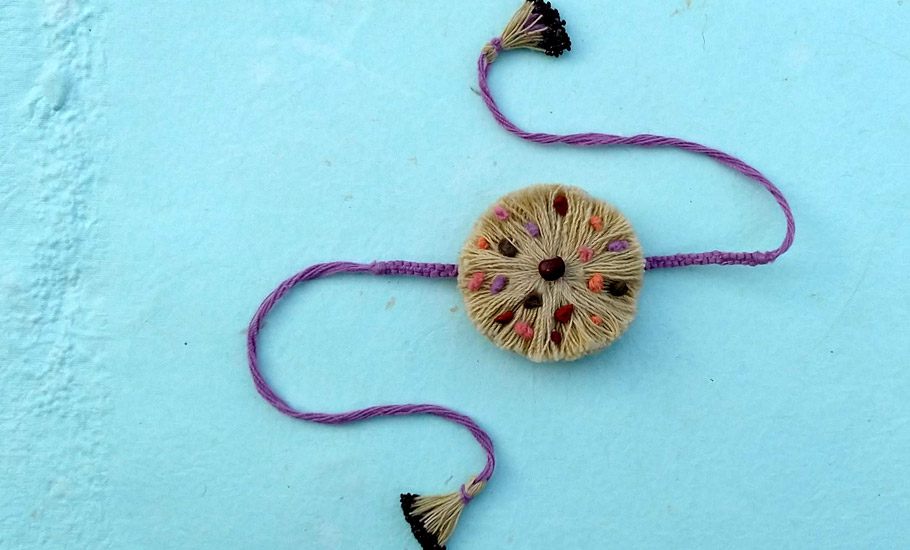 Last year, Gram Art paid tribute to Navleen Kumar, an activist who fought the land mafia in Mumbai before she was stabbed to death.
"A rakhi design with nineteen seeds painted in red on its surface (symbolising the 19 stab wounds on Navleen) was our way of telling the world what our art stands for. Similarly, we had rakhis dedicated to themes like female foeticide, domestic violence and many other social issues. Some right wing groups boycotted our products for picking up such bold themes on a pious occasion, but how could we explain to them what we thought about the festival of rakshabandhan?" says Nutan, a 24-year-old, who trains women in rakhi making. Nutan looks after her parents and an extended family and has recently built a house for herself.
Today, the seed rakhi programme employs about 100 women from Paradsinga and adjoining 10 villages. Most of these women were once confined to the four walls of their houses. Today they are financially and socially independent.
"Why do we need brothers to protect us? We are capable enough to defend ourselves. Rakshabandhan does not mean much to us, in the traditional sense. We are simply using the occasion to start a much-needed dialogue in the society. The native cotton thread is a medium to convey so many things – said and unsaid," says Raushani Narnawre, once a victim of domestic violence, now an active member of Gram Art.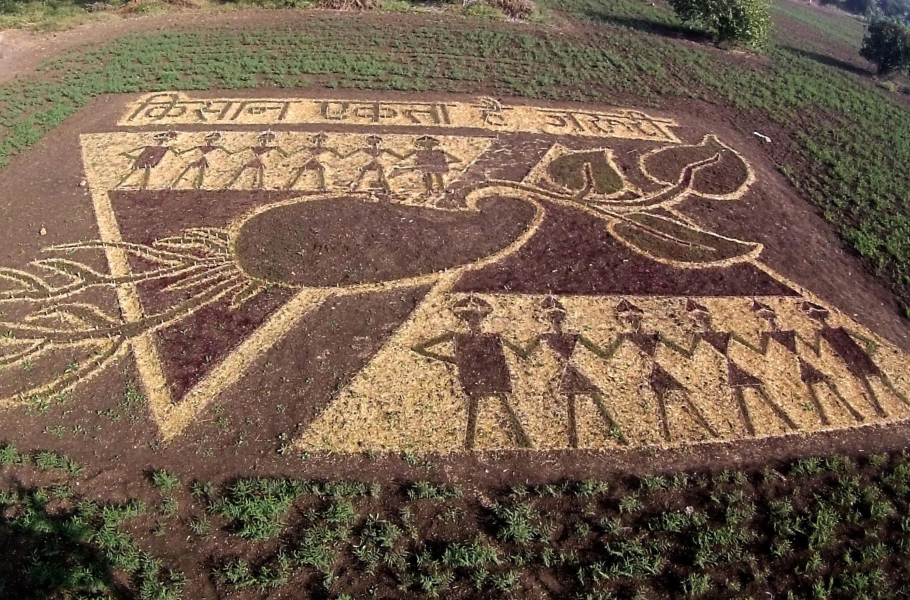 Since every seed rakhi is unique, it comes with a paper wrapped around it. This paper is called 'seed paper', because it is hand-made from waste paper and has a seed wrapped inside. The seed paper explains the theme of that particular rakhi.
"The paper is completely hand-made without using any tool to ensure it has near-zero ecological and social footprint. Today, we are selling as many seed papers as rakhis and the day is not far away when seed paper will be Gram Art's top selling product," says Tanmay.
II
Land art – A platform to groom local talent
Shweta's background in fine arts convinced her to start her journey in Paradsinga with land art. "In the beginning, we wanted to start a dialogue around problems faced by our village — gender bias, caste discrimination, rich-poor divide and poverty that surrounds agriculture. We started with an art residency — a 10-day workshop for artists from around the globe to come to Paradsinga and explore their work around the life and issues of our village folks. We were able to strike the right chords and very soon we were able to cultivate 10 local artists who then went around the country to participate in different residencies and make a name for themselves," says Shweta.
Four more such residencies were held in Paradsinga after that, which had artists coming in from all parts of the country and also from abroad. These visitors would use local raw material, taking help from villagers, and also paid for their stay and food. "It turned out to be a good model of rural tourism," says Tanmay.
The Gram Art team is now focusing its efforts towards producing khadi clothes, weaved using native cotton grown in their own village. The range would soon be made available online.
Despite all other activities, Gram Art's mainstay is agriculture. The core philosophy of the initiative is to improve the lot of farmers, not by inciting them with more profitable ventures, but by convincing them that the path to happiness is based on equity, transparency, a life free of exploitation and full of peace and harmony.