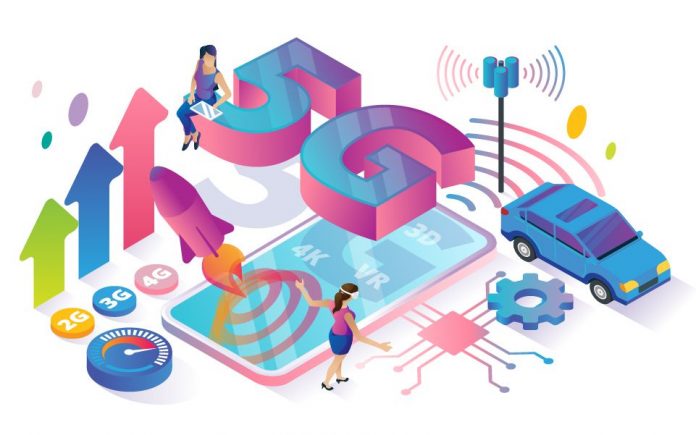 On a busy Monday morning on April 1, S Thangavelu, a youth in his 20s, tried to download a movie at Katpadi railway station in Tamil Nadu. Waiting for his next train to Bengaluru, Thangavelu connected to the 'free' Wi-Fi network and tried downloading the movie on his 4G (fourth-generation)-enabled smartphone. In the first half hour, he couldn't even download half the movie (about 250 megabyte).
The station is covered under Google's initiative to provide free Wi-Fi to 400 Indian railway stations. Katpadi railway station attracts a passenger flow of about 18,000 a day and one could assume the download speed slowed down for Thangavelu as many other were connected to the Wi-Fi network at the same time.
According to the Speed-test Global Index, India ranks 109th in mobile Internet speeds and 67th in broadband speed, globally.
Before the advent of "free" 4G, many people consumed 1GB data a month. But today, an average cell phone user exhausts 1GB data a day. With data coming cheap, video consumption too has increased in recent months. The use of high-speed Internet has changed the user behaviour and spiked his/her expectation.
Think 5G, think speed
In a country where the Internet speed, even with 4G network, is crawling, will the upgrade to 5G wireless technology improve anything?
Imagine sitting in the same railway station as Thangavelu, and downloading two movies in five minutes even though a thousand others have logged in to the station's Wifi network at the same time. With India planning to conduct 5G trials within the next 100 days, and hoping to get the spectrum auction running by this year end, such a dream could be possible by 2022.
5G, the next generation of cellular communications technology, can have a deep impact on India in terms of higher speed and capacity.
For instance, in Dallas in the United States, one can download high-end games of the size of 1.8GB in two-and-a-half to three minutes. With 5G, vendors can provide internet access to homes using wireless network technology rather than fixed lines.
5G will also open doors to a range of services that could change the way people interact with devices and usher the use of augmented reality (AR) and virtual reality (VR). For instance, in the retail sector, it could help vendors improve the in-store experience and online shopping by setting up VR dressing rooms so that users can try on outfits virtually from their homes.
With India's internet user base of about 294 million expected to double by 2022, consumer-driven industries – from healthcare to media to retail – will go through rapid transformation, considering the amount of data consumption.
Data vs voice services
Nokia's annual Mobile Broadband India Traffic (MBiT) index study shows that the average data usage grew by 69 per cent in 2018 to touch 10 GB per user per month.
In India, the usage of data increased over voice services in recent years. The average monthly spend on voice services in 2013 was Rs 214 compared to Rs 173 spent on data. However, by 2016, the expenditure on voice fell to Rs 124, while that on data rose to Rs 225, according to a study. Video streaming constitutes roughly 75 per cent of the traffic.
"5G is all about more capacity and more latency. Rural India will benefit more as the mobile vendors do not have to incur high cost on laying cables but instead provide hi-speed internet through wireless networks," said Neil Shah, research director, Devices & Ecosystems at Counterpoint Technology Market Research firm.
Neil believes 5G could help the government start smart city projects. For instance, remote surveillance of public places could help control crime rates.
Is India ready?
South Korea first tested 5G at the Winter Olympics in Pyeongchang last year. It became the first country to roll out 5G commercially in April this year, with Samsung Electronics' new 5G-enabled device.
South Korea, with the highest smartphone penetration, beat China, United States and Japan which are in the trial stage, to market 5G.
China plans to fast track the commercial use of the next-gen network and grant license by the end of this year. China's Huawei Technologies, pioneer in 5G development, faces mounting pressure in the west against the use of its tech technology. This prompted China, which expected to deploy 5G service in 2020, to accelerate the schedule much ahead of its plan.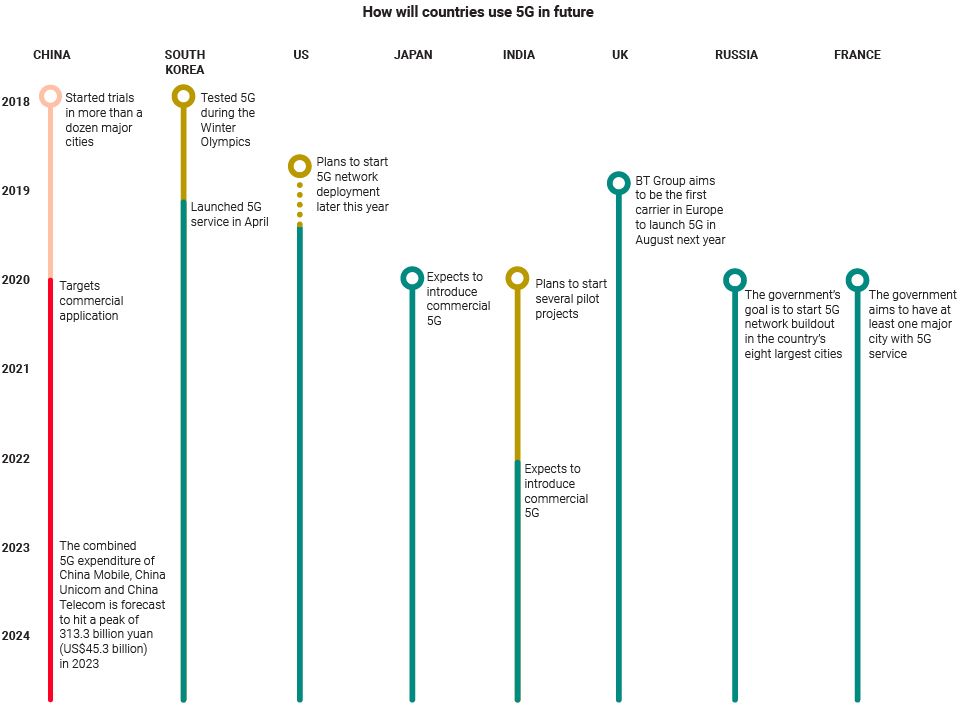 In India, the commercial deployment of 5G was expected in 2020. However, the completion of the first 5G New Radio solution last year has set the stage for the global mobile industry to start a full-scale development of 5G, much ahead of its schedule.
Swedish communication services company Ericsson and IIT Delhi signed a MOU in 2018 to jointly roll out a '5G for India' programme. The company will set up a centre of excellence with a 5G test bed and incubation centre at IIT Delhi campus, and use this facility to fast-track realization of Digital India initiatives.
Telecom minister Ravi Shankar Prasad recently said India will hold its next spectrum sale in 2019 and conduct 5G trials within 100 days.
Experts believe that optical fibre connectivity will be critical for supporting 5G technology with barely one-fourth of the five lakh telecom towers connected via fibre network. The government aims to increase fibre footprint five-fold by 2022.
Huawei row and India's dilemma
The department of telecommunications (DoT) in September 2018 invited communication gear manufacturers including Nokia, Ericsson, Huawei and ZTE to have production ready equipment for trials based on 5G-New Radio standard. While DoT initially ignored Huawei, it gave clearance later. The Chinese company has come under attack following security concerns owing to its closeness with the Chinese government. Countries such as US, Japan, New Zealand, Australia, Canada and UK blocked Huawei from building 5G networks.
Also read:West stings as 'red rag' Huawei threatens monopoly
On December 1, when US President Trump and Chinese President Xi Jinping sat for a discussion at the G20 summit, Meng Wanzhou, Huawei's chief financial officer and daughter of its founder was arrested in Canada for possible violations of US sanctions on Iran. This led to a full-fledged trade war between the two nations. The US called for a complete ban on Huawei while China called for a complete ban on iPhones.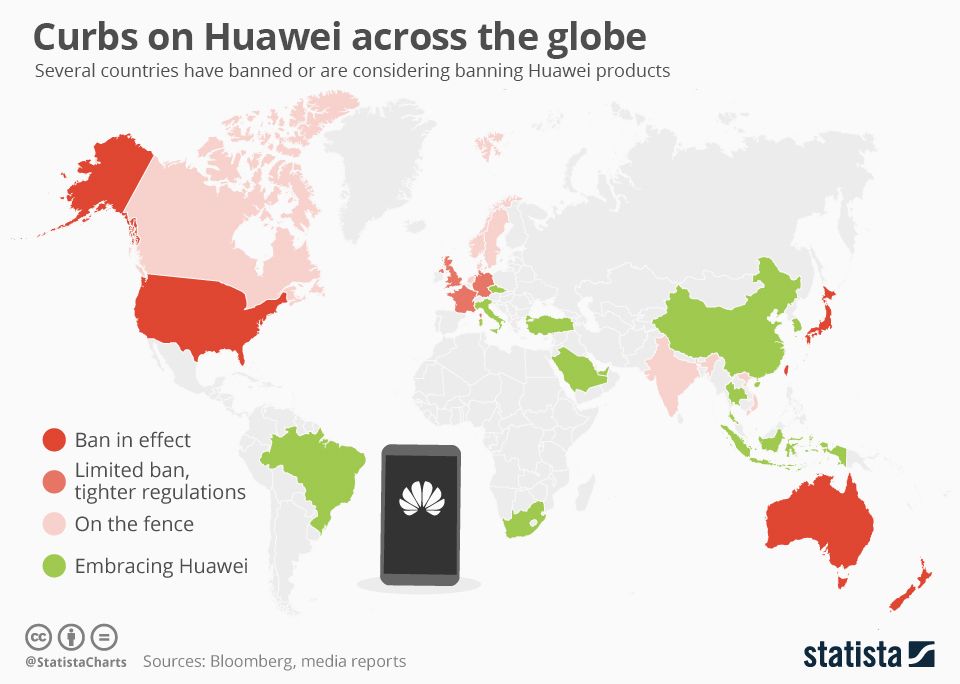 Though the DoT allowed Huawei as one of the vendors for the 5G trials, it now wants to play cautious, even though the company caters to the communications needs of one third of the world's population.
India's association with Huawei dates back almost two decades. The company has network partnership with leading telecom players in India like Airtel, Vodafone-Idea, BSNL and Reliance Jio.
Outside of China, Huawei established its largest overseas R&D centre in Bengaluru in 1998 employing over 4000 Indian software engineers. In 2012, the state-owned Bharat Sanchar Nigam Limited (BSNL) partnered with Huawei to modernise its national communications network. In 2015, the Home Ministry approved a Huawei project to set up an electronics and telecommunications device manufacturing factory in Sriperumbudur near Chennai.
Huawei India chief Jay Chen urged India to have a level playing field for all and take a quick decision on whether it will allow the company to participate in development of 5G technology.
"The ongoing issue with Huawei was more of a trade war and not a security war, as projected by a few countries," said Rajan Mathews, director general of Cellular Operators Association of India (COAI), the industry lobby body.
"If we exclude a player like Huawei, tech adoption will impact. There is vulnerability at every stage (software, devices, hardware), the government should put checks and balances to address the security concerns," Mathews said. He further added that Huawei was the first company to come forward and say they'll share the source code and engineering designs if required by the Indian government.
Meanwhile, regarding the security concerns, Pamela Kumar, director general of Telecommunications Standards Development Society, India, said the Centre will investigate the concerns raised (against Huawei) while they request all the vendors to adhere to certain standards that were put in place.
"We do not want to be left out in the 5G race. We want to roll out 5G on par with other countries and embrace technology with the rest of the world," Kumar said.
Chennai's gain
The country is gearing up for 5G enabled mobile phone manufacturing. While Samsung, the South Korean mobile manufacturer set up the largest production unit in Noida, the Taiwanese contract manufacturer Foxconn and US-based Flex electronics, set up shop in Tamil Nadu and Andhra Pradesh.
Foxconn agreed to Rs 1,500 crore to have new production lines to manufacture certain iPhone models in its factory in Sriperumbudur near Chennai. Foxconn also produces phones for Chinese tech giant Xiaomi, which, emerged as the leading mobile phone brand in recent years. Both Flex and Foxconn are likely to generate about 25,000 jobs in Tamil Nadu and Andhra.
With the 5G trial talks, companies want to tap into the mobile phone market early and bring down the cost by manufacturing the mobile phones in India.
Foxconn may roll out made 5G handset as early as 2020 from the Chennai centre, a source at Foxconn said.
5G spectrum allocation
The spectrum allocation is a major source of revenue for the government. Due to lack of transparency and favouritism with the 2G spectrum sale a decade ago that dragged down the UPA government, the Supreme Court in 2012 ordered the government to auction spectrum for all times to come. Between 2012 and 2016, the DoT conducted several rounds of spectrum auctions.
The government raised ₹65,789 crore the last time airwaves auction in 2016-17.
The auction of 5G airwaves, expected to be India's largest so far with 8,293.95 MHz of airwaves at stake, could generate ₹5.77 lakh crore in revenue, according to an Economic Times report. The government has kept the price at ₹492 crore per MHz.
Telecommunications companies including Vodafone Idea, Bharti Airtel Ltd and Reliance Industries Ltd's Jio may participate in the auction.
Airtel, the country's second-largest service provider by subscriber numbers, and its rival and market leader Vodafone Idea, plans to raise $4.5 billio and $3.5 billion, respectively, to upgrade its network.
Both the companies argued that the base price was exorbitant, given that the nascent stage of 5G ecosystem.
The industry body COIA said that the recommended base price of 5G radiowaves is nearly 30-40 per cent higher than the rates in South Korea and the US.
"The government should think if it wishes to maximise benefits in the long run or does it need lump sum revenue at the start. If the cost (of spectrum) is prohibitive for 5G, then the service providers will naturally price it high for consumers and it could impact the tech adoption," Harish HV, former Partner at Grant Thornton India, a global consulting firm said.
"It may take several years for telecom companies to expand their 5G reach and reap benefits if the base price is kept high."