The year was 2017. Just ahead of Diwali, the Supreme Court had banned the sale of fireworks in Delhi, hoping to prevent the spike in toxic air pollution levels that accompany the holiday season every year.
The ban was a result of a petition filed by three toddlers — aged between six and 14 months — through their parents in 2015, seeking the top court's intervention to stop the use of loud firecrackers during Dussehra and Diwali. The harried parents were asserting their children's right to be brought up in a pollution-free environment.
Delhi had earned the dubious distinction of being the most polluted city in the world in 2014 and remains so till date. The air quality in Delhi usually starts worsening from autumn. While many factors play a role, the burning of agricultural residue in neighbouring states of Punjab and Haryana contributes significantly. To add to that, the bursting of tens of thousands of firecrackers during Dussehra and Diwali turns the city into a virtual "gas chamber".
Advertisement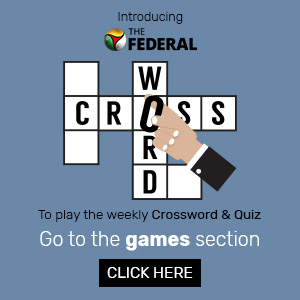 However, despite several studies pointing out to the dangerous effects caused by fireworks, all hell broke loose following the SC order.
Citizens were divided into pro- and anti-crackers. High-decibel TV debates added fuel to the fire, with many terming the ban an "attack on Hinduism's biggest festival".
Scientific evidence vs public sentiment
The Supreme Court's decision was not whimsical. On an earlier direction of the SC, the Central Pollution Control Board (CPCB) had conducted a detailed study on the impact of fireworks on air quality and health. Its report clearly stated that high levels of toxic elements like barium and aluminium were found in the air in Delhi a day after Diwali.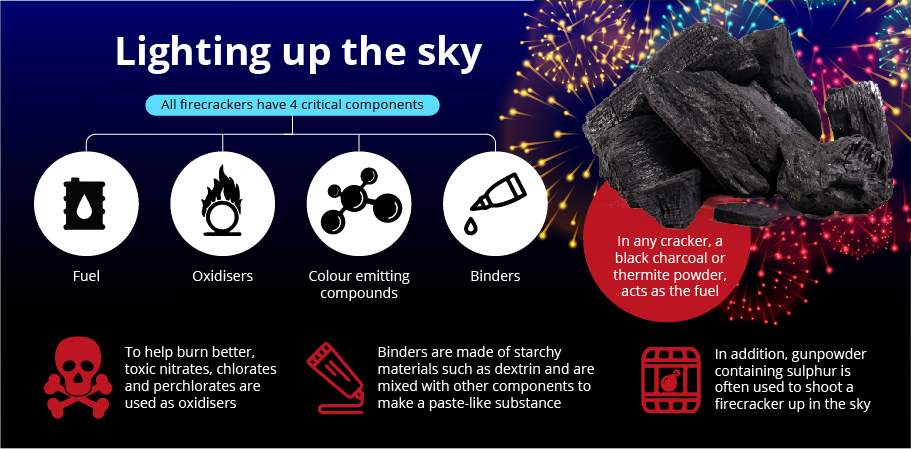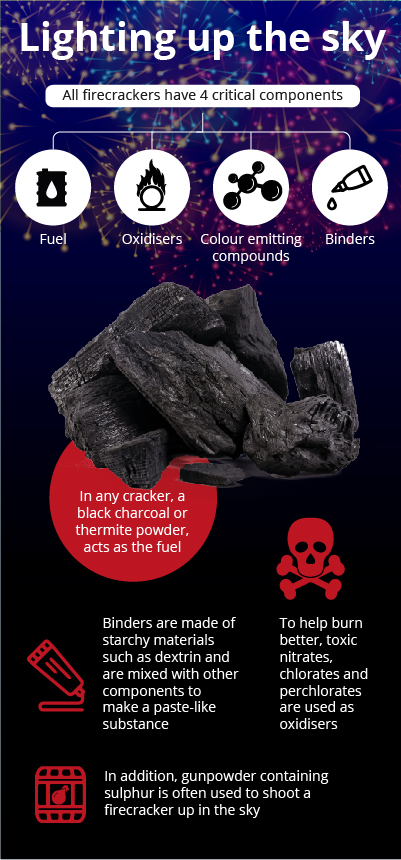 Ambient air quality is usually measured in terms of particulate matter suspended in the air we breathe in. A reasonable air quality means less than 60 micrograms of particulate matter per cubic meter (μg/m3) in any 24-hour cycle. In Delhi during Diwali, the CPCB report said, levels were as high as 700μg/m3.
CPCB's finding was corroborated by various independent studies.
But last October, keeping in mind the public sentiments as well as environment-related concerns, the Supreme Court relaxed the 'complete ban' issued in 2017 and allowed bursting of low-emission crackers within a certain timeframe.
What are green crackers?
The concept of 'green crackers' is an evolving one, and there are no set standards other than the directions found in SC rulings. Essentially, various verdicts put together say that the ash as desiccant (a hygroscopic substance used as a drying agent) or filler materials should be avoided.
It is also required that the particulate matter emission be reduced by 30-35% when compared to the conventional ones. Further, barium nitrate or potassium nitrate should not be used as oxidisers. The levels are based on alternative technologies developed by the Council for Scientific and Industrial Research (CSIR), rather than independent health and environment evaluations.
Following the SC order, scientists working with the CSIR were asked by the Centre to initiate research and development on environment-friendly fireworks and come up with viable 'green crackers'.
Based on the findings of the CPCB, the Supreme Court had banned the use of barium oxides, potassium oxides, antimony, lithium, mercury, arsenic and lead in any form whatsoever in the manufacture of fireworks.
Scientists now had to find a substitute for these traditional ingredients. The emission of fine particulate matter in the air was the main reason for the deterioration of air quality. Researchers had to come up with a product that would give the same sound and light effect, but without spewing the fine dust or toxic gases into the atmosphere.
Although the initial intention was to develop 'green crackers' for 2018 Diwali, finding viable alternatives took time.
Finally, the CSIR announced rolling out of green crackers this Diwali season. Various environment-friendly fireworks such as sound-emitting crackers, flowerpots, pencils, chakras (spinning wheels) and sparklers have been developed.
The new crackers have been developed by scientists of two national labs — Central Electrochemical Research Institute (CECRI) in Tamil Nadu's Karaikudi and National Environmental Engineering Research Institute (NEERI) in Nagpur.
Green crackers on offer
Flowerpots, sparklers and 'atom bombs' are some of the conventional firecrackers that are in high demand and form a major share of the market in Delhi during Diwali. One of the crucial components of the flowerpot is called a 'flash powder'. It is a pyrotechnic mixture containing an oxidiser and metallic fuel.
Once ignited, they burn rapidly. If confined in a small space, they explode with a loud sound. When the flowerpot is lit, along with the eruption of dazzling colour sparkles, substantial smoke and dust are discharged, causing air pollution.
Most conventional flowerpot fireworks use a mixture of aluminium powder, alkali nitrates and binders. Igniting aluminium require temperatures as high as 1,700°C-1,900°C. For achieving such high temperature, more fuel has to be used, which in turn implies that more particulate matter will be ejected into the atmosphere.
When the CECRI stepped in, first and foremost, they realised that the use of aluminium is a critical source of pollution. And that if they could replace aluminium with another suitable metal oxide, with lower ignition temperature, they would be able to reduce the amount of particulate matter.
Researchers found magnesium to be a suitable replacement. It ignites at a much lower temperature — 480°C. With magnesium oxides, scientists from CECRI tried various combinations. They conducted field trials in Sivakasi and came up with a suitable cocktail for a viable firework with minimal use of aluminium. The end result was SAFAL — safe minimal aluminium firecrackers.
Aluminium is not totally eliminated and is used only for the initiation of the flash powder ignition. Magnesium is used for subsequent sound and light effects. With aluminium use reduced substantially, the particulate matter emission is cut down by 35-40% compared to the conventional formulation. Its sound intensity matches with that of commercial crackers in the 110-115 dBA range.
Firecrackers have to stay dry for a long time. If left unprotected, the components in the crackers can absorb moisture from the atmosphere. Once the cracker absorbs moisture, it is worthless.
In the conventional production process, the industry routinely uses simple ash as desiccant to keep the explosive ingredients dry. When the cracker explodes, the ash is expelled into the air. CSIR-NEERI came up with a proprietary novel formulation, eliminating the use of ash. The resultant 'green' Bijli cracker, another favourite among people, emits 20% less particulate matter.
Thinking out of the box, CSIR also came up with a very novel formulation for fireworks that emits water vapour when exploded. When you sprinkle water, the dust suspension is suppressed. Hence, the water release formulation removes the suspended particulate matter from the air, making it cleaner. Named safe water releaser (SWAS), this formulation does not use pollution-causing potassium nitrate or sulphur.
Consequently, this formulation not only reduces the particulate matter ejection by about 30-35% but also reduces the emission of SO2 and NOx from the crackers.
Likewise STAR, 'safe thermite cracker', another formulation, reduces the thermite (fuel) levels in the fireworks and helps reduce particulate matter expulsion by about 30%.
Both types of crackers produce sound in the range of 105-110 dBA, safe and at the same time, matching the anticipated acoustic effects.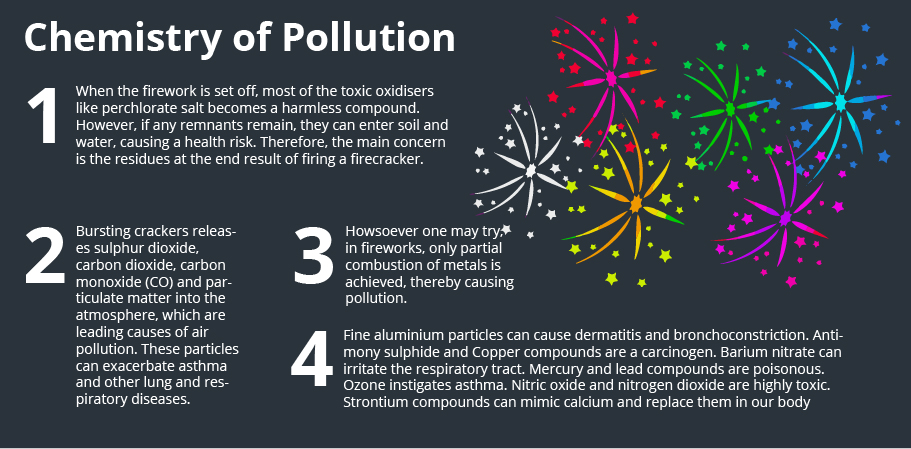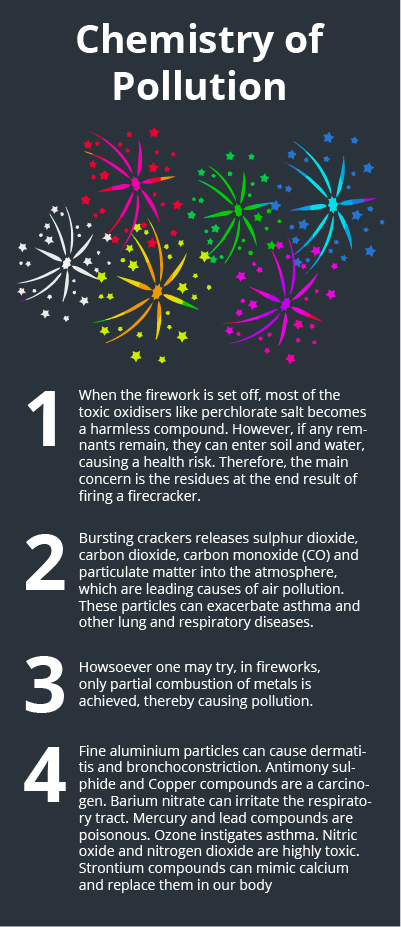 In order to produce eco-friendly crackers, proper inputs are required. If the raw materials are contaminated, it would result in higher pollution. CSIR has established a Raw Materials Compositional Analysis (RACE) facility at Sivakasi to facilitate testing of raw materials and chemicals used in the production of fireworks for manufacturers.
Are green crackers available in the market?
In all likelihood, your friendly neighbourhood store is not selling green crackers this Diwali. News reports from various parts of the country indicate that the green crackers are not yet available in the market.
However, that should not make one feel the claim (of green crackers) is just another 'feel-good' vacuous announcement. The initiative has just taken roots. It is likely to take a year or so before it is available in the the markets.
This is because some of the formulations are stable only for few months. Howsoever beneficial they are, it doesn't make them a viable option. SWAS, for example, has been tested for a shelf life of up to three weeks with consistent performance.
The second issue is certification. How does one know that a particular brand is manufactured following eco-friendly guidelines? For curbing polluting firecrackers and promoting environmental-friendly ones, there must be emission testing facilities. CSIR-NEERI have set up such centres at various National Accreditation Board for Testing and Calibration (NABL) facilities.
This year, they have issued about 530 emission testing certificates to fireworks manufacturers for new and improved formulations that meet the stipulated guidelines.
Thirdly, the industry has to be mobilised to manufacture green crackers. There are about 821 fireworks factories situated in and around Sivakasi. CSIR has signed 230 MoUs and 165 Non-Disclosure Agreements (NDAs) with the industry. Soon, most enterprises are likely to fall in line.
As they say, where there is light, there is hope.