Life came to a standstill for Prabhukumar Bhat, a shopkeeper in Tora village of Karnataka's Kodagu district, on August 9. Just a day earlier, he had sent his wife, two daughters, aged 10 and 15 years, as well as his mother, to a farmhouse 3 km away in the foothills. He wanted to save his family members from the flood-like situation at Tora as a nearby stream was rising steadily.
But soon, Bhat started cursing himself for his decision. For, a 40-foot tall mound had turned into a river of boulders, mud and water, and uprooted trees and washed away whatever came in its way. Bhat lost all four family members in the devastating landslide caused by torrential rains in Karnataka in the first week of August.
Kodagu witnessed floods last year too. And a severe drought followed that. Yet again, it faced floods this year. Between August 6 and 12, Virajpet taluk from where Bhat hails, received 917 mm rainfall as against a normal of 109 mm, almost 9 times higher than the average. It was a similar situation in many villages in Kodagu district, which as a whole received rainfall seven times higher than the average.
In contrast, the district witnessed one of the worst droughts in years. The south-west monsoon was deficit by 50% this season till July 15. While farmers and coffee plantation workers were worried, the rains in the last week of July came as a respite. While the drought in summer affected crops such as coffee, tea, rubber, cardamom and pepper, excessive rainfall further increased the burden of farmers.
The southwest monsoon which was unevenly distributed throughout the country, wreaked havoc in many states, including Maharashtra, Kerala, Karnataka, Gujarat, Assam and West Bengal. Many of these states also witnessed extreme drought conditions during the summer.
According to Shivaramu HS, professor at agro-meteorology department, University Of Agricultural Sciences, Bengaluru, the number of rain days are coming down in many states, although the overall rainfall is not decreasing. This, he said, results in rain with high intensity that negatively impacts the soil, with nutrients and silt getting drained away, and turning fertile lands barren.
Has climate change hit home?
Over the past decade, instances of extreme weather conditions in the same year have increased. From parched wells to flooding rivers, from water shortage in summer to flash floods during monsoon — erratic weather conditions are becoming more common across several states, often leaving people like Bhat at the mercy of fate.
As scorching heat waves in northern and central India lead to torrential rainfall in southern states and west coast, India continues to face challenges of climate change that will alter the occurrence of wet and dry months in the future, causing serious consequences on agricultural output and food security.
These events are threatening lives and livelihood of not just farmers in rural areas, but also people living in cities. For instance, Chennai, India's sixth-largest city ran out of water earlier this year. But it faced one of the worst floods in four decades, in 2015. While some of the IT companies gave its employees the option to work from home, slum dwellers in the city stayed away from work in search of drinking water.
It's not just Chennai. Increasing instances of acute water crisis in tier 2 cities such as Mangaluru, Udupi and Shimla have already led to predictions of a Cape-Town-like future.
While the ongoing floods across several states have claimed 1,143 lives as on September 8, according to the National Disaster Management Authority, about 6,000 people have lost their lives due to monsoon fury in the past three years.
In 2015, extreme heatwaves killed as many as 2,300 people across the country, according to government reports. In the subsequent year, of the 36 states and union territories, 14 states were partially affected by floods, 11 were faced with drought. The floods in 2016 killed 881 people.
What the future looks like
The rise in temperature globally induced by climate change will significantly impact the monsoon cycle in the country. Extreme events like floods and drought will occur simultaneously in the coming years, says GS Srinivasa Reddy of Karnataka State Natural Disaster Monitoring Centre. "That is why implementing proactive climate adaption and risk mitigation plan is necessary."
Dr Roxy Mathew Koll, a climate scientist at the Indian Institute of Tropical Meteorology, too agrees with Reddy. "Extreme events are a norm now."
But, what's is making the weather so erratic?
According to Koll, there is no one reason. The randomness that persist with climate variation is a result of various factors, he says.
"For instance, in Mumbai where floods are now an annual occurrence, factors like industrial pollution, rapid urbanisation, besides afforestation contribute to the change. However, in Kerala, it could be because of the stress on land in the landslide-prone region apart from the state's water-intensive cropping system," Roxy says.
Various studies project possible linkages of global warming with the change in frequency and intensity of weather. Frequency of heavy rainfall events (rainfall exceeding 15 cm in 24 hours) has increased over parts of central India at the rate of 6% per decade. There is growing evidence that this increase in heavy rainfall events in India is caused by global warming.
Take for instance, in Karnataka, the temperature trends over the last century suggest that the state warmed by about 0.4°C. And the rainfall trends over the last century suggest an overall decrease in annual rainfall in Karnataka by 10%, according to Dr Indu K Murthy, consultant scientist at Centre for Sustainable  Technologies, Indian Institute of Science.
While most parts of Karnataka could cross the dangerous threshold of 1.5-2°C warming by as early as 2030s, the flow and availability of water in two major river basins — Krishna and Cauvery — which are crucial for agriculture and drinking purposes, could be impacted, Murthy adds.
Global warming may lead to an increase in frequency or intensity of weather events. As per the Ministry of Home Affairs, 2,405 lives have been lost during 2018-19 due to cyclonic storm, flash floods, landslides and cloudburst incidents.
India experienced 431 major natural disasters during the 1980-2010 period, resulting in loss of human lives, property and resources.
The Ministry of Agriculture in 2017 noted that frequent climatic weather variations and uneven rainfall distribution adversely impact the level of agriculture production and productivity. Due to two consecutive years of deficient and untimely rainfall in the country, the total foodgrain production declined from 265.04 million tonnes in 2013-14 to 252.02 million tonnes in 2014-15 and 252.12 million tonnes in 2015-16.
Also, crops like rice, wheat, coconut, apple, maize and sorghum and livestock productivity in agriculture sector were affected, according to the Indian Council of Agricultural Research (ICAR) research.
A government report indicates decreasing rainfall trends over Kerala, Madhya Pradesh, Jharkhand, Arunachal Pradesh and Nagaland, Manipur, Mizoram and Tripura, but increasing rainfall over coastal Karnataka, Maharashtra and Jammu and Kashmir.
The analysis of rainfall data from the India Meteorological Department (IMD) observational network for the period 1901-2010 shows increasing trends in the frequency of dry days in most parts of the country during winter, pre-monsoon and southwest monsoon seasons, according to India's Second Biennial Update Report submitted to United Nations Framework Convention on Climate Change.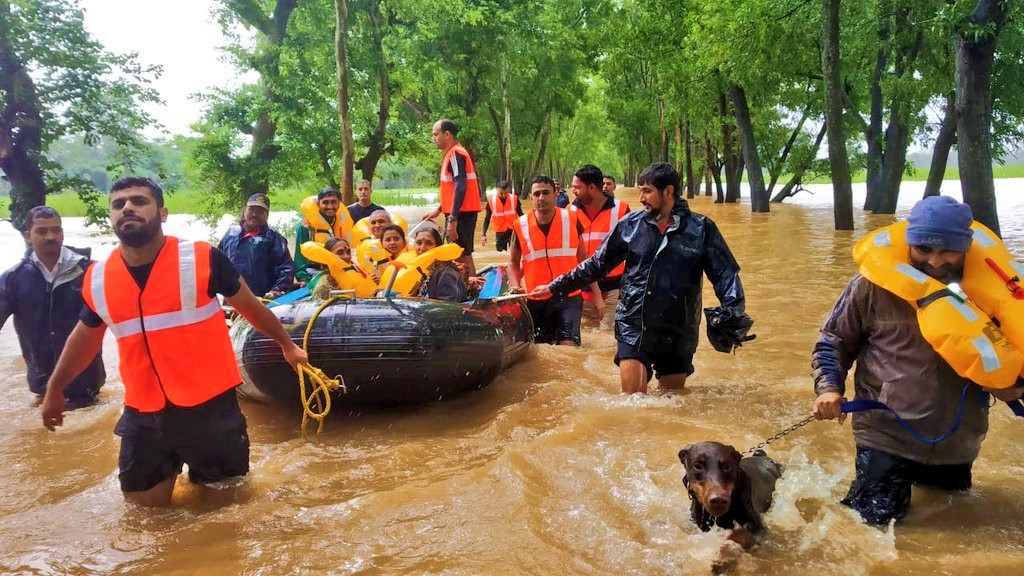 The World Health Organization estimates that climate change is causing 12.6 million deaths a year — a figure estimated to rise by 250,000 between 2030 and 2050. The rising temperatures that result in extreme events impact lives and cripple economic activity.
Is there a solution?
Commenting on the mitigation plan, while at the micro level, people in cities can resort to using water judiciously and farmers can adopt less water-intensive cropping, Roxy says various government agencies should come forward to prepare an early warning system.
"We need various agencies like the weather forecasting, hydrology, agriculture department and civic bodies to come together and work on an early warning system, which we currently lack."
A city's infrastructure and agriculture planning  needs to keep in mind the future changes in climatic conditions, he says.