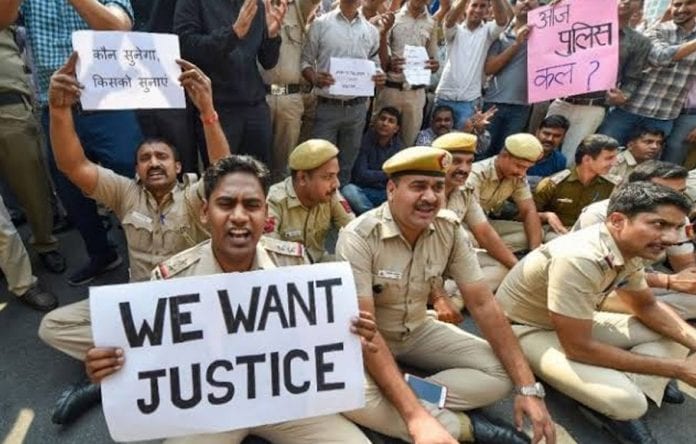 On the fast lanes of the national capital region (NCR), the common man fears running into two things the most — unending traffic jams and "thullas" (a north Indian slang used to refer to slack, corrupt and inefficient posse of cops).
While the efficiency of the police — or the lack of it — remains debatable, the same common man was at wit's end on November 5 as Delhi Police personnel took to the streets seeking protection. This was a result of an altercation between a cop and a lawyer over a wrongly parked vehicle outside the Tis Hazari Court Complex on November 2, that snowballed into a full-fledged battle. The ensuing clash left at least 20 police personnel and several lawyers injured. What followed was a court ordering the suspension of the police officers who ordered the firing and use of batons on lawyers. However, the police claim this was done only to control the mob.
Tension flared up again on November 4, after a video showing a group of lawyers hitting a policeman on a bike outside a district court in South Delhi, went viral. The outrage turned into disappointment after the police realised there was "no response" from top officials on punishing the perpetrators.
The Delhi Police personnel went on a strike for a day to highlight their plight. They called off the protest only after assurances from the Lieutenant Governor and the top-level police officers. An ex-gratia of ₹25,000 each was announced for the injured police personnel.
Regular attacks on police
Delhi Police's agitation is part of a larger problem that emerged following a pattern of crimes against police personnel.
In January this year, a clash between lawyers and police force in Uttar Pradesh's Barabanki left over 50 people injured. The incident was sparked after a woman police officer took action against a drunk lawyer who caused a road accident.
Similarly, in 2012, a police officer died after an unruly mob of lawyers attacked mediapersons and police when former Karnataka BJP leader Gali Janardhan Reddy, accused in the illegal mining case, was produced before the court. About 90 civilians were also injured in the incident. The CBI, which investigated the case, booked 20 lawyers on charges of rioting, voluntarily causing hurt, causing grievous hurt to deter public servants from performing their duty, among other charges. But no action was followed later on.
It is not just the attack by the legal community, but also the attacks by criminals, gangsters and riotous mob that has left the policing community a harried lot.
Last December, inspector Subodh Kumar was shot dead in UP's Bulandshahr when a mob went on a rampage over allegations of illegal cow slaughter.
According to the latest (2017) National Crime Records Bureau report, 2,864 police personnel were injured while on duty. Of this, about 80 per cent (2,104) of the cases were by riotous mob and criminals and gangsters. Besides, about 227 police officers had died in police operations after being attacked by similar mobs and criminals. In contrast, the police personnel who died and also injured due to attack from terrorists and extremist groups accounted for 5 per cent and 12 per cent of the overall count. The data showed that the police is more vulnerable to internal threats than externally-fostered terrorist threats.
Take for instance, in 2013, when a UP police tried to arrest an accused in a robbery case, they were counter-attacked and about 20 policemen were injured and one died during the shootout. The incident sparked widespread protests after which the UP Police sought a "free hand" to nab criminals in the state.
Besides the erstwhile state of Jammu and Kashmir, more such cases were reported from Kerala, Madhya Pradesh, Maharashtra, Uttar Pradesh, Delhi and Karnataka.
"Police are humans too. Their right to life is violated every day. I have raised this issue with the state chief several times in the past but there is no action," says Jayaprakash V Naik, a retired Inspector-General of Police from Karnataka.
But despite regular instances of assaults on police personnel, the men in uniform failed to evoke public empathy. Why?
Slack cops, bad policing
Public confidence and trust in police are seen as eroding by the day as the forces struggle to respond to crimes against civilians because of alleged political interference and a weak policing system.
Even in the latest episode, the scale of public empathy wasn't titled in favour of the police. Although most people condemned the violence by the lawyers, they also blamed the police for rising instances of lawlessness and partial implementation of the law. Many on social media reminded the Delhi Police of a 2016 incident when the police remained a 'mute spectator' as lawyers assaulted JNU student leader Kanhaiya Kumar who was in police custody and was brought for hearing at Patiala House court complex.
People fail to empathise with the police as they create a sense of fear among the public. According to a 2018 survey of 15,562 respondents across 22 states, the general perception about policing was "not good" because of "criminal actions" and police impunity. The Centre for the Study of Developing Societies (CSDS) found that less than 25 per cent of Indians trust the police (as compared to 54 per cent in the case of Army).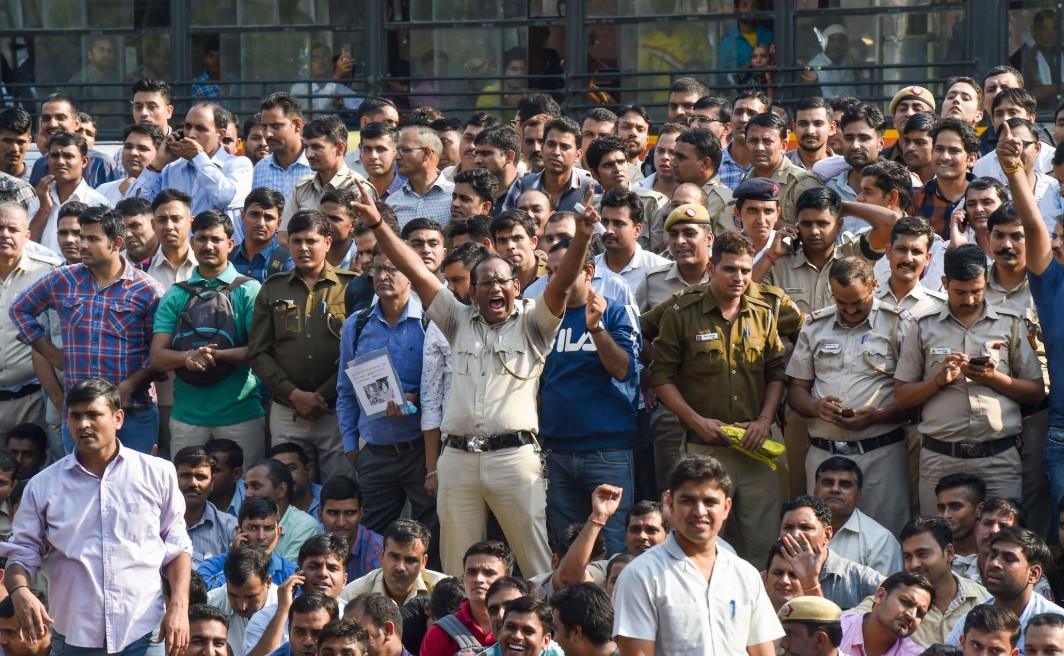 Call for police reforms
Naik blames political parties for not showing willingness to bring in police reforms. The retired officer once led the anti-Naxal force in Karnataka in 2005. He says there is a perception about police whereby the lawyers assume they are more powerful. However, that should not be the case.
"When the men in uniform (police) are at the mercy of the top brass, this (lowering the importance of the police force) is bound to happen and it will continue, unless fixed," he says, adding that police reforms should have taken place long before.
Policing in India is a state subject and there is significant variation across states. However, the Centre under the Ministry of Home Affairs is responsible to bring in reforms and push the states to implement it. Even though several IPS officers advocate police reforms, their call for improving the living and working conditions of policemen which are in a shambles, are never taken seriously.
According to retired IGP-rank officer Gopal Hosur, in many instances, the cases of crime against police — be it during communal unrest, agrarian crisis or linguistic/regional issues — go to the cabinet for decisions and they get quashed after political parties tend to side with the mob attacking the police.
"The criminal justice system should be efficient and any crime against police should be treated as a grave offence," Hosur says. The fear of trial, he adds, has vanished among the police force and hence they think twice before acting against powerful people.
"There is an eternal dilemma among police. If one acts, it is considered excess. But if they don't, it's counted as inaction. They prefer the latter as it amounts to lesser punishment," says Hosur.
According to senior police officers, the basic framework for policing in India has changed little since 1861, when the Indian Police Act was enacted, even though police reforms have been on the agenda of all governments after Independence.
Various committees and commissions were formed in the past to make important recommendations regarding police reforms. Notable among them are National Police Commission (1978-82); Julio Ribeiro Committee (1998) constituted under the directions of the Supreme Court; the Padmanabhaiah Committee on restructuring of Police (2000); and the Malimath Committee on reforms in Criminal Justice System (2002-03); Prakash Singh Committee (2016). They were asked to review action taken by the Centre, and Union Territories. But not much has happened.
In 2006, the Supreme Court intervened and cracked the whip on several states which were reluctant to initiate reforms and directed some of the states to review the progress. But things were put on the back burner soon. In July 2018, the Supreme Court yet again reviewed the progress on this front.
The reforms included improving the efficiency, increasing infrastructure and training facilities, filling up vacancies, among other key concerns.
There were 22 per cent vacancies in the civil police strength as of 2018, that is, the police worked with just three-fourth of the required capacity.
There were 3.67 lakh vacancies in civil police against the sanctioned strength of 16.03 lakh across the country. The police-population ratio stood at 192 policemen per lakh population, less than the UN recommended 222, according to the Bureau of Police Research and Development data.
Also, in the past five years, on an average, only 6.4 per cent of the police force have been provided in-service training. And senior police officers were more likely to have received in-service training than the constabulary-level personnel, according to Status of Policing in India report of 2019 prepared by a consortium of independent agencies.
Always on duty
Work stress among police force is another big concern. A 37-year-old policeman attached to the Special Branch-Criminal Investigation Department in Vellore died of cardiac arrest while on duty last year.
The Police Status report noted that police personnel on an average worked for 14 hours a day. Except Nagaland, the average working hours for personnel was between 11 and 18 hours in all states.
Besides, eight in 10 police surveyed claimed they were not getting paid for overtime and 37 per cent of them were willing to give up their jobs for another profession, if the perks and salaries remained the same. They were also unhappy that they were not able to spend sufficient time with their families.
As the civil police are the first responders and take time to assess the ground situation and wait for their seniors to approve, Hosur says, better training can lead to effective management.
"The training to civil police needs to increase. Their promotions should be based on their physical fitness and a qualifying knowledge test rather than based on their years of experience," he adds.
However, when faced with day-to-day police high-handedness, it is difficult to expect the common man not to take vicarious pleasure in the plight of the police.
"We the ordinary citizens are made to to run from police post to government pillars while the law enforcers look on without jumping into action. Now they want us to come to their rescue. What can be more ironic," says a former JNU student who doesn't wish to be named.
Unless the police change their own image, she adds, despite the highly challenging nature of their duty, they will remain more of "thullas" and less of protectors.