It is said that 'marriages are made in heaven', but in Tamil Nadu, alliances are sought out during festivals and if fixed, these are considered 'Deiva Sankalpam' (the God's wish). Just as in Durga Puja in Bengal or Garba in Gujarat, festivals are a time when an active hunt is done for a life partner.
But talk of weddings in these COVID-19 lockdown times, brides and grooms who had planned elaborate ceremonies, would be sulking at the turn of fate that has left them — as they were, single, or even worse, isolated. That the infectious disease has also hit spring festivals will come as a double whammy for hopeful single young men and women.
But, for the people of Madurai, this is a huge blow as the wedding of Meenakshi and Sundaraperumal — incarnation of the Hindu gods Shakti and Shiva — which itself is celebrated as a major festival, the Chithirai Thiruvizha, by thousands has been called off for the first time in perhaps over 400 years.
Advertisement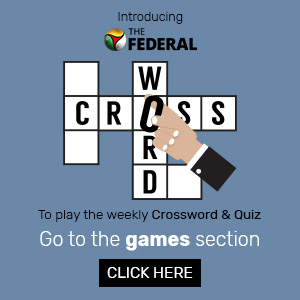 Situated on the banks of Vaigai river, the iconic Meenakshi Sundareswara temple which dates back to 12th century, would be decked with lamps and floral decorations and plantain trees every April, considered the wedding month of the gods. Chariots would pull the gods through the streets of Madura, with a mass procession tailing behind. Performances by folk artistes would add to the artistic aspect while sages and gurus giving sermons would make up for the spiritual side. Thousands would throng the temple in colourful dresses to celebrate the wedding-festival even as hawkers and pushcarts sell sweets and eatables and toys. Firecrackers and rockets would make the nights colourful and bright. Spread over 10 days, it would be the grandest of festivals in Tamil Nadu. Except that everything is shut now and has given way to empty streets and an indefinite quietness.
Madurai, land of arts and festivals
Situated some 500 km from Chennai, Madurai used to be the cultural capital of Tamil Nadu. It was a home to three components of Tamil language — Iyal (literature), Isai (music) and Nadagam (theatre). The city's urban planning was once much appreciated. It was ruled by Kalabrahas, Cholas, Pandyas, Nayakas, Delhi Sultanates, Nawabs and the British.
The dialect people speak here has words ending with the suffix 'aainga' (for example 'Madurakaarainga', 'Vanthuttaainga', 'Paasakkaarainga') and has been popularised by film directors from Madurai. After Chennai, Madurai is known to be a big market for films.
The city has its strong hold in politics too. It has earned the sobriquet 'Thoonga Nagaram' (sleepless city) because of its round-the-clock business activity.
Madurai has many love stories too many of which have ended in tragedy due to caste issues and violence. But despite the differences, Maduraians are known for their affection, kindness and hospitality.
And when it comes to festivals, Madurai is at the forefront celebrating one festival every Tamil month. In Chithirai, there is Chithirai Thiruvizha. Vaikasi for Visakam, Aani for Uththiram, Aadi for Pooram, Aavani for Avittam, Purattaasi for Pournami, Aippasi for Sashti Thithi, Karthigai for Thirukkaarthigai, Maargazhi for Pournami Thithi, Thai for Poosam, Maasi for Magam and Panguni for Uththiram again.
However, after Pongal, which falls in Thai month (January) — and is famous for Alanganallur and Palamedu (both in Madurai district) Jallikkattu — it is Chithirai Thiruvizha which is celebrated with much rigour in the district. The Chithirai festival was also mentioned in the Sangam text 'Paripaadal' as 'Vaigai Vizha'.
Legends of Chithirai
The Chithirai Thiruvizha has two primary legends associated with it — Meenakshi's wedding and two, Azhagar stepping into Vaigai river.
As per the first legend, a king named Malayadhwaja Pandian and his wife Kanchana Mala did not have a child for long. So Malayadhwaja started performing special poojas to the gods and he was blessed with a baby girl, which came out of the fire during the pooja.
At the same time, a divine voice from the sky says that the girl is an incarnation of the Goddess Shakti and will be married to Lord Shiva when she becomes a woman. The king named the girl Meenakshi.
After many years, Meenakshi started ruling Madurai after her father. With her warfare skills, she is said to have brought the whole world under her control but was still unhappy. Then she waged a war against Kailasa, which was ruled by Lord Shiva. While fighting, Meenakshi realised that she was an avatar of Goddess Shakti and fell in love with Shiva.
According to Tamil tradition, Lord Shiva came to Madurai and married Meenakshi. Later, Shiva stayed in Madurai and started ruling under the name, Sundara Pandian. The wedding was celebrated primarily by Shaivites, followers of Shiva.
As per the second narrative, once there was a sage called Mandooka rishi living in Azhagar hills, located in the Western Ghats. One day, while taking bath in Aagayagangai falls, an older sage, Durvasa Maharishi passes by, but Mandooka rishi fails to acknowledge him. Angered, Durvasa cursed Madooka to become a frog and to live in river Vaigai.
Realising his mistake, Mandooka implores Durvasa for relief and the sage gives in saying that he would regain form when Lord Azhagar, an incarnation of Lord Vishnu, steps into Vaigai river. And Azhagar does this, and is celebrated by Vaishnavites, Vishnu's devotees.
But if one says that these two legends have no connection, the average Maduraian will get angry. According to him or her, there is a third legend that says that Azhagar was an elder brother of Meenakshi and was residing in the Azhagar hills, about 20 km away from Madurai. To attend his sister's wedding, Azhagar travelled along Vaigai river, crossing dense forests. But before he reached Madurai, the marriage had taken place. Angered, Azhagar does not enter Madurai.
To pacify him, Meenakshi and Sundareswara come to Vaigai and seek his blessings. After handing over his gifts to the couple, Azhagar steps into Vaigai and starts his return journey.
Historically, Meenakshi's wedding and Kallazhagar stepping into the river have been considered two separate events celebrated in two different months. The former was celebrated in the Tamil month of Maasi (February-March) and the latter, in Chithirai (April-May). During king Thirumalai Naicker's period (1623-1659), both these festivals were clubbed into one and celebrated in the month of Chithirai. The decision was taken to bring unity between Shaivism and Vaishnavism.
A 10-day celebration
The Chithirai Thiruvizha is celebrated over 10 days. On the first day, the flag hoisting ceremony or 'Kodi Yetram' is held at Meenakshi Amman temple announcing the launch of the festival.
On the following day, Meenakshi is crowned ruler of Madurai in a ceremony called 'Pattabisheksm'. This is followed by 'Digvijayam' whose rituals show Meenakshi getting into the battlefield.
This is followed by their victorious return and Sundareswara is crowned king of Madurai, which according to legend is considered four months after Pattabhishekam.
Then Meenakshi's brother Azhagar is invited to the wedding in a ceremony called 'Ethir Seva'.
The first main event of the 10-day celebration falls on the fifth day, wherein Meenakshi is wedded to Sundareswara, called 'Meenakshi Thirukalyanam'.
The 'Ther Thiruvizha' (chariot festival) falls on the sixth day wherein idols of the couple are installed on a chariot and a procession is taken around the streets of Madurai.
On the final day, Azhagar steps into Vaigai river in the morning, called 'Azhagar Vaigai Eluntharulal'. With this, the curtains come down on Chithirai Thiruvizha.
'Entertainment over rituals'
Over the years, the festival has changed form and given way to commercialisation, given the large crowds thronging the temple.
"The festival, among other things, provides a lot of employment opportunities, starting from a tailor to a pushcart sweet vendor," says Ganesan, a resident of Madurai.
During the festival, most of the schools in the region declare holidays and relatives are invited over. Different communities offer 'mandagapadi' (sponsoring a day's event), he says.
Besides everything, he says, one can witness the 100% hospitality and affection of Maduraians during the 10-day celebrations.
In its 400-year or so history, this is perhaps the first time the Chithirai Thiruvizha has been cancelled, according to people with the knowledge. Some say the festival was cancelled during the Second World War while others say it was suspended during the cholera epidemic in the 1890s.
However according to historian AK Perumal, the festival has not been cancelled till now.
"In 14th century, when the Muslim rulers invaded Madurai, people moved the idol of Meenakshi to safety. During that time, the temple was closed for many months. But after that we have not come across cancellation of the festival. People could have celebrated the festival without much fanfare or crowd (during other crises)," he says.
Perumal says there has also been an erosion of values as people gather in large numbers for entertainment rather than the rituals and the traditions.
Adding salt to injury, authorities are apparently planning to redevelop the Thamukkam Ground, a popular historic place in Madurai, under the Smart City redevelopment scheme.
"The ground is the epicentre of Chithirai Thiruvizha. During this festival, a lot of exhibitions are put up here," says Dravidian historian Subagunarajan.
Writer and Madurai Lok Sabha MP S Venkatesan, in an interview to a Tamil magazine in 2019, had said that this is a people's festival in which people celebrate their profits along with the Gods after harvest.
"There will be no caste or communal discrimination followed during this festival. Each community has its own responsibility. Some communities cook food, some play music instruments and some make festival arrangements. Lot of Muslims take part in this festival, because it includes the Thulukka Nachiyar tradition," he had said.
It is said that when Azhagar returned from Madurai, he had gone to the house of his lover Thulukka Nachiyar located in Vandiyoor and stayed there for some time.
"Some fifty years ago, Muslims in Vandiyoor welcomed Azhagar, with the bursting of crackers," writes historian Tho. Paramasivam in one of his articles.
None of the Maduraians are ready to miss the festival. But the lockdown has mandated the cancellation of the entire 10-day celebrations.
In 2019, Maduraians were tense as the Lok Sabha election dates clashed with the Chithirai festival. This year, not only Azhagar, but Maduraians too will miss Meenakshi's wedding.
"Missing Meenakshi's wedding is like missing a family function," says Ganesan.