In February 2017, then finance minister Arun Jaitley said in the budget that the government planned to float an initial public offering of Indian Railway Catering and Tourism Corporation (IRCTC), among other state-run companies, in the financial year 2017-18. Two years hence, the online rail-ticket booking company may finally hit the market in coming months.
What caused the delay? Railways Minister Piyush Goyal offered a reason in June last year. Speaking at a news conference, he said the government wasn't satisfied with investment bankers' estimated valuation for IRCTC if it floated an IPO and went public.
Also read: IRCTC IPO price band set at ₹315-320, govt intends to raise ₹645 crore
"There is huge data with the company and that is not getting captured in the valuation. We are trying to see how we can utilise that," Goyal said. Goyal is right, at least partially. IRCTC does have a huge pile of data, and it is looking for ways to use that data to find new revenue streams and boost profitability.
Estimates for IRCTC's valuation vary widely depending on whom you ask and what parameters you use to evaluate the company, its peers and other companies that do similar work.
Conservative estimates could put its valuation less than $1 billion (₹7,000 crore), based on media reports that said the government was looking to raise ₹500 crore from the IPO and considering that the Securities and Exchange Board of India requires companies to dilute a minimum stake of 10 per cent in the IPO.
However, some would argue that IRCTC is India's biggest e-commerce company and should be valued in the same manner as other e-commerce companies such as Flipkart and MakeMyTrip.
Of course, the IRCTC supporters forget to mention some tiny little details. For instance, it is India's biggest e-commerce company only by number of transactions, not revenue. It sells only a handful of products and services. And it is a state monopoly, with no direct competitor.
So, any direct comparison of IRCTC's valuation with that of e-commerce companies such as Flipkart, online travel services providers such as MakeMyTrip and Yatra or with food delivery companies like Swiggy and Zomato won't really be accurate. This is irrespective of how the valuation is calculated — whether by comparing revenue or profit or any other metric.
For instance, IRCTC's revenue for the year through March 2018 was ₹1,550 crore and net profit was ₹222 crore. Flipkart Group's total revenue in 2017-18 was ₹30,164 crore but its loss was ₹46,895 crore, according to a Times of India report. Flipkart was valued at $20.8 billion when Walmart Inc, the world's biggest brick-and-mortar retailer, bought a majority stake in it last year.
Similarly, Swiggy was valued around $3.3 billion late last year when it raised $1 billion from South Africa's Naspers, China's Tencent and a bunch of other investors. In the online travel segment, MakeMyTrip had revenue of $486 million in 2018-19 and commands a valuation of $2.7 billion on the Nasdaq stock exchange in the US. China's Ctrip, US-based Expedia and other foreign companies are far bigger, both in terms of revenue and valuation.
Differences over IRCTC's valuation aside, there is little disagreement that the company can actually put its data trove to better use. But before we get into that, let's take a look at where IRCTC gets its revenue and profit from, and how the revenue mix has changed in recent years to understand the growing clamour of using data as a new revenue stream.
Changing tack
IRCTC was started in 2002 to help train travellers book tickets from the comfort of their homes by using the internet. Today, it also offers online hotel bookings, air tickets as well as cab-booking options, all for a commission. Besides, it offers catering services to the commuters and government agencies. It supplies bottled water, too, under the brand Railneer.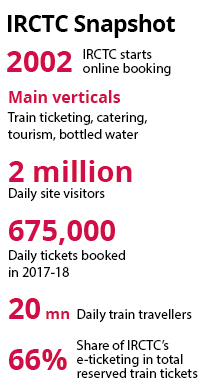 Since IRCTC's inception, India's online travel services market has undergone a sea change. A rise in household incomes as well as growing use of smartphones and internet have helped expand not just the online travel market but the broader e-commerce sector as well.
A study carried out by Google India and Boston Consulting Group reveals that India is set to become a $48 billion travel market by 2020. All this has, no doubt, helped IRCTC grow its revenue and profit.
At the same time, a new breed of travel companies have also emerged that focus on niche areas such as hotel booking or weekend trips. This means that competition has intensified, leading to a high cash burn rate and reduced margins for companies operating in the sector.
While IRCTC started with an online ticketing service, it has expanded into other verticals. In fact, ticketing contributed only 14 per cent of its revenue in 2017-18. Catering, tourism and Railneer accounted for the remaining share. In 2015-16, however, ticketing made up 43 per cent of its revenue.
This dramatic change followed the government's decision to withdraw the service charge on ticket bookings to ease the pain on travellers after the shock ban on high-value banknotes in November 2016.
The withdrawal of the service charge dragged IRCTC's revenue from the ticketing segment to ₹204 crore in 2017-18 from ₹470 crore in 2016-17. To its credit, the company rapidly expanded its catering services to make up for the lost revenue. As a result, its total revenue in 2017-18 was around the same level it was two years before.
While IRCTC may have managed to quickly adapt after the government suddenly punctured its main revenue-earning balloon, it will now need take more measures to stay on a growth path. And one option that it is now considering is greater use of its data.
Data potential
IRCTC can use data analytics to offer customised and personalised travel solutions to its consumers at a premium. It could also look at subscription-based models for such tailored services. If these initiatives succeed, IRCTC could think of other monetisation opportunities by using data science, artificial intelligence (AI) and targeted marketing.
Online travel companies are increasingly using AI and advanced analytics to understand the individual needs of travellers so as to offer curated solutions. Using machine learning and AI on large data sets, it is now possible to offer sophisticated levels of personalisation to individual consumers at a mass scale. This is referred to as 'mass customisation.'
But mass customisation in toursim and travel industry has been tricky to implement. The key to profiting from mass customisation is to see it not as a standalone business strategy, but as a set of organisational capabilities that can supplement and enrich an existing system.
Essentially, what this means is that IRCTC can use these initiatives to increase the  customer lifetime value (CLV) and the percentage of wallet spend of a customer.
The CLV refers to the average amount of money customers will spend on the business over the entire life of their relationship. It is an important metric to determine how much money a company wants to spend on acquiring customers and how much repeat business a company can expect from certain consumers.
The customer wallet share is another indicator that can help IRCTC increase business by using target marketing and by offering other products and services. So, IRCTC can cross-sell services like hotel reservation, guided tours and local transportation to its high-value and repeat customers, and offer homestays to its mid-value customers.
This increased spending by customers will eventually lead to an increase in market share for IRCTC in its revenue segments such as hotel reservation, tours and packages.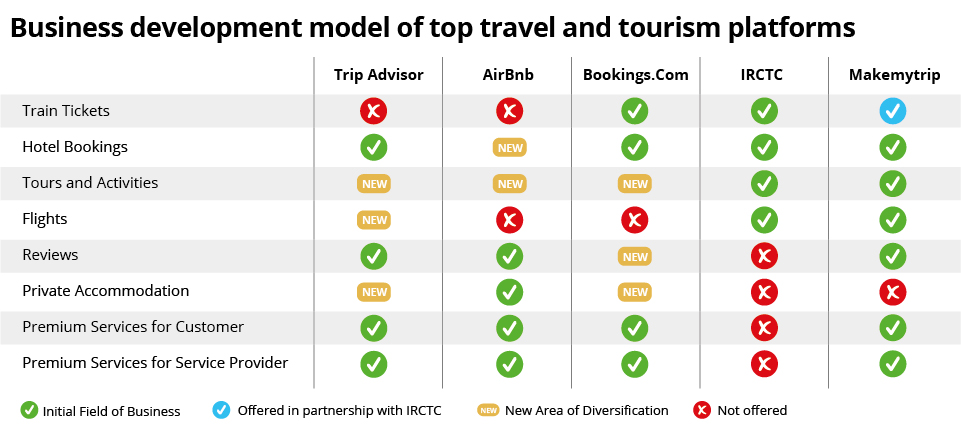 Of course, all this is easier said than done. The biggest concern about using this data would be privacy issues. India is working on a data privacy law, but what shape it would take and how it impacts companies is yet to be seen. Sceptics also say that IRCTC would find it difficult to harness certain segments such as homestays, at least in the short term.
"While homestays have taken off in a big way in India and the world at large, I am not sure if its real potential has been harnessed. These products are generally priced at levels which are within the reach of hardly 5 per cent of our population," says Karthik Krishnaraj, founder and CEO of online travel advisory site RealIndia.in.
The real potential of homestays would be harnessed, he says, when middle and lower sections of the society are able to use these affordable options. "IRCTC, which has a wide reach and large data assets, could then look to tap into this segment," he says.
That appears to be possible only in the medium to long term. In the short term, and as it seeks to attract investors for its IPO, IRCTC would have to battle some disadvantages.
Arun Natarajan, founder and CEO of deal tracker Venture Intelligence, says that although IRCTC has a monopoly in the Internet ticketing business, the perception on the street would still be that of a state-owned company. This means it would trade at a discount compared to its private-sector peers.
"Unless IRCTC is able to drastically change this perception, it is unlikely that it would enjoy the tech-growth premium that global tourism aggregators currently enjoy," he says.