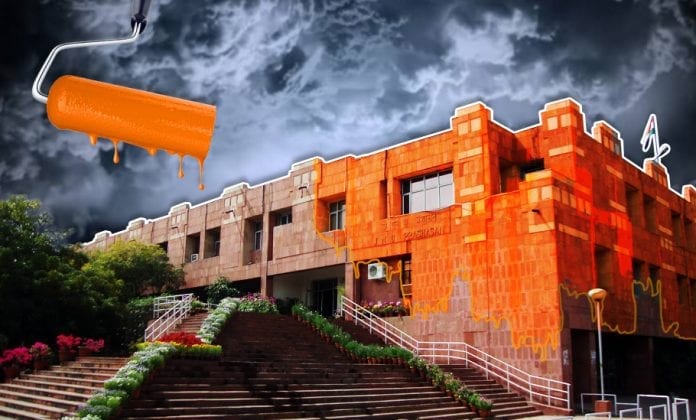 On the evening of October 9, about 150 students of Mahatma Gandhi Antarrashtriya Hindi Vishwavidyalaya (MGAHV) in Maharashtra's Wardha held a sit-in discussion on the abrogation of Article 370's provision of special status to Jammu and Kashmir. They gathered at the open-air amphitheatre located within the campus after being denied permission to hold a protest march two days before.
After the discussion, the students decided to write a letter to Prime Minister Narendra Modi about mob lynching and sedition charges against 49 eminent personalities, among other issues.
Soon after, the vice-chancellor of the university, Rajneesh Kumar Shukla, expelled five students and, oddly, one alumnus on the grounds of violation of model code of conduct (as Maharashtra elections were scheduled on October 21) and interfering in administrative process by not seeking prior permission to hold the discussion. He uploaded the suspension notice on the college website.
The whole discussion, students say, was recorded by the college's official videographer at the behest of right-wing groups until it ended around 8.30 pm.
Most of the students who participated in the discussion belonged to Dalit and Other Backward Class communities. Their names were noted as per their Facebook profile and not as per college records, for sending notices. For instance, Rajesh Kumar Yadav was mentioned as Rajesh Sarathi. He was an alumnus and not part of the current batch. Yet his name featured in the expelled students list. The university further wrote a letter to the district collector to take action against them. The move was criticised.
"If we are to write a letter to the PM, what permission is required? We wanted the PM to take note of key issues in the country and act on it," says Chandan Saroj, one of the suspended students. He was furious about the way in which they were suspended without being given an opportunity to be heard.
Saroj, a Dalit scholar pursuing MPhil in the university, said the event had no political affiliation. He was however personally associated with the All India Students Federation (AISF), the student wing of the Communist Party of India (CPI).
Their suspension was revoked after the district collector wrote to the college administration to handle the matter internally and not invoke the model code of conduct, which ideally should be decided by the Election Commission.
On the other hand, Shukla, an RSS member, was appointed as the vice-chancellor when the model code of conduct was in place during the April-May Lok Sabha elections. The Ministry of Human Resource Development had cleared his appointment, despite a plagiarism complaint against him, saying that the vigilance committee had given a clean chit.
Ever since he was appointed, students say, the dominance of right-wing groups has increased. Some students rue that RSS shakas (sessions) have been held within the campus. Besides this, eggs and non-vegetarian food was stopped in college canteens and funds were being allocated for RSS-BJP-linked events and not secular events.
The VC and members of the Akhil Bhartiya Vidyarthi Parishad (ABVP), which is affiliated to the RSS, did not respond to calls by The Federal.
Rising saffronisation in varsities
This is not the first time that Leftist student wings felt they were targeted. A female student who complained of sexual harassment by an ABVP member in 2017, recalled that college authorities had let off the accused with a mere warning.
A number of top universities in country are witnessing an increase in communalisation of campuses, loss of autonomy among teachers, students, panels, and recently, a distortion of and demand to change history.
As in the MGAHV case, there seems to be a systematic pattern by which right-wing groups are establishing their dominance in educational institutions. First, people favourable to the RSS are appointed as vice-chancellors and in the top governing bodies. Then youth and student groups affiliated to the RSS are encouraged even as dissenting voices are suppressed.
Besides this, many educationists observe that the proposed higher education commission bill, which seeks to take replace UGC and regulate the functioning and funding of universities, was aimed at saffronising the education system.
The student group ABVP vehemently pursues the ruling party's agenda of expanding its base in top universities which traditionally have been considered Left bastions.
Besides MGAHV, students and teachers of Jawaharlal Nehru University (JNU) in Delhi, Mumbai University in Maharashtra, Banaras Hindu University, UP, National Council of Educational Research and Training (NCERT), ICHR and Indian Council of Social Science Research (ICSSR), Film and Television Institute of India and Delhi University, have all come under vicious attack ever since the BJP came to power in 2014.
Even prestigious scientific institutions like the IITs were not spared. Studies were conducted on the benefits of cow urine under a government-constituted panel at one of the IITs. At the Banaras Hindu University, students appearing for Master of Arts in Political Science examination were asked questions such as "Manu is the first Indian thinker of Globalisation; Discuss", in reference to Manusmriti, an ancient text followed by Hindus.
In Assam, the BJP government came under attack for its decision to start 22 government colleges named after RSS icon Deendayal Upadhyaya. In Gujarat's Maharaja Sayajirao University, the college diary celebrated several sages for their contribution to sciences — from "developing nuclear technology" (Acharya Kanad) to "discovering rockets and aeroplanes" (Maharshi Bhardwaj).
There is a proposal at JNU's newly founded School of Sanskrit and Indic Studies to offer a five-year BSc-MSc integrated course in Ayurveda Biology. And more recently, the University of Mumbai has announced to set up a new study centre at a cost of Rs 25 crore to be named after senior BJP leader and RSS ideologue Balavant Apte.
According to a JNU Professor who wished to remain anonymous, in 2016, the vice-chancellor violated selection committee rules and appointed non-experts (mostly linked to RSS or party ideologues) for various posts. The Indian Express has reported at least five such cases.
"Unlike the previous BJP government led by (Atal Bihari) Vajpayee, this government is doing things overtly. They are cracking down on teachers and students who are traditionally anti-right wing," the professor says.
In 2017, in a closed-door event organised by Prajna Pravah, an RSS affiliate body, its chief Mohan Bhagwat spoke to over 700 academicians and vice-chancellors from 50-odd universities across the country on bringing a national narrative in academics, considered a cultural onslaught on educational system by intellectuals.
The JNU professor added that be it the fee hike or slashing of funds for libraries, all affects the Dalits and religious minorities, who generally cannot afford to spend much on educational resources.
"JNU is being slowly dismantled," he notes.
About seven professors wished not to go on record and said there was a sense of caution and fear set in already among the teaching community.
Over the past few years, several academicians have been removed from various universities for their opposing views and students from Left-wing outfits have been booked in sedition cases following complaints from ABVP and other right-wing student unions.
In 2016, the government terminated the teaching contract of educationist and social activist Sandeep Pandey at Banaras Hindu University on alleged charges of his "involved in anti-national activities" and for showing the banned documentary on the Nirbhaya case, 'India's Daughter' to his students. Pandey, who won the prestigious Ramon Magsaysay award in 2002, fought his termination in court and won the case. However, since he was a contractual employee, the government did not reinstate him after his three-year term ended.
Pandey told The Federal that things are only getting worse. "I used to lecture in prestigious government institutions and private ones. But now, not many invite me. They have a clear mandate to not encourage me," Pandey said.
He added that the political atmosphere is such that even research works in colleges were affected as secular and scientific historical works were being rejected and indicated a reported rise of attacks on scientific institutions.
Political appointees
According to a detailed 270-page report by People's Commission on Shrinking Democratic Space (PCSDS), an advocacy group, it was noted that 62 institutes of higher education were given full autonomy in the recent past and almost all the leading universities in the country had political appointees.
VC of Himachal Pradesh Central University, Kangra, Kuldeep Agnihrotri, Director of the Technology Institute at Hamirpur, Dr SP Bansal, VC of Panjab University, Prof Raj Kumar, all have strong RSS background. Agnihotri even wrote a book recently on Prime Minister Narendra Modi and his achievements.
"By bringing in political appointees, the Centre is trying to decentralise certain decisions that can be dealt internally. And by pitching the privatisation aspect, the government aims to move away from research in social justice," the JNU professor said.
Akhil Ranjan Dutta of Gauhati University, Guwahati, in the PCSDS report notes that private universities do not pursue an agenda of social justice, they do not debate inequality or question imperialism or investigate feudalism.
"They do not allow a voice of dissent, a voice of protest. They have nothing to do with democracy and democratic institutions," he says in the report.
Even the recent impasses at JNU — the orders by the administration to its students' union to vacate its office in the Students Activity Centre — are seen as muffling dissent. The current JNUSU is headed by the United Front of Leftist student groups (AISA, SFI, AISF, DSF), which won all four central panel posts in the polls conducted in September.
Commenting on the way in which the BJP-led government is reducing universities to mere study centres, VP Niranjan Aradhya, educationist and fellow of the National Law School of India University, says, "Educational institutions, more than others, should respect the right to freedom and be a space for critical thinking. If someone disagrees, they should be engaged in academic and political discourse and not shunted out."