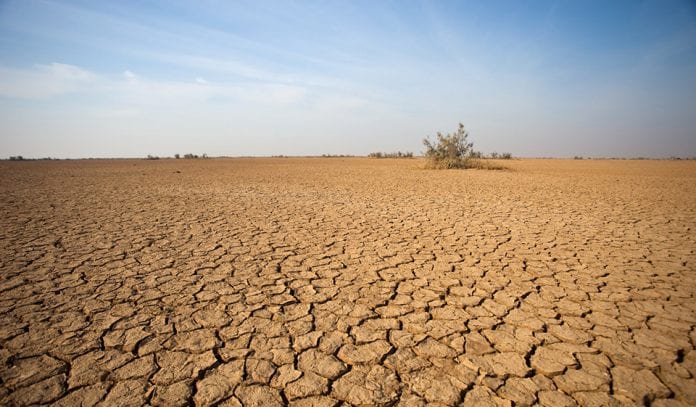 A resident of Medavakkam in Chennai, Jaya's daily routine begins at 5 am — she quickly gets ready to travel almost 16 km to reach her workplace in Thyagaraya Nagar. Until two months ago, her biggest concern was getting on the bus at the right time to reach her workplace on time. Now, she has a more pressing issue to worry about — making sure she has enough water for the day.
As Chennai continues its struggle with a severe water crisis, residents across the city stand together, literally, day and night, for whatever water they can get their hands on. The last month has brought the city collectively down to its knees, with its four major storage reservoirs — Poondi, Cholavaram, Puzhal and Chemarambakam — currently at less than one per cent of storage level.
Move the central slider to see the Puzhal reservoir before and after the drought. Source: The Copernicus Sentinel-2 Satellite images provided by Maxar Technologies (Photos: AP)
Advertisement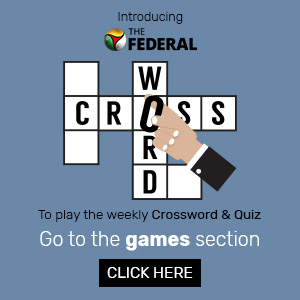 Jaya says that water supply was never a concern. However, for over a month now she has had to wait with four colourful pots at the street corner at around 6 or 7 am, every alternate day, for the Metro water tanker. "It delayed me a lot; I had to take permission from my employers to report a little late at work. Now, I have asked my neighbours to fill water for me as I can no longer seek permission to arrive late at work," she says. "I also work in two households as a domestic help, and waiting for water delays me everywhere. At the same time, though I live alone, I need those two pots of water for cooking, washing and cleaning."
Tamil Nadu's capital, which usually gets 1,300-1,400 mm of rainfall annually, received the lowest rainfall (835 mm) in 15 years last year. Chennai depends on its somewhat erratic rainfall to replenish groundwater reserves and its water bodies. The four major reservoirs that sustain the city have a total capacity of 11.5 tmcft, but that has dropped to an all-time low.
Kilometres away, in Saidapet, Fathima, a 52-year-old single parent of two children, is an angry woman every morning. She has to wait for at least an hour to fill her four pots. "And after all the waiting, that is still not enough for me. Sometimes I have to fight with my neighbours as no one waits in a queue. But they are good people, they ensure all of us get water from the tanker — either in the morning or evening," she says. "I can't stand for long so I have to rope in my daughter, who works with an IT company, to help me," she adds a sigh.
Chennai's trysts with water are memorable, to say the least. Fathima remembers December 2015, when she and her neighbours took refuge on a high-rise building nearby to escape the flood waters. "Now, the same area has been thirsty and dry for a good part of the year."
With a population of about 50 lakh people, Chennai is India's sixth largest city. It needs about 80 crore litres of water everyday, but has the capacity to provide only 52.5 crore litres. Apart from reservoirs, the city depends on two desalination plants — the Minjur seawater desalination plant that supplies to North Chennai and Nemmeli seawater desalination plant that supplies to South Chennai — for water.
Daily routines of preparing food, going to work, have all been disturbed for water. Poorani, a resident of Todd Hunter Nagar in Saidapet, explains how the lives of the people in her locality revolve around water and its availability. "On days when it is impossible to collect water in the morning, I go in the evening. On holidays, I send my daughter or son to collect water," she says. She attempts to brush off the severity by adding, with a smile, that life goes on, with or without water, but that doesn't fool anyone.
Midnight water trysts
In T Nagar, where commercial establishments rub shoulders with old and new residential areas, private tankers chugging along at midnight is a common sight. Mothilal Street, abutting the busy Usman Road, is one among the many streets where every other night, the loud blare of a tanker wakes up a group of residents. VS Jayaraman, a retiree and a long-time resident of T Nagar, is part of that group.
Twice a week, Jayaraman and his neighbours take turns to guide private tankers to their street. He says, "We have to wait 15 days for a Metro water tanker. Private tankers are the only option available and they charge anywhere between ₹3,500 to ₹4,000 depending on the capacity (9,000 litres or 12,000 litres). And private operators insist on delivering only after midnight." Sometimes, they have to wait till 2 or 3 am. "Most of us are senior citizens on the street. It is tiring and frustrating to wait for so long. The tanker drivers are inevitably delayed but we cannot complain."
The price of water has slowly be rising but it has hit a peak now. Private operators refuse to deliver water if residents attempt to bring down the price per tank. A 12,000 litre tank, which usually goes for ₹800-1,000, is selling for as high as ₹6,000 in certain areas.
Water, water everywhere, not a drop to drink
For RL Srinivasan, a fisherman from Ennore's Kattukuppam, the water scarcity seems like a cruel joke nature is playing on him and his community. His house overlooks the Kosasthalaiyar river, one of the three rivers that flow through Chennai, yet the water woes are not very different from the rest of the city.
He, holding back his anger, blames the power plants around the area for the gradual destruction of the river. "Just along the coastline we would get good water in borewells. Now there is nothing and we have to buy cans. Yet, there is no guarantee that we are consuming good quality water. There was a time when I used to bathe in the sparkling waters of Kosasthalaiyar."
Adyar and Cooum rivers also flow through Chennai, and the three rivers are connected by the Buckingham canal. All the freshwater bodies have dried up this year.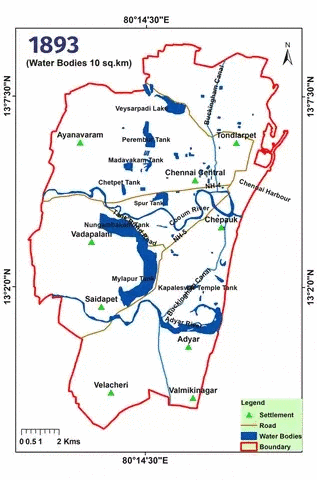 Water, a leveller
In the past two decades, Gopi R, a media professional and resident of the posh Gopalapuram area, hasn't had even the passing thought about water scarcity. All that changed two months ago. His life now revolves around the scarcity and the ways to deal with it. As an owner of a two-storey apartment in Ellaiamman Colony, his day begins with moving barrels of water into the two rented flats.
He says, "I have to ensure the tenants receive 8-10 buckets of water everyday. Till about 9 am, the water is duly divided and delivered in barrels that my brother and I carry up two floors. On good days, the tankers arrive on time. And then there are days when the private tankers don't deliver the promised quantity. The water, then, has to be rationed accordingly."
Even people in gated communities on the IT corridor are not immune to the dry spell. When Viji and her family of four moved into an apartment in a gated community in Thoraipakkam a few months ago, they expected a safe and quiet life. "But mornings are chaotic. All of us — me, my husband and two children — are up at 8 am. We have to fill water in all storage containers — large buckets, mugs and kitchen vessels. We have been rationing water since the supply is only in the morning. Though our water needs are far more than what we get, we have to ensure that we make the most out of the water supply," she says.
Chennai's water crisis has even caught the eyes of Hollywood actor and climate change proponent Leonardo DiCaprio, who posted about it on Instagram. While climate change is likely to render many cities in India dry in the coming years, Chennai's problem is partially man-made. The Tamil Nadu government has taken its own sweet time to respond to the crisis, even initially rejecting help from neighbouring state Kerala.
The Federation of OMR Residents Associations recently met the private tankers operators association to find a way out of the problems that hinder supply of water in the area. OMR or Old Mahabalipuram Road is one of the worst-hit areas. Ahead of the recent Lok Sabha elections, the association convened a meeting with all the MP candidates of Chennai South constituency to highlight the water issue.
As the city receives rain, after almost 200 days, one can't help but wonder if it will be enough to quench everyone's thirst.
Also read: Tamil Nadu CM says work on fifth reservoir nearing completion