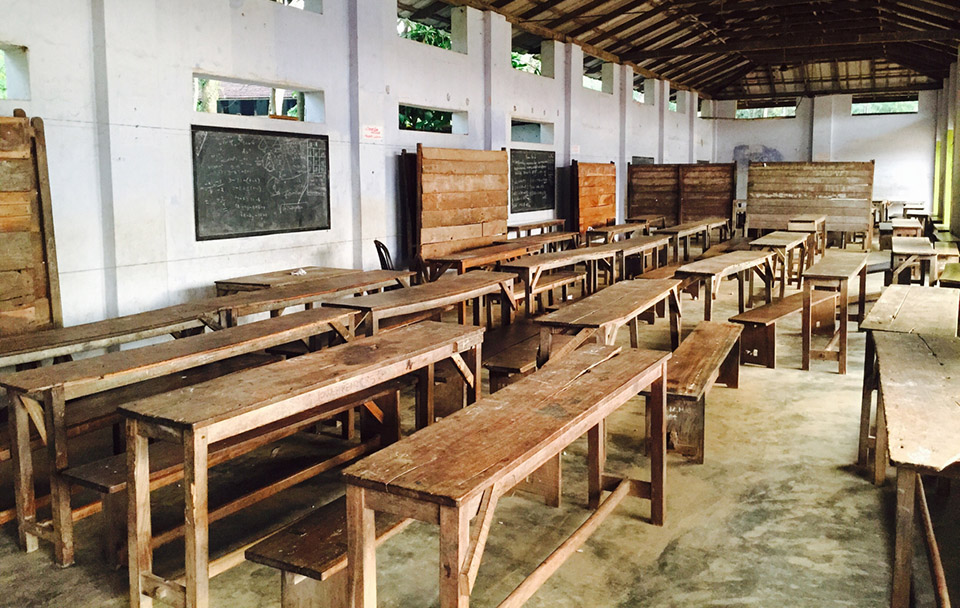 Tamil Nadu, along with the other southern states, is known for its focus on the education sector. Aside from stereotypes of churning out software engineers, it is one of the best performing states in elementary education and its schools are known for being accessible to children, especially those from economically disadvantaged backgrounds. However, if one looks at the number of schools in the state, it tells another story — there are just 58,033 schools in total. Out of this, 61 per cent or 35,000 are only primary schools.
In comparison, states like Assam (71,042), Odisha (70,300) and Bihar (84,236) have more schools. Uttar Pradesh tops the list with the most number of schools.
However, it makes up for coming in 12th in the list of number of schools in each state at the college level. Tamil Nadu has a higher education gross enrollment ratio (GER) — 47 per cent — than most states (i.e. one in two kids who join class 1 in Tamil Nadu will enrol in a college course). Uttar Pradesh has a GER of 18 per cent though it has over a lakh schools.
The downside to the high GER is, since 61 per cent of all schools in Tamil Nadu are primary schools and the state has a very low school dropout rate, the pressure on secondary and higher secondary schools increases. This is where the cracks in the state's education system are the most prominent.
PK Ilamaran, state president, Tamil Nadu Teachers' Association, points out one such crack — he says that the target teacher to student ratio is unrealistic. "The teacher to student ratio for classes 11 and 12 is 1:60; this is preposterous considering most classrooms are designed to accommodate about 35-40 students." Had there been more schools to ease the pressure, having a high GER would be great. Now, there aren't enough resources to handle all the students who are flowing in at the higher schooling levels.
Decline in number of schools
What makes the situation worse is that schools, both public and private, in Tamil Nadu face constant threat of closure. In late 2018, at least 3,000 government schools faced the risk of closure due to a shortage of funds. And at least 760 schools were found to be operating without recognition.
The minimum class strength in standard 11 and 12 for schools in rural areas is 15 and 30 in urban areas. The state has been shutting down schools that don't have the required strength, further lowering the number of educational institutions. Ilamaran questions the logic behind such forced shut-downs: "In rural areas, where there aren't more than 200 families in a village, the closest school outside a village would be 20-30 km away. If the current approach of shutting schools down is followed, it will only cause students to drop out. For the poor, government schools are the only hope."
Nandakumar V, director, Datta Educational Consultants, suggests that the rule should be flexible, taking into factors like accessibility. "In a remote part of the Nilgiris, schools should continue even when there is a fall in student enrolment. However, in Chennai, students in schools that fail to meet the required numbers can be transferred to another school, as they can easily travel to different locations."
In a surprise move, the Tamil Nadu government recently reopened a British-era school in Chinna Kallar village, Valparai, Coimbatore district for one student after his mother made a formal request.
Tamil Nadu is not the only state that has witnessed a series of closures in educational institutions. The Right to Education Act has allegedly forced many schools to shut down across the country. According to the India School Closure Report 2018 by the Centre for Civil Society, between April 2015 and March 2018, 4,482 private schools in India were under threat of closure, 13,546 schools were served closure notices by a government authority and 2,469 schools were closed in the 14 observed states for non-compliance with RTE norms. The Centre came to the conclusion by reviewing 170 English media articles.
Infrastructural issues lead to dropouts
The number of schools in Tamil Nadu indicates that there is an urgent need for an overhaul in the education system. Educationists and activists argue that even the infrastructure and quality of education offered in the state leave a lot to be desired.
Talking about infrastructural issues, Vasanthi Devi V, former vice chancellor, Manonmaniam Sundaranar University, says there is a dearth of toilets and water supply in several schools. As per a recent report (ASER 2018), at least 20 per cent of rural schools in the state lacked drinking water, and as many as 42 per cent of the schools did not have a computer. If one thought urban centres like Chennai fared better, another report published in 2018 — the Human Development Report by the State Planning Commission and Chennai Corporation — found that across 10 zones in the city, more than 12 per cent of the government schools lacked basic toilet facilities.
She adds, "While the government wants us to believe that there has been a big development on the infrastructure front, the reports time and again remind us that things are not going the right way. The safety of schools are a big worry as many of them do not even have compound walls. They become the hub of anti-social activities after school hours. These factors make parents pull their wards out of schools."
The learning index of students in Tamil Nadu schools, too, has been worrying, observes Nandakumar. He says, "The learning outcome has been poor, putting the state at the 17th spot, as per the 70-indicator performance grading index from the Union Ministry of Human Resource Development released in April 2019." The same report puts Kerala and Gujarat in grade I, while Tamil Nadu has been classified under grade II. The report was based on data from the national achievement survey of classes III, V and VIII in both government and private schools.
Poor teacher to student ratio
Vasanthi Devi adds that in the rural areas, where government schools are the only hope for the most marginalised section of society, schools have just two teachers for the entire primary level of classes one to five. "They are overworked and there is no supporting staff to help them out. How are they supposed to teach all the students?"
Another reason for the poor teacher to student ratio, apart from high number of students, is that teachers quit when they are transferred to different districts. Ilamaran wonders, "Most often teachers seek transfers because someone based in Tirunelveli is sent to Chennai or Dharmapuri. Why can't they appoint them to their native place to ensure that they do not quit or seek transfers?"
Privatisation vs government system
Privatisation has also affected the education system, though how is debatable. Vasanthi Devi traces the degeneration of the government education system to the opening up of the education space to private parties. "There has been a spurt of private schools in the past 25 years growing as a parallel system of education. We, along with Karnataka and Maharashtra, have the highest number of private schools. We cannot nurture both public and private education systems. There has been a wilful neglect on the government's part when it comes to public education," she opines.
As a result, the government failed to upgrade infrastructure, ensure teacher appointments and evolve an effective inspection system, she says.
Prince Gajendra Babu, general secretary, state platform for common schools, Tamil Nadu, suggests that an effective way to reclaim the space for education would be making public schools neighbourhood schools. "Karnataka recently ensured that private school is an option only when there is no government or government aided school in the vicinity. For this, they have amended the Right to Education Act, making it mandatory for parents to approach government schools before applying for an RTE seat in private schools," he says.
He also cites Kerala as an example, where parents have been influenced to enrol their children in government schools. He adds that a parallel investment in infrastructure like libraries and computers can bring about a boost in enrolment.
The only way for Tamil Nadu to fill all these cracks is to increase its spending on education and open up more schools, making education accessible to everyone.
(With inputs from Venkataraghavan Srinivasan.)