As internet penetration in India swells — to 627 million users, or nearly 50 per cent of the population by the end of 2019, according to market research agency Kantar IMRB — an increasing number of people are relying on online sources for news. This translates to a better relationship between the internet and politics, which is constantly finding ways to push its agenda. Of the lot, one political party has learnt to play the game with panache — the Bharatiya Janata Party (BJP). With efficient social media management and relentless online (fake) news distribution, the party has created an impregnable fortress of communication that helps it stay in power.
According to the Reuters Institute's annual report on Digital News for 2019, 52 per cent of the respondents said they get their news from Facebook while 52 per cent said they get it from WhatsApp (the numbers aren't mutually exclusive). Other social media used for news include Instagram (26 per cent), Twitter (18 per cent), and Facebook Messenger (16 per cent). If BJP president Amit Shah's address to the party's social media volunteers in Rajasthan's Kota last September is anything to go by, it's no wonder the Opposition struggles so much to compete against the saffron party. "We are capable of delivering any message we want to the public, whether sweet or sour, true of fake. We can do this work only because we have 32 lakh people in our WhatsApp groups. That is how we were able to make this viral," Shah said.
The Federal decided to examine three cases that fall under a grey area and look at how the BJP manages to turn the tide in its favour, with the help of its massive social media army and effective communication system.
Atishi Marlena-Gautam Gambhir controversy in East Delhi
The East Delhi election turned into a bitter battle between the Aam Admi Party (AAP) and BJP candidates. After AAP's Atishi broke down at a press conference in Delhi and alleged that BJP's Gambhir circulated pamphlets that said nasty things about her, it turned into a game of online mud-slinging. Gambhir, not shy with his words, quickly responded that he would resign if she could prove any of the charges.
While many rallied behind Atishi with the hashtag 'IStandWithAtishi', some tweeted that they had supported her until that point as she is known for her educational reforms but would vote for Gambhir as they thought this was part of Arvind Kejriwal and AAP's routine dramatics. The social media sentiments (an analysis of social media content using keywords) towards Atishi were more negative, while Gambhir had a more positive sentiment in the eyes of people. In general, sentiments were neutral.
Analysing Twitter with the hashtags Atishi, Gambhir, and AtishiVsGambhir, The Federal noticed that a lot of handles with the prefix Chowkidar or Indian flags in them used this as an opportunity to not only besmirch Atishi's name but also push anti-Muslim, anti-Communist, anti-Congress sentiments into the discourse.
#IStandWithGambhir was also trending and helped generate more sympathy for the former cricketer. Especially after fellow cricketers like Irfan Pathan, VVS Lakshman and Co provided a character reference for Gambhir, trolls on Twitter used the opportunity to better place the BJP candidate.
Images comparing Gambhir, who donated money to the armed forces, to Atishi, whose parents signed a mercy petition for the Parliament attack case convict Afzal Guru, went viral. This falls in line with the Prime Minister's election rhetoric that if you question the armed forces, you are an anti-national.
Mass posting, a common tactic the BJP uses to influence people, was seen in many forms. A post that gave statistics on the Delhi government school class X results, pointing out that the pass percentage has fallen drastically in AAP's tenure, went viral among right-wing accounts.
Delhi govt school Class-X results

2011—99.09%
2012—99.23%
2013—99.45%
2014—98.81%

AAP Govt
2015—95.81%
2016—89.25%
2017—92.44%
2018—68.90%
2019—71.58%

AAP has destroyed education in Delhi govt schools but Paid Media calling it Education Revolution by Atishi

RT

— Team #IndiaFirst 🇮🇳 (@TeamIndiaFirst) May 11, 2019
Narendra Modi's comment on Rajiv Gandhi using the INS Viraat for his holidays in 1988, at a rally in Delhi
The Prime Minister alleged that the former prime minister used INS Viraat and Navy mechanism for his personal use while vacationing at Lakshadweep on various occasions. He also said Gandhi let foreigners (Sonia's family) on board INS Viraat, thereby depriving the Navy of vessels and jeopardising national security. This is again a grey area as source-based reports stating the same came out in 1987-1989.
But Vice Admiral (retired) Vinod Pasricha, who was the captain of INS Viraat in December 1987, denied any such happenings in an interview with FirstPost on May 11. Former chief of Navy (retired) Admiral L Ramdas also refuted the claims. Social media sentiments to the hashtags INSViraat and RajivViraatVacation were positive or neutral. They only added to the string of attacks the PM has been launching on the Gandhi family. Memes and cartoons making fun of the family, lists of different kind, like reasons why Rajiv Gandhi was corrupt, are just a few of the ways in which users are mocking the Congress. The BJP uses social media influencers effectively — these influencers know how to cater to the emotions of the people and play with existing biases.
Sam Pitroda's 'Hua to hua' comment about the Sikh riots of 1984
Of the three incidents, this received the highest percentage of negative sentiment across social media platforms. This phrase continues to be used and manipulated by Modi followers. Many retweeted lists of all of Congress' 'failures' and wrote hua to hua next to them.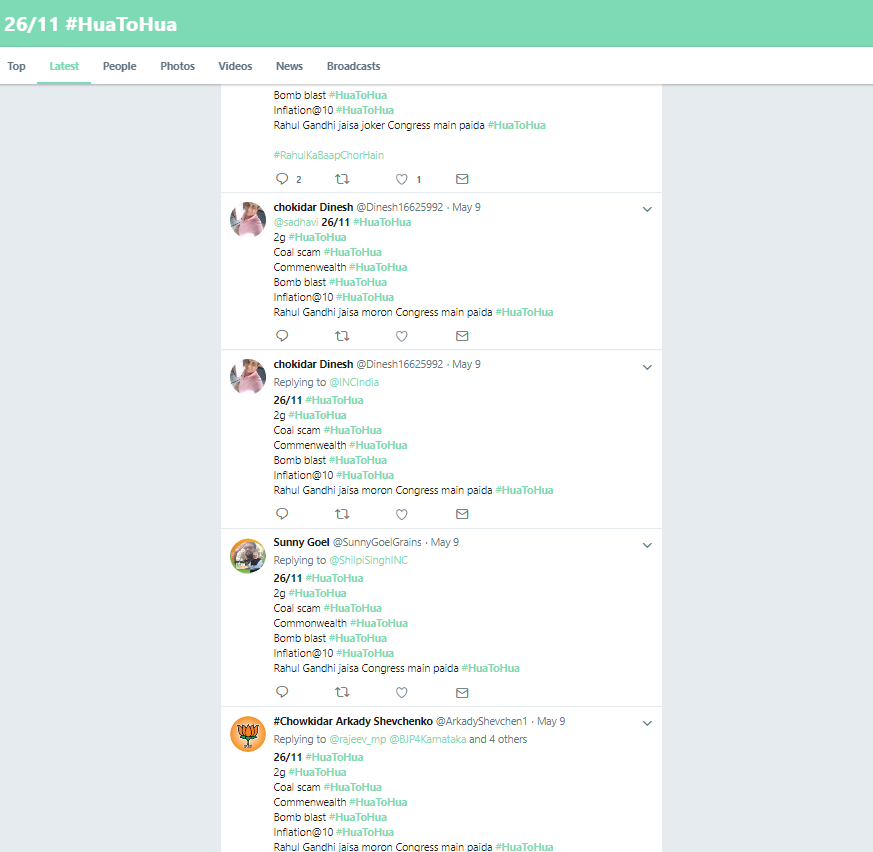 Last week, the Chairman of Indian Overseas Congress said: "Ab kya hai '84 ka? Aapne kya kiya 5 saal mein, uski baat kariye. '84 mein hua to hua. Aapne kya kiya? You were voted to create jobs. You were voted to create 200 smart cities. Aapne wo bhi nahi kiya. Aapne kuch nahi kiya isliye aap yahan wahan gup lagate hain." While a political personality should be careful with his/her words, the extent to which it was blown up to benefit the ruling party shows how quickly BJP can mobilise its social media army.
When the Prime Minister openly criticised the remark, social media users turned the phrase into something comical, with cartoons and memes coming out, and used it as a way to troll the Congress. The hashtag continues to be used, for topics unrelated to politics too, like the IPL finals.
While other parties attempt to do this too, none have been as successful as the BJP.
(With inputs from Ananya Revanna, Maya Nandhini and Anupa Kujur.)