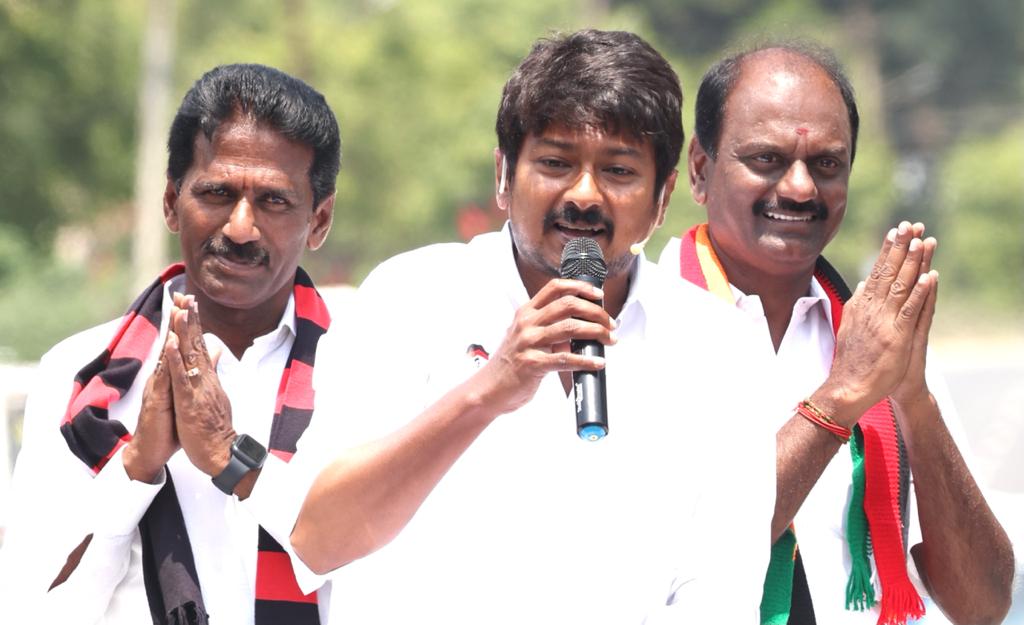 Swaraj, Jaitley's children hit back at Udhayanidhi
DMK leader Udhayanidhi Stalin – son of party boss MK Stalin – on Friday said stress from threats to join the BJP led to BCCI president Sourav Ganguly's heart attack in January
DMK leader Udhayanidhi Stalin — son of party boss MK Stalin — on Friday said stress caused by threats to join the BJP led to BCCI president Sourav Ganguly's heart attack in January.
Home Minister Amit Shah's "job is to threaten others and topple elected governments. I won't be scared of him, I am Kalaignar's grandson", Udhayanidhi said.
The DMK leader had on Wednesday said Sushma Swaraj and Arun Jaitley died due to pressure from Prime Minister Narendra Modi – remarks that were on Friday condemned by the families of the late leaders.
"Udhayanidhi Stalinji… please do not use my mother's memory for your poll propaganda! Your statements are false! PM Modi  bestowed utmost respect and honour on my mother. In our darkest hour PM and party stood by us rock solid! Your statement has hurt us," Swaraj's daughter Bansuri tweeted.
Sonali Jaitley Bakshshi accused Udhayanidhi of disrespecting her father's memory.
"Udhayanidhi Stalinji… I know there is election  pressure – but I won't stay silent when you lie and disrespect my father's memory. Dad and Shri Narendra Modiji shared a special bond that was beyond politics. I pray you are lucky enough to know such friendship," Bakshshi said.
"Sushma Swaraj and Arun Jaitley died [because they were] unable to tolerate the pressure and torture given by Prime Minister Modi," Udhayanidhi, who is contesting from Chepauk-Thiruvallikeni constituency, had said at Dharapuram.
The DMK leader was responding to Modi's charges that he had forced senior party leaders to step aside in order to get the ticket.
Following Udhayanidhi's comments, a BJP delegation led by Union minister Prakash Javadekar met election officials in Delhi and demand action against him. The Tamil Nadu unit of the BJP also asked for Udhayanidhi to be banned from campaigning.