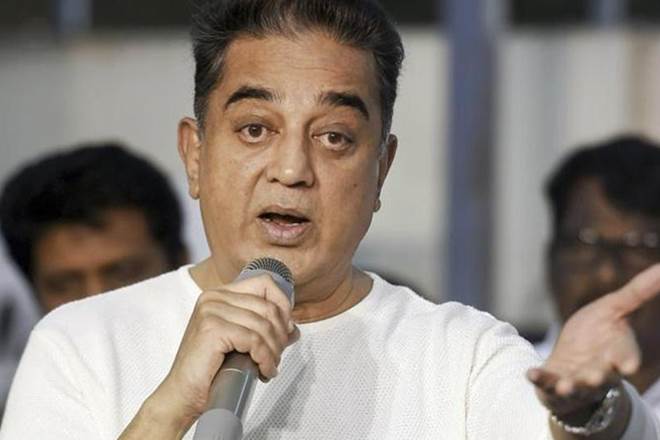 MNM chief Kamal Haasan has accused the DMK of copying its ideas in the latter's 'vision document' released on Sunday. The DMK has taken up seven sectors, including economy, agriculture, water management, education plus health and sanitation, urban development, rural infrastructure and social justice.
The DMK's 'vision document' also promises a monthly payment of ₹ 1,000 to each homemaker in Tamil Nadu. DMK boss MK Stalin, while addressing a rally in Trichy, said the state's economy will expand to above 35 lakh crore if the 10-year plan is implemented. This would lead to the creation of 10 lakh new jobs each year.
It is on these two promises the MNM has charged the Dravidian party with "stealing" its ideas. Kamal Haasan has pointed out that he too had announced 50 lakh jobs for the state's youth four days ago. "He (Stalin) has taken our ideas and reiterated them in his own Tamil. When I said we will pay salary to homemakers, he says he will give ₹ 1,000 per month to them. We are the first political party to make such a promise based on the Beijing Proclamation," Haasan said.
Advertisement
Also read: Infra push, sops for women in Stalin's vision document for Tamil Nadu
The Beijing Declaration was a resolution adopted by the United Nations at the end of the fourth World Conference on Women on September 15, 1995. The resolution was adopted to promulgate a set of principles concerning the equality of men and women.
The MNM chief termed the election day as 'bhogi,' which is synonymous in Tamil culture with getting rid of old things. The actor-turned-politician said April 6 (polling day) would mark departure of old parties making way for a new dispensation.
Calling upon the people to vote for MNM to 'save the state,' Haasan said it was disappointing to see the Congress, which fought the British colonial rule, siding with the parties like the DMK.
The DMK has titled its vision document as 'Stalin's seven promises.' "When Anna (CN Annadurai) became chief minister, he said all our thoughts revolve around a basic aim. The aim is big, but I am small. However, being your friend, I can do it with all your support. Likewise, by winning seven crore people's hearts, I believe we can achieve these seven objectives," Stalin said in his rally.
Also read: Congress gets 25 seats in DMK's Tamil Nadu alliance deal