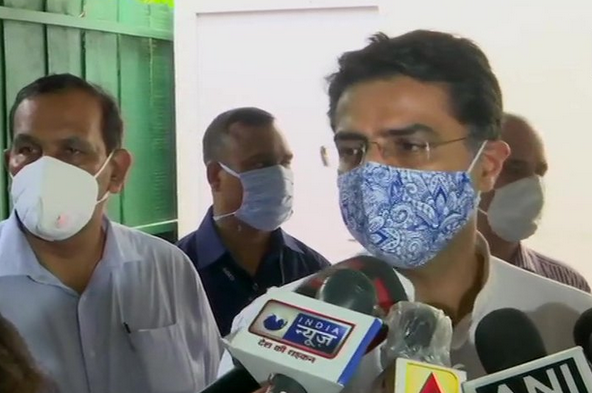 Priyanka evacuates Pilot from his Dunkirk, but war in Raj not over
In the battle for Rajasthan, Sachin Pilot's position was as hopeless as that of the British forces stuck at Dunkirk in 1940. His numbers were low, no re-enforcements were expected, the enemy was pounding his positions and there was no chance in hell of survival. Pilot's only hope was that someone in the central command would organise a rescue operation and evacuate him out of certain surrender or annihilation.
As luck would have it, Pilot found his Winston Churchill in the Congress general secretary Priyanka Gandhi, who offered him the luxury of withdrawing from the Haryana resort where his men had been stuck for 31 days. On Tuesday (August 11) morning, Pilot made his first public appearance and announced his battle for self-respect is over and that he is returning to the Congress.
Pilot must have realised discretion is the better part of valour, in war and even in politics. He and his men inferred they could have continued their battle but gained nothing from it except disqualification from the state assembly. From the very beginning Pilot didn't have the numbers to topple the Gehlot government. But, once it became clear Gehlot is unassailable, some of the rebels in his camp became restive about their future and reportedly got in touch with the Gehlot camp to offer their services. The rebels in his camp, after all, were not chasing glory and martyrdom but political posts and the threat of disqualification made them rethink their loyalties. Pilot knew his game was up and was ready for truce if his honour was restored.
The Congress had a lot to gain too. The high court was hearing a BJP petition challenging the merger of six BSP MLAs with the party in 2019. Though similar mergers and acquisitions have been pulled off successfully by the BJP in many states, the Congress wasn't sure if the courts would give a favourable verdict. It realised making a few concessions to Pilot wouldn't be a very high price for a stable government.
Nothing in a battle happens overnight. Churchill didn't get up one morning, light up his cigar and get his eureka moment of organising civilian boats for the Dunkirk rescue. It was planned meticulously after a lot of discussions, and wargaming.
Pilot's retreat from the sulking chamber was similalrly in the works for the past few days. First, police FIRs alleging the Pilot camp was guilty of corruption and sedition were withdrawn overnight. Then, his rival Ashok Gehlot made some conciliatory moves and indicated he would embrace Pilot if the high-command forgave his erstwhile deputy.
In Delhi, Priyanka Gandhi, who had a direct line with Pilot throughout the impasse, organised a meeting between the rebels and the senior Gandhis, her brother Rahul and mother Sonia. Once the triumvirate had given their assent, Pilot's return was just a formality. The first sign of a rapprochement came when Bhanwar Lal Sharma, the rebel MLA who had, according to the FIRs that were later quashed, blessed the BJP with victory just a few days ago, went to meet Gehlot and blessed him with many years in power, this time not on phone but on TV.
There was, of course, a lot of give and take involved. The Gandhis agreed to address Pilot's grievances; he will now place them in front of a three-member committee comprising Priyanka, Ahmed Patel and KC Venugopal, general secretary in charge of Rajasthan. The terms of Pilot's return are not public. But three outcomes appear likely: One, Pilot will take up a position in Delhi for some time; two, his followers would be suitably rewarded with plum posts; and, three, Gehlot's wings could be clipped and he may be asked to join the party's margdarshak mandal after some time .
It is difficult to say everything would be forgotten and everybody would be forgiven after the truce. During the past few weeks, Gehlot had called Pilot nikamma (useless) and naakara (ineffective). He had accused him of plotting the fall of his government with the BJP's help. Pilot, on his part, had maintained radio silence on Gehlot but some of his lieutenants, especially two young legislators from western Rajasthan, had called Gehlot a tyrant and refused to be his slaves. It is unlikely both sides would forget the ugly barbs and darts in public and the backstabbing in private.
In all likelihood, Pilot's return is just a tactical retreat. Even the Great War didn't end with the Dunkirk retreat. It only reaffirmed the resolve of those who had been evacuated to regroup, and start afresh.