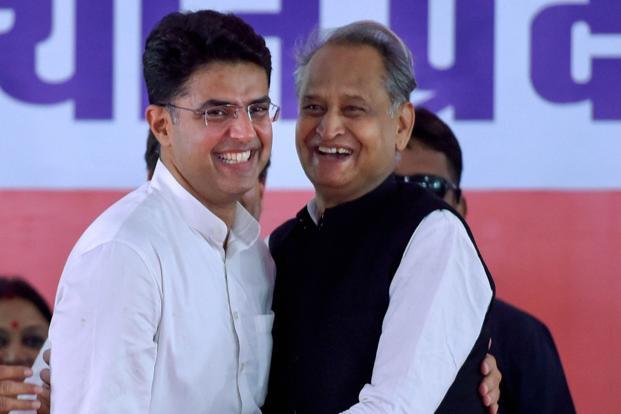 A day after Rajasthan Chief Minister Ashok Gehlot accused the BJP of "pulling off another Madhya Pradesh" by poaching Congress and Independent MLAs in Rajasthan, media reports said Deputy Chief Minister Sachin Pilot and his 12 supporters were holding talks with the BJP. Gehlot has called a legislature party meeting at his residence at 9 PM on Sunday (July 12) to discuss the matter.
Here are a few highlights of the political crisis in Rajasthan:
Allegations that Pilot was planning to topple the Rajasthan government by switching to the BJP rose, and sources claimed the deputy chief minister had the support of 16 MLAs and three Independent MLAs.
The BJP will not be offering the Chief Minister's post to Pilot if they manage to topple the Congress government and assume power. Sources said former Chief Minister Vasundhara Raje has the support of 45 MLAs and that their first priority now was to bring down the Gehlot-led government.
However, a few leaders said Pilot had told the senior leaders in the Congress that he was planning to establish his own regional party, and that he was not going to join the BJP.
Sources close to Sachin Pilot said a letter asking him to appear for questioning in an investigation into the horse-trading ahead of the Rajya Sabha elections was the "last straw for him". The Special Operations Group summoned Pilot on Friday over the complaint by Rajasthan Chief Whip Mahesh Joshi.
Loyalists of Sachin Pilot have threatened revolt following the investigating order. "Never before has a sitting state president or a Deputy Chief Minister served such a letter," NDTV quoted sources close to Pilot as saying. "The High command has not done anything to intervene," they added.
However, Gehlot pointed out that he too received summons for questioning as well as the Chief Whip and that it was their duty to cooperate. "No one is above the law," sources said, according to NDTV.
Gehlot had alleged earlier that the BJP was offering MLAs up to Rs 15 crore to switch allegiance. "You saw this in Goa, Madhya Pradesh and the north-eastern states," Gehlot told NDTV.
Meanwhile, sources said the Congress high command was also upset with Gehlot for issuing orders to Pilot to inquire him. They had also explained their concerns to Pilot. "Both Sonia and Rahul Gandhi have been briefed about the situation. We are confident we won't allow a Madhya Pradesh situation to take place again," NDTV quoted a senior party leader as saying.
Chief Minister Ashok Gehlot has called for a legislature party meeting at his residence at 9 pm on Sunday to discuss the issue.
Pilot and Gehlot have not been on the best terms ever since the government was formed in the state. After the Lok Sabha elections last year, Gehlot blamed Pilot for his son's defeat. "Pilot should take responsibility," the Chief Minister had said.
The party had also given the state Congress chief's post to Pilot in recognition of his work in rebuilding the Congress in Rajasthan, which had reportedly irked Gehlot. Sources told NDTV that there were talks of removing him from the post since Pilot had been holding the post for six years.
Advertisement